EV sales in India charge past 700,000 units in first six months of 2023
Halfway into CY2023, cumulative retails are already 73% of CY2022's record million-plus sales. While two- and three-wheelers continue to do the heavy lifting, sales of electric cars have crossed full-year 2022 sales.
Retail sales of electric vehicles in India have charged past the 700,000-unit mark in the first half of calendar year 2023. As of end-June 2023, as per Vahan data referenced on July 1, total sales were recorded at 721,971 units, which is already 73% of India EV Inc's record sales in CY2022. As is known, EV sales hit the million-sales milestone for the first time in CY2022 with total retails of 10,24,739 units and 210% year-on-year growth.
Electric two- and three-wheelers, the two 'low-hanging fruits' of the industry and the more affordable segments compared to electric cars, goods carriers or buses, understandably have been the main growth drivers of the sales in first-half CY2023. While e-two-wheelers, with 434,914 units, account for 60% of the total sales, three-wheelers (246,270 units) have a 34% share of the EV pie. A total of 38,359 electric cars and SUVs were also sold, which gives them a 5.31% share, with commercial vehicles comprising goods carriers and buses getting a 0.28% share with 2,079 units (see EV retail sales data table below).
Halfway into CY2023, cumulative EV retails of 721,921 units are already 73% of CY2022's record million-plus sales (10,24,739 units).
Cumulative numbers received a boost with record EV sales of over 150,000 units in May and the first-half CY2022 total would have gone past the 750,000-units mark but for the sharp 56% month-on-month decline in June sales in the two-wheeler segment. Following the scaling down of the FAME II subsidy from 40% to 15% and the resultant hiked prices of e-scooters and e-motorcycles from June 1, electric two-wheeler sales hit a 11-month low of 45,734 units last month. June e-two-wheeler retail sales are down 56% on May 2023's record numbers but they also point to a gradual maturing of the market as consumers bought 45,734 e-two-wheelers at higher prices.
It is to be noted that June 2023 was the ninth month in a row that EV sales in India have gone past the 100,000-units mark, albeit at 101,832 units, last month's sales are the lowest of the nine months, dropping below January 2023's 102,839 units.
Let's take a closer look at how each sub-segment performed along with the company-wise retails.
Electric two-wheelers: Ola takes huge lead in H1, TVS hits 75,000 units, Ather No. 3
June 2023: 45,734 units, up 3% (June 2022: 44,381)
Jan-June 2023: 434,914 units, up 67% (Jan-June 2022: 260,316 units)
With month-on-month demand down by over 50%, it's not surprising that the OEM sales table reflects a sea of red for June. Of the 135 e-two-wheeler OEMs in the fray, the top 8 continue to dominate the proceedings and accounted for 39,637 units or 86.66% of total sales in June. And they too have felt the heat of the impacted sales as a result of the slashed FAME subsidy.
Ola Electric, which remains the market leader by a fair margin – 38% share – sold a total of 17,552 units, down 39% MoM (May 2023: 28,629 units). This performance is level with its February 2023 sales of 17,757 units. TVS Motor Co holds onto its second rank with sales of 7,791 iQube e-scooters last month, down 62% on May 2023's 20,397 units. It is followed by Ather Energy with 4,540 units, down 49% (May 2023: 15,407) and Bajaj Auto with 2,966 units (down 54%, May 2023: 9,965).
A close look at the six-month data reveals that of the total 135 OEMs in the market, the Top 10 EV makers, with sales of 391,218 units, have a 90% share of the total 434,914 units sold. Market leader Ola Electric has a stranglehold and a huge lead over its rivals. Its H1 2023 sales at 125,729 units make for a commanding 29% market share and the company is ahead of TVS Motor Co, by 48,760 units. TVS sold a total of 76,969 iQube scooters, which gives it a 17.69% share, creditable given that it retails only a single product. In third position is Ather Energy with 59,221 units and a 13.61% share.
Ampere Vehicles (39,114) and Hero Electric (25,502) are ranked fourth and fifth respectively. Bajaj Auto, which launched its Chetak in the same month as the TVS iQube is in sixth position. While Okinawa (21,503) is seventh, Okaya EV (10,124) jumps into eighth position thanks to it logging best-ever 3,876 units in May 2023, a month which saw a number of OEMs hit monthly highs due to the rush to buy EVs before they turned costlier from June 1.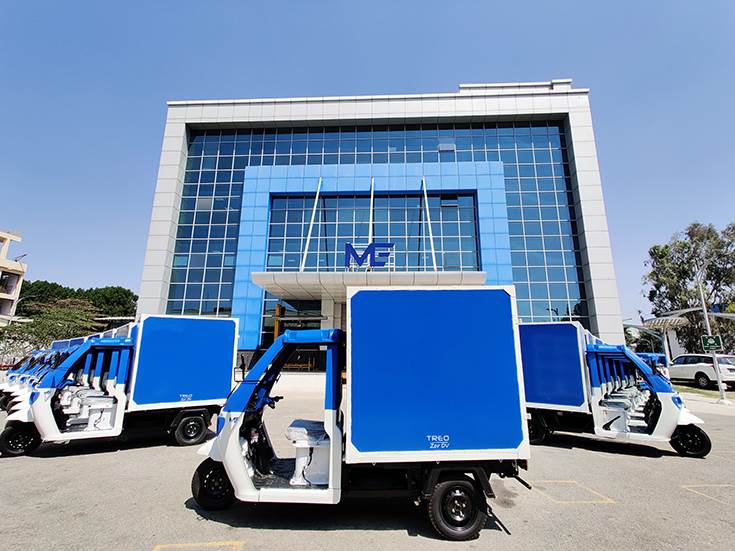 Electric three-wheelers: Mahindra leads with 9% market share, YC Electric ranked second
June 2023: 48,009 units, up 72% (June 2022: 27,853 units)
Jan-June 2023: 246,270 units, up 79% (Jan-June 2022: 137,421 units
This segment continues to see consistent growth and both June and cumulative January-June sales indicate strong YoY increases. Last month saw retails of 48,009 units, up 72% YoY (June 2022: 27,853 units). This constitutes the e-three-wheeler segment's best monthly sales yet, going ahead of March 2023's 45,265 units and November 2022's 40,425 units, when the 40,000-units mark was surpassed for the first time. First-half-year sales at 246,270 units is also a robust 79% YoY increase (January-June 2022: 137,421 units), indicating that demand remains strong for this segment of the EV industry.
This sub-segment, which sells passenger-transporting e-rikshaws and cargo-carrying three-wheelers, continues to witness strong double-digit growth thanks to sustained demand for passenger transportation and from last-mile operators for e-commerce applications, food deliveries and other applications.
Of the nearly 450 players in the market, we have shortlisted the Top 40 OEMs in terms of sales and Mahindra Last Mile Mobility (MLMM), the market leader in FY2023 with over 35,000 units and a 9% share, maintains its top status with sale of 23,112 units in January-June. This total is already 66% of the company's CY2022 sales of 35,013 units. June's 4,494 units are likely its best-ever monthly sales yet. MLMM, which expanded manufacturing capacity in April with a new line for its Treo e-three-wheelers at the Haridwar plant, currently has six EVs on sale – the Treo, Treo Yaari and e-Alfa Mini for passenger transport and the Zor Grand, Treo Zor and the e-Alfa cargo for goods transport.
YC Electric Vehicles, with 17,506 units, is ranked second and has a 7% market share. A commendable performance for this five-product company which has the Yatri Super, Yatri Deluxe and Yatri for passenger duties and the E-Loader and Yatri Cart for cargo operations. Low initial cost, from Rs 125,000 to 170,000 for passenger EVs, and Rs 130,000 to Rs 165,000, is what is driving demand for YC Electric. In third place is Saera Electric Auto with 12,121 units and a 5% share, followed by Dilli Electric with 11,035 units and Piaggio Vehicles with 8,409 units.
The Top 10 OEMs cumulatively account for 102,257 units and 41.54% of total sales, leaving the balance 59% of the e-three-wheeler market to the other 440 OEMs.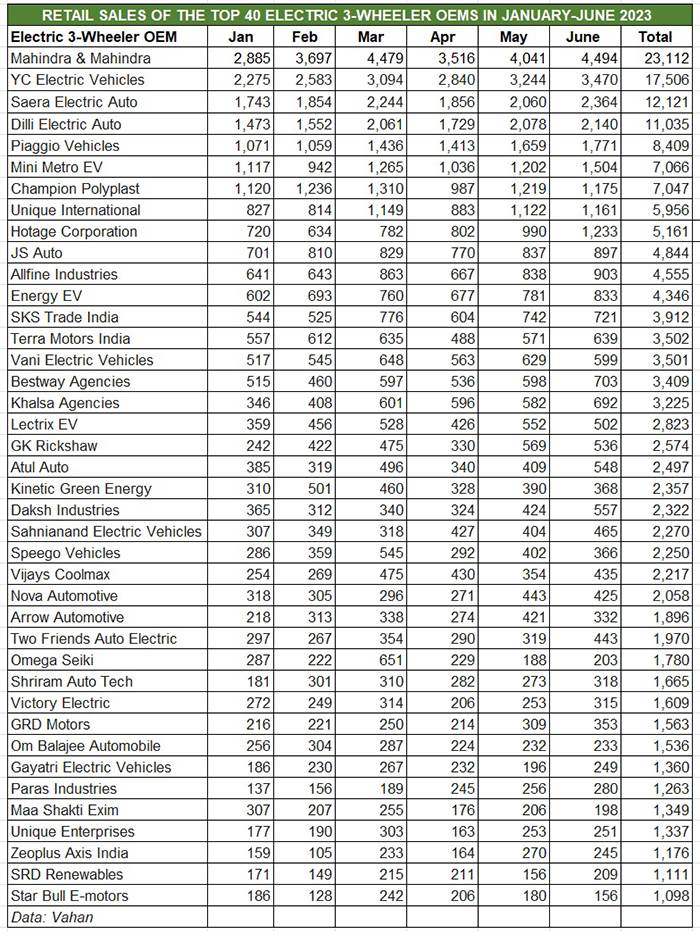 Electric PVs: H1 2023 sales surpass CY2022 retails, Tata Motors has a 77% share, MG Motor India 8%, M&M checks in
June 2023: 7,692 units, up 139.55% (June 2022: 3,211 units)
Jan-June 2023: 38,359 units, up 137% (Jan-June 2022: 16,159 units)
First the good news – at 38,359 units and 137% YoY growth, the retail sales of electric car, SUVs and MPVs in the first six months of CY2023 have gone past CY2022's 38,215 units, which means CY2023 will scale a new high, likely driving past the 85,000 mark for the full year.
Importantly, for this sub-segment, there is sustained month-on-month growth. In the year to date, sales have seen a consistent rise: January (3,438), February (4,756), March (8,824), April (6,009), May (7,640) and June (7,692).
Electric PV market leader Tata Motors, which has the biggest portfolio in India in the Nexon EV, Tigor EV, Tiago EV and the Xpres-T (for fleet buyers), with cumulative six-month retails of 29,453 units has a commanding 77% share of the EV market. It was over 80% not very long ago but the market has expanded with new competition.
That new competition for Tata comes in the form of the Mahindra XUV400 – the first real rival to the Tata Nexon EV, which is India's best-selling ePV in India. As per Vahan data, M&M, which also retails the e-Verito, clocked sales of 1,566 units, which gives it a market share of 4% and third rank.
Tata Motors' other rival is MG Motor India, which along with its ZS EV has introduced the Comet EV, a practical and compact urban runabout which takes on the recently launched Tata Tiago EV. MG sold a total of 3,215 EVs in H1 2023, which gives it an 8% market share and second position in India's growing EV market.
BYD India, which sells the Atto 3 SUV and e6 MPV, clocked sales of 1,167 units and a market share of 3 percent. PCA India, which retails the Citroen eC3, the electric version of the C3 hatchback, moves into fourth place with 1,091 units, ahead of Hyundai Motor India (597 units) and BMW India (469 units).
Luxury carmakers contributed 979 units or 255% to total ePV sales with BMW India leading with 469 units, followed by Volvo Auto India (242), Mercedes-Benz (193), Audi (43), Porsche (24) and Jaguar Land Rover (8)
Electric CVs: Tata Motors leads with 32% market share, BYD India has 11%
June 2023: 394 units, up 479% (June 2022: 68 units)
Jan-June 2023: 2,079 units, down 20% (Jan-June 2022: 2,596 units)
The commercial vehicle industry, where electric mobility makes eminent sense given the much larger number of kilometres driven, compared to personal EVs, clocked cumulative sales of 2,079 units, down 20% YoY (January-June 2022: 2,596 units). This is mainly due to much reduced buying of electric buses in the first half of the year. The CV sector essentially comprises goods carriers and passenger-transporting buses.
In the combined sales tally of goods carriers and buses, Tata Motors leads with 670 units, which makes for a strong 32% market share. It is followed by BYD India with 225 units and an 11% share. PMI Electro Mobility (190), Mahindra Last Mile Mobility (157), Olectra Greentech (111) and Switch Mobility (111) are other OEMs which have seen sales run into three figures.
Growth outlook: cautiously optimistic
India is targeting EVs to account for 30% of its mobility requirements by 2030, driven by the FAME scheme, state subsidies and a larger portfolio of products across vehicle segments.
The domestic EV industry's sales growth in 2023 can be attributed to an increase in the availability of products in the market, high petrol, diesel and CNG prices, state subsidies and sops offered under FAME II. It also helps that there is growing consumer awareness about the need to use eco-friendly transport. And, of course, the wallet-friendly nature of EV cost of ownership over the long run is a big catalyst.
Given the pace of growth, the EV industry can be expected to notch consistent progress in the in the second half of the year. While there is little doubt that sales of e-two-wheelers will remain under pressure, and hover around 40,000-47,000 unit monthly sales, demand should pick up after September when the festive season kicks in.
Some challenges remain in the form of inadequate charging infrastructure and high initial EV prices, which is directly related to the battery cost. Nevertheless, with OEMs' sharpened focus on localisation with a view to reduce costs and enhance affordability, and battery prices expected to reduce gradually, there is cautious optimism for this eco-friendly form of mobility.
RELATED ARTICLES