Electric two-wheeler retails hit record 104,750 units in May before slashed FAME subsidy kicks in
In the eight days after May 22 when the FAME subsidy was slashed from 40% to 15%, 57,917 e-two-wheelers were sold in India as buyers advanced their purchases before prices rise from June 1, helping drive retails to nearly 105,000 units. Ola, TVS, Ather and Bajaj Auto clock best-ever monthly sales.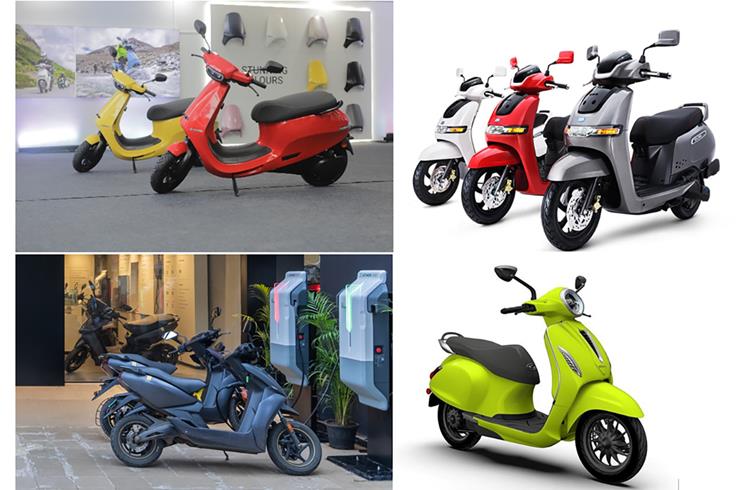 Retail monthly sales of electric two-wheelers have scaled a new high of 104,755 units in May 2023, which is a month-on-month increase of 57% (April 2023: 66,724 units) and translates into 3,379 EVs on two wheels sold on each day, last month.
The record retails of 104,755 units is as per end-of-day sales statistics on May 31 (as of June 1, 6am), on the government's Vahan website. This number beats the previous best of 85,452 units in March 2023 by a good 19,303 units. It may be recollected that sales had fallen by 22% month on month in April 2023.
EV buyers rush to buy before June price hike
What has accelerated retail sales in May 2023, more so in the last week of the month, is the government's decision on May 22 to revise the subsidy on the FAME India (Faster Adoption and Manufacturing of (Hybrid &) Electric Vehicles in India) Scheme to Rs 10,000 per kilowatt per hour (kWh) as against Rs 15,000/ kWH. Furthermore, the cap for incentive has been brought down to 15% of the two-wheeled EV's ex-factory price as against 40% benefit extended earlier. That's a 37.5% cut, which will easily translate into higher vehicle prices, which has kicked in from today (June 1, 2023).
This was reason enough for value-conscious vehicle buyers of electric scooters and motorcycles to advance their purchases before EV manufacturers raised vehicle prices from June 1. The rush of new purchases can be gleaned from the fact that between May 23 (when retail sales were registered at 46,838 units) and May 31, a total of 57,917 electric two-wheelers were sold. Do the math – that's 7,239 units sold in the last eight days of May.
The rapid pace of sales in the last week of last month means that demand soared for the leading players and of the Top 25 best-selling OEMs from the 129 in the fray, only three saw their sales decline month on month (see retail data sales table below).
Ola (28,438 units), TVS (20,253 units), Ather Energy (15,256 units) and Bajaj Auto (9,910 units) recorded their best-ever monthly retail sales in May 2023.
Ola, TVS, Ather and Bajaj Auto clock best-ever monthly sales
While the top three OEMs – Ola Electric, TVS Motor Co and Ather Energy – saw demand for their products rise smartly, Bajaj Auto rose up the ladder to take fourth rank for the first time with a 168% month-on-month increase in sales to 9,910 units. All these four EV makers also recorded their best-ever monthly sales yet.
Market leader Ola Electric recorded retail sales of 28,438 units comprising the S1 Pro and S1 e-scooters, beating its previous best of 21,991 units in April 2023 by 29 percent. TVS Motor Co's iQube also crossed the 20,000-unit mark with 20,253 units, surpassing its previous best of 17,878 units in March 2023 and recording 131% month-on-month growth over April's 8,751 units. Third-placed Ather Energy also hit a new monthly high in May 2023 with 15,256 units, growing 96% over April's 7,786 units. Meanwhile, Ampere Vehicles took fifth place with 9,618 units, up 15% over April's 8,324 units.
The combined sales of these five OEMs add up to 83,475 units of the total 104,755 EVs sold in May, which translates into 80% of total sales last month.
Seven other OEMs – Okaya EV (3,875 units), Okinawa Autotech (2,905 units), Hero Electric (2,109 units), Bgauss Auto (1,811 units), Battre Electric Mobility (1,199 units), Greaves Electric Mobility ( 1,155 units) and Lectrix EV (1,000 units) clocked four-figure sales.
Growth outlook
With the reduced FAME II subsidy kicking in from June 1, which will drive prices of e-scooters and e-motorcycles upwards by an estimated 10 to 15%, demand should slow down in the next few months before picking up at festival time later in the year.
Nevertheless, despite the higher prices as a result of the reduced FAME subsidy, the growth prospects for the domestic electric two-wheeler industry remain strong, particularly in the face of high petrol and diesel prices compared to the wallet-friendly impact of eco-friendly travel on two wheels.
While a few OEMs like Ola Electric, TVS Motor Co and Ather Energy have already indicated the level of price increases on their EVs, expect the bulk of manufacturers to do so in the coming days. Stay tuned in for regular price change updates.
ALSO READ:
EV sales in India rise 41% in April 2023 to over 109,000 units
EV sales in India hit 1.17 million units in FY2023, charge past 100,000 for six months in a row
RELATED ARTICLES