SUVs capture 57% of India's PV market: Maruti leads with 26% market share, M&M at 18% in H1 FY2024
With 1.18 million units and 21% growth, utility vehicles are the movers and shakers of the PV market. While Maruti Suzuki sales have crossed 300,000 units, Mahindra SUVs continue to see strong demand. Tata Motors sees its sales and share decline, likely due to the model transition for the Nexon.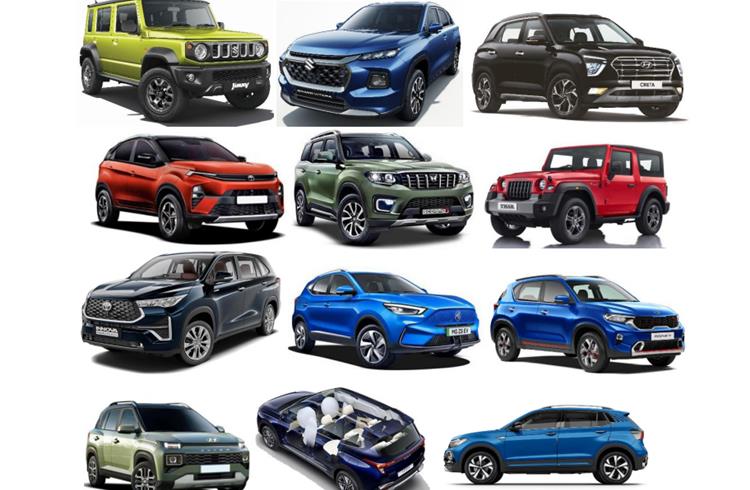 India Auto Inc's wholesale numbers for the first six months of FY2023 are out and they confirm the unabated charge of the SUV and MPV segment, which is making inroads in the overall passenger vehicle segment (cars, sedans, utility vehicles and vans) like never before. If the PV segment has been to register over 2 million units in H1 FY2024 for the first time ever and clock 7% YoY growth, it's thanks to the UV segment's 11,86,155 units – up 21% (H1 FY2023: 982,454 units).
This strong performance sees the UV sub-segment (SUVs and MPVs) increase its share of the PV market to the 57% – the highest ever in the first half of a fiscal. In fact, in September 2023's total PV sales of 316,908 units, UVs comprised 193,872 or a 61% share. This has also meant that the cars (hatchbacks and sedans) and van sub-segments have seen their H1 FY2024 numbers fall by 8% and 1% respectively as consumers make a beeline for SUVs.
No carmaker in India can now afford to be without an SUV, which is why each of the 16 OEMs feature in the UV sales table (see data table below). As per their H1 FY2024 performance, while 10 companies have recorded YoY increases, six – Tata Motors, Kia India, Renault India, Nissan Motor India, FCA India and Isuzu Motors India – have registered a YoY decline. And all of this is reflected in their market shares.
The top six SUV and MPV makers together account for over a million units – 10,00,931 units – and 84% of total UV sales in first-half FY2024.
The top six OEMs together account for over a million units – 10,00,931 units – and an overwhelming 84% of total UV sales in H1 FY2024. The top-performing company is Maruti Suzuki India, which with a spate of new products launched over the past 8-12 months, is riding a wave of massive demand. At 306,467 units, the company has recorded robust 87% YoY growth (H1 FY2023: 163,630), selling all of 142,837 units more than it did a year ago and helping accelerate market share increase to 25.83% from 16.65% a year ago. Importantly for Maruti Suzuki, its sterling UV segment performance has helped buffer the decline in its passenger car and van sales. While Alto and S-Presso budget cars' sales were down 40%, sales of compact hatchbacks and sedans (Baleno, Celerio, Dzire, Ignis, Swift, Tour S, and Wagon R), registered a 5 percent YoY decline. The Eeco van also saw a 3% YoY sales drop.
Mahindra & Mahindra, with its arsenal of SUVs, dispatched 214,904 units in April-September 2023 to achieve 29% YoY growth, and sees its UV market share increase to 18% from 17% in H1 FY2023.
In third place is Hyundai Motor India with 186,820 units, up 23% and a marginal UV share increase to 15.75% from 15.52% a year ago. The Creta, India's best-selling midsize SUV, continues to be Hyundai's best-seller with 83,693 units, up 11% (H1 FY2023: 75,482). The compact SUV duo of the Venue and Exter has sold 88,452 units, up 44% (H1 FY2023: 61,286), as a result of the demand for the recently launched Exter which has drawn over 75,000 bookings. Demand for the Alcazar though has dropped – down 19% to 11,512 units from 14,190 units a year ago.
Tata Motors, which is one of the few companies to see an increase in its car and sedan sales, has witnessed a drop of 5% in its UV numbers. This sees its market share reduce to 14.51% from 18.47% a year ago. The company, which has four models – Nexon, Nexon EV, Punch, Harrier and Safari, dispatched 172,124 units, down 5% on the 181,481 units of H1 FY2023. Combined Nexon-Punch wholesales were 151,601 units, down 0.42% on the year-ago 152,249 units. One can put this down to lower sales of both the Nexon and the Nexon EV in the July-August-September as the company was transitioning to the model change and dispatches to dealers were possibly fewer. The facelifted Nexon and Nexon.ev were launched on September 14.
It's the same scenario with the Tata Harrier and Safari, whose sales are down 30% to 20,523 units from 29,232 units a year ago. The company has now launched the updated models. What's more, with both the facelifted Harrier and Safari SUVs achieving a top 5-star rating in the Global NCAP test, their sales should see an upward movement in the coming months.
Kia India has also seen its UV sales decline in the first six months of this fiscal. The 120,616 units are down 9% on year-ago 131,962 units and the Korean carmaker sees its UV share drop to 10.16% from 13.43% in H1 FY2023. Both its high-selling models, the Seltos and Sonet have seen a sales decline while the Carens MPV and EV6 are in positive territory. Seltos numbers at 45,852 units are down 8% (H1 FY2023: 50,040) and Sonet sales down 13% at 39,066 units (H1 FY2023: 45,102). The Carens with 35,212 units sold 192 units more in H1 FY2024. Kia India dispatched 486 all-electric EV6s, up 2937% albeit on a low year-ago base of 16 units.
Toyota Kirloskar Motor posted 16% growth with 86,658 units compared to 74,686 units a year ago. Strong demand for the Innova Crysta and Innova Hycross led to sales of 47,474 units, up 31% (H1 FY2023: 36,101 units), which constitutes the bulk of its sales.
GROWTH OUTLOOK: UV SALES DRIVING TOWARDS RECORD FY2024
Halfway into FY2024, UV numbers are already 59% of FY2023's record sales of 20,03,718, the first time that India UV Inc drove past the 2 million mark and accounted for 51% of the record 3.89 million PVs sold. Now, six months later, the UV segment's share of the PV market has increased by six percent to 57%, which is a telling statement of just how strong customer demand remains for SUVs and MPVs in India.
With the festive season underway, Navratri having begun, and Dussehra and Diwali coming up, all SUV makers have kept their dealers across the country well stocked with popular models, keen to make the most of the sales momentum. October and especially November should provide the fireworks in terms of UV monthly numbers and in turn drive towards a record FY2024.
ALSO READ:
Car and SUV September sales hit record 363,000 units as OEMs look to capture festive demand
Maruti Suzuki takes big lead in car and SUV exports in H1 FY2024
Diwali comes early: resilient India Auto Inc sells 11 million units in first-half FY2024, up 9%
EV sales in H1 FY2024 jump 51% to 738,000 units, fiscal headed for record 1.5 million
RELATED ARTICLES