India Auto Inc well set for a strong FY2024, dispatches 11.61 million units in H1
At halfway stage in the ongoing fiscal year, vehicle manufacturers in India have achieved 54.77% of FY2023's 21 million units; while the PV and three-wheeler segments are providing the fireworks, demand is returning to the two-wheeler sector even as the CV sector picks up pace with growing demand for buses in the April-September 2023 period.  
The India auto wholesales growth story just got 6% bigger. As per apex industry body, the Society of Indian Automobile Manufacturers (SIAM), India Auto Inc dispatched a total of 1,16,14,781 units across the passenger vehicle, two- and three-wheeler and commercial vehicle segments in the first six months of FY2024. This constitutes a 6% year-on-year increase over the 1,09,88,649 units of April-September 2022 and comes just ahead of the 42-day festive season which has opened with Navratri on October 14 and continues through November with Diwali.
At halfway stage in the fiscal, the industry has achieved 54.77% of FY2023's 21,204,162 units, with the passenger vehicle and three-wheeler sub-segments providing the fireworks in terms of growth even as demand returns to the scooter and motorcycle segments while the CV sector, particularly medium and heavy CVs (buses), has seen strong double-digit growth.
The second quarter of FY2024 (July-September 2023) saw OEMs dispatch a total of 6.11 million units (61,16,091 units), just 1% more than the 60,52,739 units in July-September 2023, albeit this is on the large year-ago base. Nevertheless, what's important is that all vehicle segments other than two-wheelers have recorded strong demand in Q2 FY2024: PVs – 10,74,189 units, up 4.66%, two-wheelers – 45,98,442 units, down 1.61%, three-wheelers – 195,215 units, up 62.24%, and commercial vehicles – 247,929 units.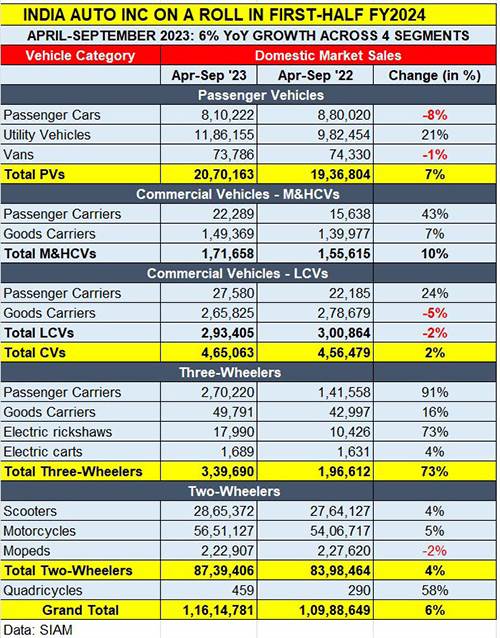 Here's looking closer at how each of the four sub-segments has fared in the April-September 2023 period.
PASSENGER VEHICLES: 2.07 MILLION UNITS, UP 7%
H1 FY2024 wholesales are 53.21% of FY2023'S 20,70,163 units
Fast fact: SUVs account for 57% of PV sales, up from 51% YoY
Of the four vehicle segments, the passenger vehicle (PV) segment has been in the news for over a couple of years now, thanks to the sustained and surging demand for utility vehicles and MPVs. PVs notched a record 3.89 million units in FY2023 and from the 20,70,163 units clocked in the first six months of the current fiscal, India PV Inc has already achieved 53.21% of that total. September 2023 wholesales, not surprisingly, at 362,225 units are the best in H1 FY2024 as OEMs ensured showrooms across India are well stocked with popular models as a large number of car and SUV buyers will exercise their purchase decision in the 42-day festive season which has begun with Navratri on October 14.
The UV segment, which comprises SUVs and MPVs, continues to be the buffer for slowing sales of passenger cars and vans. With total sales of 11,86,155 units in H1 FY2024, UVs have not only clocked robust 21% YoY growth (H1 FY2022: 982,454 units) but have also increased their share of overall PV sales to 57% from 51% they had a year ago. What's more, UV numbers also continue to save the blushes for the PV segment, considering that sales of cars are down 8% to 810,222 units and vans sales down by 1% to 73,786 units.
A glance at the company-wise sales performance above reveals that of the 16 OEMs in the fray, nine have recorded YoY growth and seven have seen declines. The top six OEMs, each with six-figure wholesales, account for 19,14,377 units or 92% of total PV sales.
Leading the charge is Maruti Suzuki India with 873,107 units, up 10%. This is thanks to India's PV market leader surfing the unabating wave of SUV demand, successfully buffering the slowdown in sales of its budget hatchbacks Alto and S-Presso and its seven compact cars (Baleno, Celerio, Dzire, Ignis, Swift, Tour S, Wagon R). Its eight-strong UV portfolio of the Brezza, Ertiga, Fronx, Grand Vitara, Invicto, Jimny, S-Cross and XL6 sold 306,467 units, growing 87% YoY (H1 FY2023: 163,630 units) and accounting for 35% of its total PV sales, up from 20.59% a year ago.
The other five OEMs – Hyundai, Tata Motors, Mahindra, Kia and Toyota – have all benefited from the demand for SUVs. The share of UVs is 61% for both Hyundai and Tata, 100% for M&M and Kia, and 76% for Toyota Kirloskar Motor.
TWO-WHEELERS: 8.7 MILLION UNITS, UP 4%
H1 FY2024 wholesales are 55% of FY2023's 1,58,62,087 units
Fast fact: Demand returns to both scooters and motorcycles
The two-wheeler segment, comprising scooters and motorcycles, is back in action with 87,39,406 units, up 4% on H1 FY2023's 8.39 million units. While motorcycles at 5.65 million units account for a 64.66% share, 2.86 million scooters make for a 32.78% share and 222,907 mopeds have 2.55 percent.
Of the 87,39,406 units in H1 FY2024, September 2023 with 17,49,794 units accounts for 20% or a fifth of the total, indicating that OEMs have packed their showrooms across the country, bullish on demand coming their way in the ongoing festive season.
Of the 14 OEMs, seven see YoY growth (see data table above) in H1 FY2024. Hero MotoCorp leads with 2.68 million units for a 30.67% market share while Honda Motorcycle & Scooter India with 2.2 million units has a 25.24% share. However, both these two OEMs have seen their two-wheeler market share reduce YoY – while Hero MotoCorp had 32% a year ago, HMSI had 27.50%.
TVS Motor Co, the No. 3 player, which dispatched 15,13,821 units in H1 FY2024, currently has an 18% share of the market, up from 15% in H1 FY2023. Bajaj Auto with 10,44,957 units has increased its share to 12.44% from 11.13% a year ago.
Suzuki Motorcycles India and Royal Enfield too have registered gains – while the two-wheeler arm of the Japanese automaker has shifted 4,44,568 units for a 5.29% share, improving on its 4.35% a year ago, midsize motorcycle leader Royal Enfield, with dispatches of 416,887 units, now has a 5% share of overall two-wheeler sales, up from 4% in H1 FY2023.
THREE-WHEELERS: 339,690 UNITS, UP 73%
H1 FY2024 wholesales are 69% of FY2023's 488,768 units
Fast fact: Passenger-carriers drive demand, Bajaj share grows to 68%
One of the breakout numbers in H1 FY2024 is that of three-wheelers – wholesale dispatches of 339,690 units sets a new benchmark for half-year numbers, constituting robust 73% YoY growth. That's not all. This first-half sales number is already 69% of entire FY2023's 488,768 units, which means three-wheeler sales are set to cross the half-a-million mark for the first time in India this fiscal.
Demand for both passenger carriers and goods carriers continues to be very strong and what is also helping is the growing demand for all-electric models. H1 FY2024 saw a total of 19,679 units being dispatched, which constitutes a 6% share of overall segment numbers.
Market leader Bajaj Auto has increased its stranglehold on the segment with a 68% share – 230,402 units, up by a strong 107% YoY and improving on its 57% share in H1 FY2023. Piaggio Vehicles has also seen strong gains with 48,028 units and a 14% share of the market. In third place is Mahindra Last Mile Mobility with 39,226 units and an 11.5% market share.
COMMERCIAL VEHICLES: 465,063 UNITS, UP 2%
H1 FY2024 wholesales are 48% of FY2023's 962,468 units
Fast fact: M&HCVs post 10% growth as demand for buses grows, LCV goods carrier sales decline
At 465,063 units in first-half FY2024, the CV sector has clocked marginal 2% growth and 48% of FY2023's total sales of 962,468 units. Nevertheless, the fact is that the CV industry's performance depicts resilience and can only get better in the months to come, given that it is benefiting from the growing need for transportation of coal, cement and general market load, even as the passenger carrier segment (buses) is also witnessing strong demand. This positive trend can be attributed to the adequate deployment of funds from the Central government towards infrastructure development, which is also driving bulk deals, especially in tippers and government sectors.
Medium and heavy commercial vehicles (M&HCVs), considered to be the barometer of the economy, have seen 10% YoY growth to 171,658 units and account for 37% of total CV sales, up from 34% a year ago. The M&HCV total is split into 22,289 buses (up 43%) and 149,369 goods carriers (up 6.70%).
Ashok Leyland, which has bagged a spate of orders from State Transport Undertakings, has nearly doubled its first-half FY2024 sales to 7,372 buses (H1 FY2023: 3,793), and has a 33% share of the bus market. It is followed by VECV Eicher with 6,557 units, up 24%, for a 29% bus market share. In third position is Tata Motors, which dispatched 5,814 buses, up 29% and giving it a 20% share. SML Isuzu is ranked fourth with 2,354 units and a 10.56% share.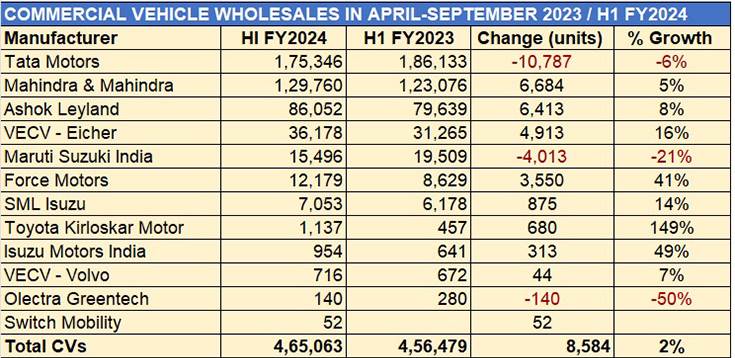 The overall CV segment's numbers would have been higher if it weren't for the decline in light CV goods carrier sales. Total LCV sales at 293,405 in H1 FY2024 are down 2% and that's mainly because goods carrier sales dropped by 5% to 265,825 units, which dragged overall LCV segment numbers down.
Mahindra & Mahindra, with its Bolero pickups, remains the leader in the goods carrier segment – its 124,249 units were up 3.60% YoY. However, Tata Motors, with 86,420 units saw its H1 FY2024 sales fall 14% (H1 FY2023: 1,00,664 units). Ashok Leyland posted dispatches of 31,427 units, up 1.31 percent.
OPTIMISTIC GROWTH OUTLOOK FOR H2 FY2024
Given the current sales momentum, particularly in the PV and three-wheeler segments, while demand is gradually returning to scooters and motorcycles, the growth outlook for India Auto Inc remains positive.
The festive season is also underway, which should help accelerate demand in October and November. Vinod Aggarwal, SIAM president, summed up the mood by saying, "All-round economic growth enabled by the government's conducive policy augurs well for the growth of the automotive industry. We are optimistic about the industry's growth potential for H2 FY2024."
RELATED ARTICLES