India Auto Inc retail sales down 4% in April, FADA urges 10% GST cut on two-wheelers
FY2024 opens on a slower note with overall sales at 1.72 million units; 7 percent decline in two-wheeler retails and 1 percent for passenger vehicles drag overall April 2023 numbers down.
The Federation of Automobile Dealers Associations (FADA) today released vehicle retail sales numbers for April 2023. Overall retails at 1.72 million units across five vehicle categories last month translate into a 4.03% decline year on year (April 2022: 17,97,432 units.
The sharp 7.30% fall in the two-wheeler segment as well as the 1.35% decline in passenger vehicle sales have contributed to the overall decline in India Auto Inc's on-ground retails in the first month of FY2024. A close look at the data table below reveals that sales of passenger-carrying three-wheelers and light commercial vehicles also took a hit last month compared to their sales a year ago.
Commenting on April 2023's performance, FADA President Manish Raj Singhania stated: "FY2024 has begun on a subdued note with April experiencing a 4% YoY overall decline. Although the three-wheeler segment enjoyed robust growth of 57% YoY, the tractor and commercial vehicle segments only grew by a modest 1% and 2%, respectively. Meanwhile, the two-wheeler and PV categories experienced YoY degrowth of 7% and 1%, respectively."
Two-wheeler retails: 12,29,911 units – down 7.30%
The two-wheeler segment, the largest in terms of volumes and lowest when it comes to affordability, is proving to be a drag on overall industry growth. It continues to underperform, which is clearly an impact of the continuing slowdown in demand emanating from rural India, a key buyer of mass-market commuter motorcycles. Total retails in April 2023 were 12,29,911 motorcycles and scooters, down 7.30% and 96,862 units fewer than April 2022's 13,26,773.
Clearly, the two OEMs contributing to this YoY fewer sales are Hero MotoCorp and Honda Motorcycle & Scooter India. Together they account for 95,248 units or 98% of the sales decline – while Hero MotoCorp sold 410,947 units (down 9.73% and 44,340 units less YoY), Honda Motorcycle & Scooter India retailed 244,044 units (down 17.25% and 50,908 units less YoY) as per the company-wise retail data provided by FADA. This is also reflected in the two OEMs' reducing market share – while Hero MotoCorp is down marginally to 33.41% from 34.32% a year ago, HMSI sales its share down to 19.84% from 22.23% in April 2022.
Entry-level vehicles, which constitute the largest share of the two-wheeler segment, are attracting fewer buyers. FADA has now urged the GST Council to consider reducing GST on two-wheelers from 28% to 18% to help revive growth in this vital segment which represents 75% of total auto sales volumes in India.
Meanwhile, TVS Motor Co saw sales improve by 6.38% to 208,266 units, and market share to 17% from 14.76% a year ago. Bajaj Auto has also had a decent April with 4% better sales – 146,172 units – and its share up to 11.88% from 10.60% year ago. Two other ICE players –Suzuki and Royal Enfield – did well to increase their industry market share to 5% and 4.94% respectively.
As per Vahan retail sales data, a total of 65,730 electric two-wheelers were sold in April 2023, which translates into 5.34% of total two-wheeler retails of 12,29,911 units. This is a 23% YoY increase in numbers and the 4% EV share in April 2022 retails of 13,26,773 units.
Three-wheeler retails: 70,928 units – up 57%
Electric three-wheelers: 34,385 units – up 71%
Of all the five industry segments, three-wheelers has notched the best growth rate across all segments – 57% from 70,928 units (April 2022: 45,114 units) – and surpassed pre-Covid FY2019 levels. What has helped charge this segment is the sustained and high demand for electric passenger and goods carriers. A total of 34,385 electric three-wheelers were sold, recording robust 70.78% growth and accounting for 48.47% of total segment sales and up four percentage basis points from the 44.62% a year ago.
Bajaj Auto maintains its vice-like grip on the segment with total retails of 24,873 units to increase its market share to 35% from 33% a year ago.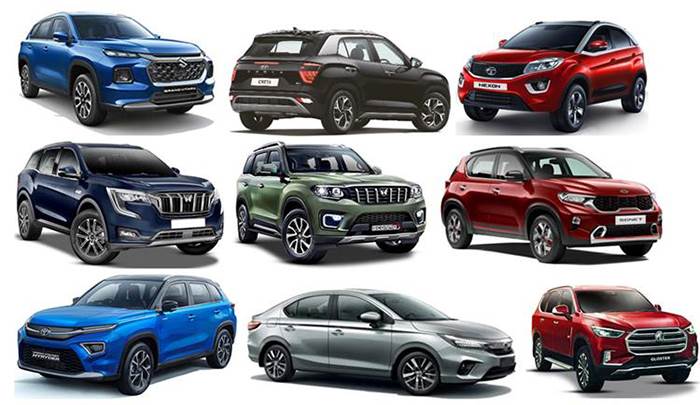 Passenger Vehicle retails:
282,674 units – down 1.35%
The passenger vehicle segment, which achieved record retail sales of over 3.62 million units and 23% YOY growth in FY2023, sees its sales decline for the first time in eight months. April 2023 numbers at 282,674 units are decrease of 1.35% on April 2022's 286,539 units.
According to FADA president Manish Raj Singhania, "This was primarily due to last year's high base and the OBD 2A norms, which have led to vehicle price increases and advanced purchases in March. Although supplies are improving, there is a significant mismatch between customer demand and available inventory. Furthermore, entry-level PVs have fewer buyers, suggesting that customers at the bottom of the pyramid are still hesitant to upgrade from two-wheelers to four-wheelers. For the first time in eight months, the PV segment witnessed a YoY degrowth, potentially signalling tapering demand in this segment."
PV market leader Maruti Suzuki sold 109,919 units last month, 3,762 units less than it did in April 2022, and sees its share reduce to 38.89%. Hyundai Motor India, with 41,813 units, has marginally improved its market share to 14.79 percent. The two OEMs which continue to see strong retail growth are Tata Motors (41,734 units, up 12.38% & market share up to 14.64%) and Mahindra & Mahindra (29,545 units, up 23.20% & market share up to 10.45%).
Commercial Vehicle retails:
85,587 units – up 1.91% YoY
The critical commercial vehicle segment, which recorded 33% growth and retail sales of 939,741 units in FY2023, sees growth slow do to single digit in April 2023 with 85,587 units, a YoY increase of just 2% (April 2022: 83,987 units). FADA says the CV dealer fraternity has reported that "vehicle availability was a major concern due to the OBD 2A norms. The low base from last year also contributed to the positive growth."
A look at the FADA statistics for April 2023 reveals that though Tata Motors continues to lead the CV sector, its 33,120 units were down 6.14% on April 2022's 35,287 units. Tata's CV market share too is down YoY to 39% from 42% a year ago. It's the same with Mahindra & Mahindra – sales were down 4.65% to 16,957 units (April 2022: 17,785).
Meanwhile, Ashok Leyland logged 19% growth with 15,787 units (April 2022:13,256) thereby growing its share of the market to 18.45% from 16% a year ago. VECV too did well to shift 7,278 CVs – that's 26% YoY growth (April 2022: 5,780). And Daimler India CV, the maker of BharatBenz trucks and buses sold a total of 1,883 units to record 14% growth (April 2022: 1,655).
Tractor retails: 55,385 units – up 1.48%
Demand for tractors and farm machinery was tepid in April 2023 at 55,385 units, up 1.48% (April 2022: 55,019 units). The segment, a key driver of rural India growth, had clocked all-time high retails of 827,403 units in FY2023.
Nevertheless, despite the marginal growth, all major players have recorded growth. Market leader Mahindra & Mahindra (which includes Swaraj Tractors) sold a total of 22,189 units, which marks 18% YoY growth and gives it commanding 40% market share, up from 34% a year ago. International Tractors, with 6,964 units, registered 10% growth and saw its segment share increase to 12.47% from 11.51% a year ago and TAFE clocked 13% growth with 6,746 units (April 2022: 5,977 units).

FADA retains a cautious growth outlook
Given FY2024's opening month's tepid retail market performance, FADA is maintaining a cautious growth outlook for May 2023. Unfavourable weather conditions persisting in May and untimely rains and hailstorms have damaged crops in a number of states across India. This exacerbates concerns for farmers and may potentially impact entry-level two-wheeler and passenger car sales.
In its comments for the two-wheeler segment, which continues to face challenges, particularly with entry-level vehicles attracting fewer buyers, the association has urged the GST Council to consider reducing GST on 2-wheelers from 28% to 18%, which will act as a catalyst to accelerate demand.
Another factor impacting sales is that as EVs gain popularity, two-wheeler buyers are increasingly considering transitioning from IC engines to EVs, which may temporarily delay purchasing decisions. However, FADA states there could be a sales resurgence in May 2023 with the upcoming marriage season in India.
In the PV segment, which is understood to have a massive order backlog of around 800,000 units, rising inventory levels are raising concerns. FADA has called upon OEMs to recalibrate their inventory and prioritise the production and supply of products that are in high demand, ensuring a more efficient alignment between market demand and available inventory. This will ultimately benefit both customers and manufacturers. Despite the ongoing chip shortages and somewhat sluggish market conditions, the marriage season in May is expected to provide a slight boost in sales.
The commercial vehicle continues to witness strong demand in the M&HCV segment, supported by robust infrastructure projects taking place nationwide. Improved product supply from OEMs and customer adaptation to price shifts are contributing to the segment's growth.
RELATED ARTICLES