India auto retail on a roll in FY2023: PVs, CVs, 2- and 3-wheelers clock double-digit growth
Over 22 million units and 21% YoY growth a result of best-ever PV retails, revival of demand for CVs and EVs powering three-wheeler sales. Despite 19% growth, two-wheelers at 7-year low; tractors up 8%. FY2024 could prove challenging due to inflationary pressures, price hikes and regulatory changes.
The Indian automobile industry has marched into FY2024 with a robust on-ground retail performance in March 2023 and in turn FY2024. As per data released by apex automobile dealer body FADA for five vehicle categories, retail sales of 20,41,847 units, up 14% on March 2022, are the second-best monthly numbers in FY2024 and just 52,531 units below October 2022's 20,94,378 units albeit that was a festive month last year.
Except for tractors (up 4%), all categories saw double-digit growth with two-wheelers (up 12%), three-wheelers (up 69%), passenger vehicles (up 14%)and commercial vehicles (up 10%). The focus of this analysis though is India Auto Inc's retail performance in all 12 months of FY2023.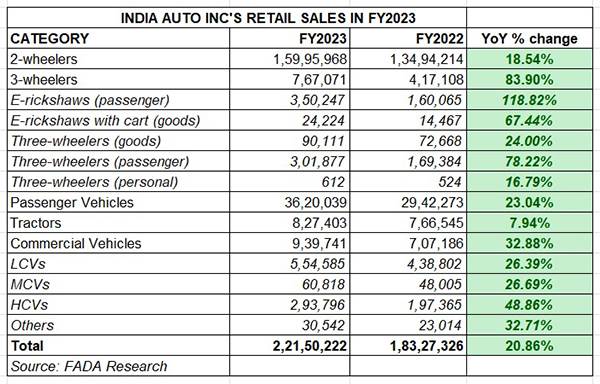 FY2023 stands out because it is the first full year without the shadow or impact of Covid. Total vehicle retails of 2,21,50,222 units are a strong 21% YoY increase (FY2022: 1,83,27,326 units). Take a close look at the data table below. What will gladden captains of India Auto Inc is that all vehicle segments and sub-segments (other than tractors' 7.94%) have recorded double-digit growth. Let's take deep dive into each vehicle segment.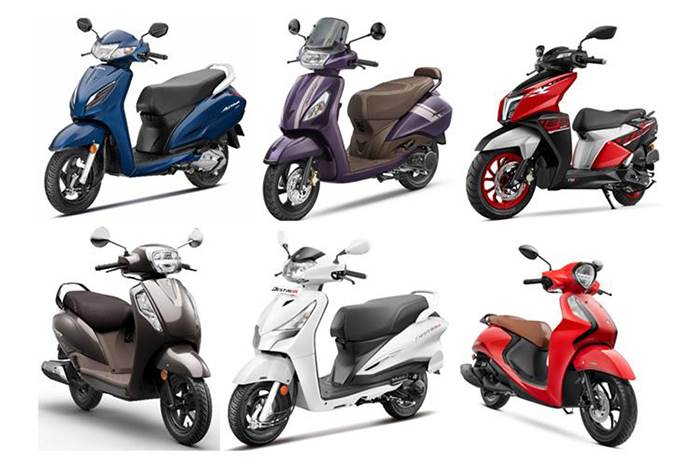 Two-wheeler retails: 1,59,95,968 units / up 18.54%
While the heavy lifting in terms of pure numbers per se will understandably be two-wheelers with 1,59,95,968 units and an overwhelming 72% of total retails in FY2023, this is one segment which continues to underperform. At present, despite their 18% YoY growth and 15.9 million units, two-wheeler retails are at a seven-year low – clearly an impact of the continuing slowdown in sales emanating from rural India.
This impact is reflected in market leader Hero MotoCorp's retail sales. While the 51,30,611 units are an 11% improvement over FY2022 sales, the company sees it market share reduce by over 2 percentage basis points to 32% from 34.35% a year ago. Arch rival Honda Motorcycle & Scooter India, with 38,92,340 units, logged much-better 31% growth and increased market share to 24.33% from 22% in FY2022. TVS Motor Co, with 24.46% growth to 2.4 million units, now has a 15.53% share of the two-wheeler market.
Like Hero MotoCorp, Bajaj Auto too has felt the heat of slackening commuter bike sales. At 1.69 million units, YoY growth was a tepid 2.95 percent and seen in the company's share dropping to 10.62% from 12.23% a year ago.
Three other ICE players – Royal Enfield, Suzuki and Yamaha – did well to increase their industry market share to 4.35%, 4.23% and 3.47% respectively.
Meanwhile, the march of the electric brigade continues in the segment. As per Vahan data, a total of 720,733 electric two-wheelers were retailed in FY2023, which translates into EVs taking a 3.25% share of the overall two-wheeler market, improving upon the 1.87% in FY2022 (252,543 EVs out of total 1,34,94,214 units).
Three-wheeler retails: 767,071 units / 84%
Electric three-wheelers: 374,471 units / 114%
This is a segment which is witnessing robust demand, and is back at pre-Covid FY2019 levels albeit this is thanks to the growing demand for low-cost-ownership electric vehicles.
At 767,071 units retailed, YoY growth in FY2023 is 84% year on year. Both sub-segments – passenger and goods carriers – have benefited from the Indian economy back on the move. Passenger three-wheeler sales (ICE + EV) at 652,124 units are a 98% growth over the year-ago 329,449 units. And for goods carriers on three wheels (ICE + EV), the 114,335 units signify a 31% increase over the 87,135 units of FY2022.
According to FADA, availability of finance as also alternative fuels and state subsidies, has contributed to growth in this segment. What is striking is the rapid advance of electric three-wheelers. The 374,471 EVs (passenger + cargo) have not only notched 114% growth (FY2022: 174,532) but in the process have also substantially increased the EV share in the three-wheeler segment to 49% from 42% a year ago. As a result, ICE products' share has dropped to 51% from 58% in FY2022.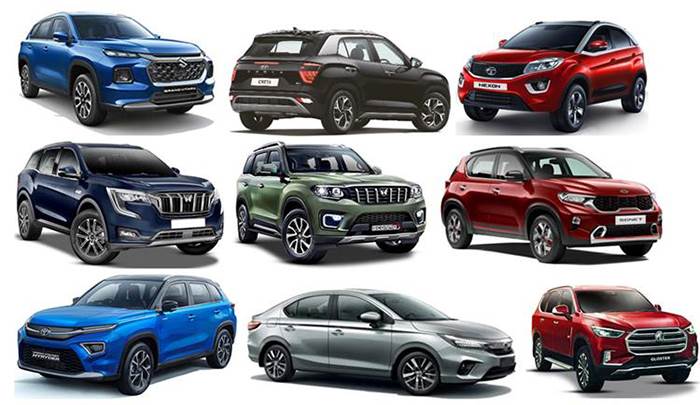 Passenger vehicle retails: 36,20,039 units / up 23%
The passenger vehicle segment has been firing on all cylinder for over two years now and it did not disappoint in FY2023 either. Retail sales have hit a record high of 3.6 million units in FY2023, driving ahead of the previous best of 3.2 million units in FY2019.
This performance is commendable given that the production for a number of carmakers, including market leader Maruti Suzuki, was intermittently impacted by supply chain issues specific to semiconductors and electronics. The segment continues to face a challenge in the form of tepid demand for entry-level hatchbacks albeit the continued surge in demand for SUVs and MPVs has more than filled that gap and also expanded the market. Given that the utility vehicle sub-segment accounts for over 50% of the PV segment, every second car sold in India is either an SUV or an MPV. That translates into retails of 1.8 million units in FY2023.
That's also ample reason why Hyundai Motor India, Tata Motors, Mahindra & Mahindra, Kia India and MG India have recorded their best-ever fiscal year sales. What's common is that they all have SUV-heavy model portfolios. Tata Motors, Mahindra, Kia, Toyota Kirloskar Motor, Skoda Auto Volkswagen Group and MG Motor India have all achieved improved market share positions in FY2023 (see data table below).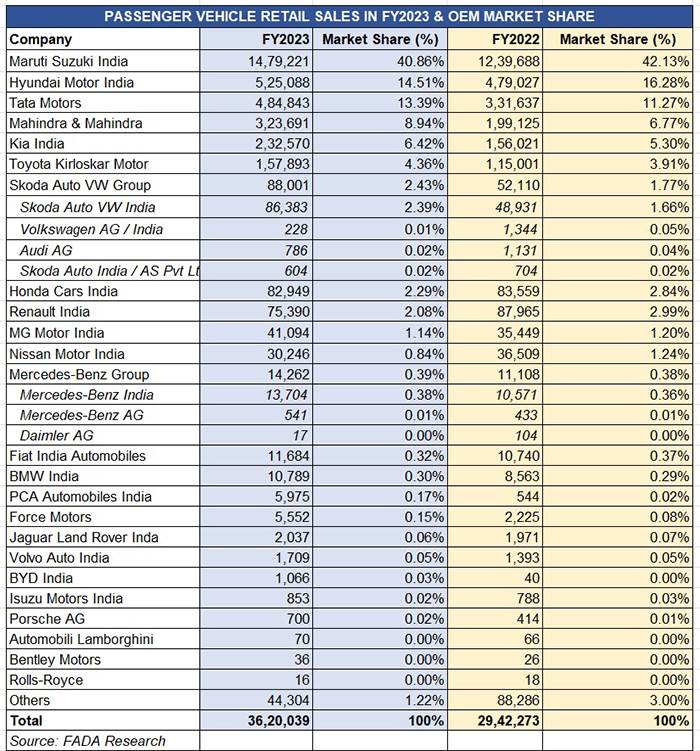 Commercial vehicle retails: 939,741 units / up 33%
Growth in the critical commercial vehicle segment in India comes about in four-year cycles and it has arrived in FY2023. A total of 939,741 units translates into buoyant 33% YoY growth, which itself is democratised across all three sub-segments: 26% for light commercial vehicles (554,585 units), 27% for medium CVs and a handsome 49% for heavy CVs.
The massive government as well as private sector spend in infrastructure development, mining and related activities is leading to fresh demand, particularly for HCVs, even as replacement demand is up and about with a vengeance as MCV operators scramble to update their fleets.
The huge boom in e-commerce activity and the resultant demand for optimised hub-and-spoke-driven last-mile deliveries across the country is reflected in 554,585 LCVs being retailed in FY2023, accounting for 59% of total CV sales.
Look at the company-wise retail sales data and one can see that the top three players, each with six-figure sales – Tata Motors (up 23.52%), Mahindra & Mahindra (51%) and Ashok Leyland (47%) – have each logged high double-digit growth. Growth has also percolated to the other players albeit Maruti Suzuki is the only one with flat retails of its Super Carry small CV. While VE Commercial Vehicles has seen 47% YoY growth with 62,609 units, BharatBenz bus-and-truck maker Daimler India CV has clocked a 30% increase with 17,077 units. Force Motors with 12,047 units has seen a 40% improvement in retails while SML Isuzu with 9,136 units has bettered its FY2022 performance by 54 percent.
Tractor retails: 827,403 units / up 8%
Tractors and agricultural machinery, which are key drivers of rural India, have clocked all-time high retails of 827,403 units, going ahead of the previous high of 782,000 in FY2021 and 766,545 units in FY2022. At 8%, tractor industry retail growth is the least of the five India Auto Inc vehicle segment and is reflective of the dampened demand in town and country.
In terms of company-wise sales and market share, the Mahindra Group which includes Swaraj Tractors sold a total of 305,434 tractors, up 22% YoY, to increase its market share to 37% from 33% a year ago.
International Tractors, which manufactures the Sonalika brand of farming products, sold 97,743 units to marginally grow its share to 11.81% from 11.74% in FY2022. Chennai-based TAFE with 92,546 units has done well to enhance its share to 11.19% from 10.60 a year ago.
What's the near-term retail outlook?
If you think FY2024 will be an encore of FY2023, then hold your horses. Given the high double-digit growth in FY2023, which has also seen fulfilment of pent-up demand for the past two years, expect single-digit growth this fiscal.
According to FADA president Manish Raj Singhania, "As the high-growth period has now passed, FY2024 is expected to see tapered growth in the low single digits due to a high base, inflationary pressures, routine price hikes, and regulatory changes. Additionally, for the third consecutive month, US government agencies have warned of the possibility of El Nino's arrival later this year, which could lead to poor monsoons, hampering rural India's growth potential. The untimely rains and hailstorms in North and Central India have destroyed key rabi crops and delayed harvesting, which will have a negative impact on rural sales. The year will also witness high EV penetration which will eat into ICE market share. Overall, FY2024 will be a year of consolidation for the India auto retail Industry with an overall single-digit growth over FY2023."
A rather sobering real-world comment after the many highs in FY2023.
RELATED ARTICLES