Car and SUV sales surpass 300,000 units for eighth time in 11 months of FY2023
Sustained UV demand drives PV wholesales of over 320,000 units in February 2023, the eighth month other than April, May and December 2022 to surpass 300,000 units. FY2023, like CY2022, to see sales of over 3.8 million units.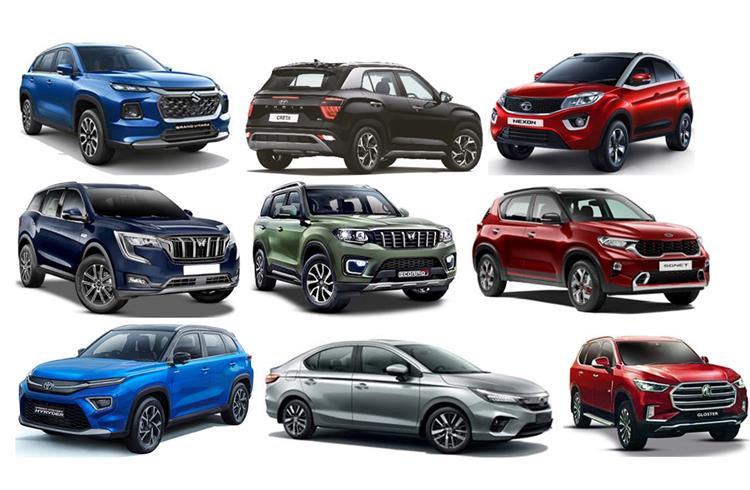 India's passenger vehicle growth story has continued its march in February 2023. At 317,905 units, which constitute the wholesale numbers released by eight carmakers (see data table below), the industry has driven past the 300,000-unit mark for the eighth month in the first 11 months of the ongoing fiscal year.
The festive month of September 2022, with 355,043 units, was the best month in the fiscal to date. Other than April, May and December 2022, overall PV sales have been over the 320,000-units mark. This is despite tepid demand for entry level mass-market hatchbacks, which not so long ago were the growth drivers for the industry. What has powered growth over the past couple of years is the sustained and surging demand for SUVs and considering that every second car sold in India is now a utility vehicle, over 160,000 units would comprise UVs, SUV or an MPV.
Here's taking a closer look at how the seven OEMs fared in February 2023. Not surprisingly, those with a strong UV portfolio and good factory production have seen robust growth.
Maruti Suzuki India: 147,467 units, up 10% YoY
Having opened January with sales of 147,348 units, Maruti Suzuki has followed it up with 147,467 units in February, up 10%. The difference between the two months is just 119 units, indicating that demand for its entry-level vehicles is still tepid even as the company makes solid gains on the utility vehicle front. Nevertheless, February 2023 is the second-best monthly sales performance after festive September 2022's 148,380 units. Its entry-level cars – the Alto and S-Presso – sold 21,875 units, up 11% but were down 14% on January 2023's 25,446 units. Nevertheless, demand has perked up following the launch of the S-Presso CNG in October 2022 and the third-generation Alto K10 in November 2022. For the first 11 months, cumulative sales of these two cars are 221,329 units, up 13% YoY.
Last month, Maruti Suzuki's six-pack comprising the Baleno, Celerio, Dzire (and Tour S), Ignis, Swift and Wagon R sold a total of 79,898 units, up by 3%, and 8.20% more than January 2023's 73,840 units.
Maruti Suzuki, like other OEMs, is riding the continuing wave of demand for SUVs. Its pack of UVs – new Brezza, Ertiga, XL6 and the new Grand Vitara – sold a total of 33,550 units, up 32%. There is strong demand for the new Grand Vitara (which now also has a CNG variant) and the new Brezza. The Maruti Grand Vitara, which has sold over 32,000 units in five months since launch, was recently voted Autocar India's Car of the Year 2023, which is a strong testament to the product's standing in India's competitive SUV market.
Maruti Suzuki, which currently has an order backlog of around 405,000 vehicles, has had to contend with a slower rate of production due to supply chain issues. Given the stiff competition, particularly in the booming SUV segment, it will have to ramp up production to capitalise on demand.
Hyundai Motor India: 47,001 units, up 7% YoY
While the Chennai-based manufacturer's domestic market sales of 47,001 units are up 7% (February 2022: 44,050 units), they are 6% below January 2023's 50,106 units. Nevertheless, this has enabled Hyundai to drive past the half-a-million sales milestone in the first 11 months of FY2023.
With cumulative sales of 516,946 units between April 2022 and February 2023, Hyundai Motor India is set to record its best-ever fiscal-year sales in FY2023. The company, which registered its best-ever calendar-year sales of 552,511 units in CY2022, had previously crossed the 500,000 sales mark for the first time in FY2017 (509,705 units) and then in FY2018 (536,241 units). In FY2022, total sales were 481,500 units.
Tata Motors: 42,862 units, up 7% YoY
A hard-charging Tata Motors, which is close on Hyundai's heels, is just 5,404 units away from surpassing the 500,000-unit sales milestone in FY2023. The carmaker reported sales of 42,862 units in February 2023, up 7% (February 2022: 39,981 units). This takes its 11-month cumulative sales to 494,596 units, which constitutes 51% YoY growth. Clearly, Tata Motors, which achieved its highest-ever sales for a calendar year in 2022 with 526,798 units and 50% year-on-year growth, is continuing its accelerated run in 2023 and the monthly average sales of 44,963 units reflects that.
The company, which retails seven PVs – Altroz, Tigor, Tiago, Nexon, Punch, Harrier and the Safari –has capitalised on surging demand for its SUVs and is also benefitting from the market advantage in EVs where it has a commanding 80% share. With the Nexon EV, Tigor EV and Xpres-T (for fleet buyers) and the sub-Rs 10 lakh Tiago EV, the company is driving home the gains. And it has already introduced its BS6 Phase II range of PVs with RDE (Real Driving Emissions) and E20-compliant engines ahead of the new set of emission norms kicking in from April 2023.
Mahindra & Mahindra: 30,358 units, up 10%
Mahindra & Mahindra has reported total PV sales of 30,358 units in February 2023, up 10% (February 2022: 27,663). This comprises 30,221 UVs, up 10% (February 2022: 27,551) and 137 cars, up 22% (February 2022: 112).
The numbers, particularly for UVs, would have higher considering production has been somewhat impacted due to disruptions in the supply chain of crash sensors and airbag ECUs due to unavailability of semiconductors.
Despite this, M&M, which has 10 products in this segment and a considerable order backlog, is recording strong gains. Cumulative sales for the first 11 months of FY2023 are 323,256 units, which constitutes robust 63% YoY growth (April 2021-February 2022: 198,292). Of this, UVs comprise 320,985 units which are a 64% YoY increase over the year-ago 196,302 units.
Meanwhile, with one month left for FY2023 to close, M&M has already clocked its best-ever sales for a fiscal. Its 323,256 units are already 68,905 units ahead of the company's previous best of 254,351 units in FY2019.
Kia India: 24,600 units, up 36% YoY
With wholesales of 24,600 units in February, up 36% (February 2022: 18,121 units), Kia India is and maintaining strong growth momentum. Cumulative 11-month sales are 247,728 units, up 51% YoY (April 2021-February 2022: 164,165 units). With one month left for FY2023 to close, Kia India has already notched its best-ever fiscal year numbers, having gone ahead of FY2023's 186,787 units.
Interestingly, the Sonet compact SUV is the best-selling Kia product in February with 9,836 units, ahead of the longstanding best-seller the Seltos (8,012 units). This is possibly the first time that the Sonet has outsold its high-selling midsize sibling SUV in the Indian market.
Meanwhile, the Carens MPV clocked sales of 6,248 units and the Carnival MPV sold 504 units. The Carens MPV is fast turning out to be the new growth driver for Kia India. Launched a year ago, the Carens has sold a total of 76,904 units till end-February 2023 including 64,212 units in the April 2022-February 2023 period.
Toyota Kirloskar Motor: 15,338 units, up 75% YoY
For Toyota, the 15,338 units in February 2023 are a 75% increase over February 2022's 8,745 units and a 19.50% improvement on January 2023's 12,835 units. Cumulative sales for the first 11 months of FY2023 are 154,855 units, bettering the year-ago 106,632 units by 45 percent. Leading this growth are the recently launched Urban Cruiser Hyryder and the Innova Hycross.


Honda Cars India: 6,086 units, down 15% YoY
Honda Cars India, which is set to launch the updated City sedan today, reported sales of 6,086 units, down 15% (February 2022: 7,187 units). Commenting on the market performance, Yuichi Murata, Director, Marketing and Sales, Honda Cars India said, "Our sales performance in February 2023 has been as per our plan towards seamless transition of our models to new emission norms. We are currently gearing up for the launch of the New City, and we are confident that it will generate new excitement and appealing options for customers."
In the first 11 months of FY2023, the company has sold a total of 84,726 units, which is a 7% YoY increase.
MG Motor India: 4,193 units, down 7% YoY
MG Motor India's retail sales of 4,193 units in February 2023 were down 7% (February 2022: 4,528 units). Cumulative sales for the first 11 months of FY2023 are 42,815 units, up 20% YoY (April 2021-February 2022: 35,648 units).
This also means that with one month left for FY2023 to close, MG Motor India has already clocked its best-yet sales for a fiscal year, well ahead of FY2022's 40,369 units, which were a 13.40% increase of FY2021's 35,597 units. In FY2020, the carmaker had sold a total of 21,954 units.
According to the company, while bookings for the Next-Gen Hector are positive, the supply situation of select variants remains impacted. It is currently focused on ramping up the production of its premium SUV, the MG Gloster.
PV sales set to surpass 3.8 million units in FY2023
With India PV Inc having scaled record sales of 3.8 million units in CY2022, will FY2023 better that? At a little over 3.53 million units clocked in the first 11 months and one month left to go in the fiscal, the difference is around 268,730 units, which should easily be surpassed. Will the market momentum in March, ahead of RDE norms kicking in from April, enable a push to cross 350,000 units for the first time in this fiscal next month? That remains to be seen.
What is sure though is that the Indian passenger vehicle market is alive with exciting choices right now and is set to expand with around 10 new car and SUVs launches happening soon, starting with the facelifted Honda City today. Not surprisingly, these include seven SUVs – Toyota Innova Crysta Diesel, Maruti Brezza CNG, updated Hyundai Venue, Lexus RX, Maruti Fronx and the updated Tata Safari and Harrier. There will also be one hatchback – Citroen India's eC3, the all-electric version of the C3 and the next-gen Hyundai Verna. Clearly, plenty of new wheels to keep the PV segment an exciting one in the months ahead.
ALSO READ:
India's Top 6 carmakers start 2023 with strong sales in January
Top 10 UVs' sales in first 10 months of FY2023 surpass a million units
RELATED ARTICLES