Tata Nexon, MG ZS EV grab 86% of electric car market in first-half FY2022
Even as EV sales in India are headed for a record year, these two models together sold 5,407 units between April and September 2021.
Though electric passenger vehicle sales are less than 1% of total passenger vehicle sales in India at present, there is strong momentum in the market. As per industry data for the first half of the ongoing fiscal year, a total of 6,261 electric PVs were sold in the April-September 2021 period, marking 234% year-on-year growth, albeit on a low year-ago total.
Of the total 13,87,714 PVs sold in H1 FY2022, e-PVs account for just 0.45% of the total PV market. Importantly, the 6,251 e-PVs sold in the first six months of FY2022 have already surpassed entire FY2021's e-PV sales of 5,905 units.
Nevertheless, given the massive tailwinds behind the EV sector in the form of Central and several State EV policies, the FAME subsidy and also a new interest from car buyers as a result of wallet –burning petrol and diesel prices, the e-PV rate of growth and their market potential cannot be ignored.
Tata Motors in full charge
Tata Motors, with 4,419 units sold between April and September 2021, accounts for 70.57% of the total sales in first-half FY2022. In fact, at half-way stage in the ongoing fiscal year, Tata has already crossed all of FY2021's sales of 4,219 units. While the Nexon EV, with 3,618 units is India's best-selling EV and commands a 58% market share, the Tigor EV with 801 units has 13% and is third-placed on the EV chart.
The company has expanded its portfolio with the addition of the Tigor EV which was launched on August 31 at an aggressive Rs 11.99 lakh. Also, recognising the growing demand from fleet users, Tata introduced the Xpres-T EV in mid-September. On October 29, the company bagged a supply order from Delhi-NCR electric fleet operator BluSmart for 350 Xpres-T EVs
Tata Motors EVs have maintained the growth momentum in October 2021 with 1,586 units through three models – Nexon, Tigor and the X-Pres T EV – taking its seven-month (April-October) total to 6,005 units. The company is headed for a new record in FY2022 and it can be surmised that it should surpass 10,000-unit EV sales for this first time this fiscal.
However, Tata Motors' speedy EV sales momentum could just about slow down. Blame it on the global semiconductor supply crisis which has also impacted Indian OEMs. In a media meet last week, P B Balaji, CFO, Tata Motors said: "The average waiting time for most (Tata Motors') passenger vehicles is around 6-8 weeks. For the more popular models, it is around 9-10 weeks and for electric vehicles, it is up to 6 months waiting time."
MG ZS EV is second best-selling model
At No. 2 in the India e-PV pecking order is MG Motor India's ZS EV which is also witnessing strong customer demand and market interest. At 1,789 units sold in first-half FY2022, the ZS EV has a 29% market share. Like the Nexon EV, the ZS EV has also crossed its entire FY2021 sales tally of 1,499 units.
Hyundai Motor India, which started it all in India with the Kona EV in July 2019, is perhaps unable to cash in on the opportunity, as the model looks too unconventional and is also pricier compared to rivals when compared spec to spec.
While the Korean carmaker is working on an India-specific affordable EV, the next-generation Kona which is revealed globally, will also make its way into the country next year. Sister brand Kia too is exploring options to bring its global range of EV models to India in the coming years.
With sharper focus from the Centre and state governments as well as the private sector and OEMs on setting up EV-friendly infrastructure in the form of EV charging facilities across the country, it is felt the consumer shift to e-mobility will pick up speed faster than expected. While the pace of the transition from ICE vehicle to EVs is much faster in three- and two-wheelers, urban India is expected to plug into electric cars gradually.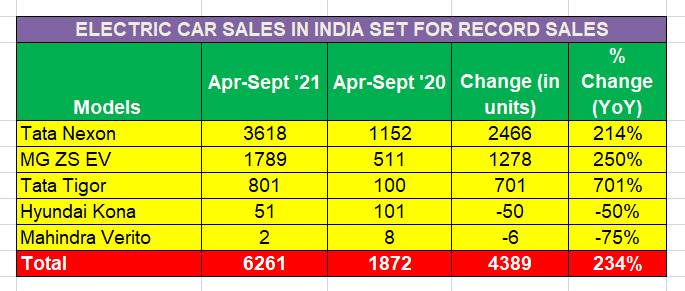 ALSO READ
CNG car sales surge 96% in first-half FY2022
Mahindra Treo takes 45% of e-3W market in H1 FY2022, Piaggio No. 1 goods carrier
RELATED ARTICLES