SUV sales surge powers August numbers to record 358,000 units
With every second car sold in India being a utility vehicle, SUV or an MPV and their rate of growth far above that of hatchbacks or sedans, the UV sub-segment continues to be the sales driver for nearly all OEMs.
India SUV Inc has delivered the goods in August 2023 and how. Continued and surging demand for UVs, SUVs and MPVs, helped by a sustained rollout of new models over the past eight-odd months, have powered total OEM wholesales to an estimated 358,000 units, which helps India Passenger Vehicle Inc surpass its previous best of 355,043 units in September 2022.
On September 1, seven of the 16 car, SUV and MPV manufacturers in India announced their wholesale numbers for August 2023 – their combined sales of 326,182 units means the other nine would have contributed the additional estimated 31,818 units. August marks the eighth month in a row that PV sales have surpassed the 325,000-unit mark, a performance which has been propelled by the UV sub-segment.
With every second car sold in India being a utility vehicle, SUV or an MPV and the rate of growth in this segment far above that of hatchbacks or sedans, UV sub-segment continues to be the number-driver for nearly all OEMs. However, given the large year-ago base, growth has now slowed down to single digits.
Let's take a closer look at the top six OEMs in August 2023, starting with the passenger vehicle market leader.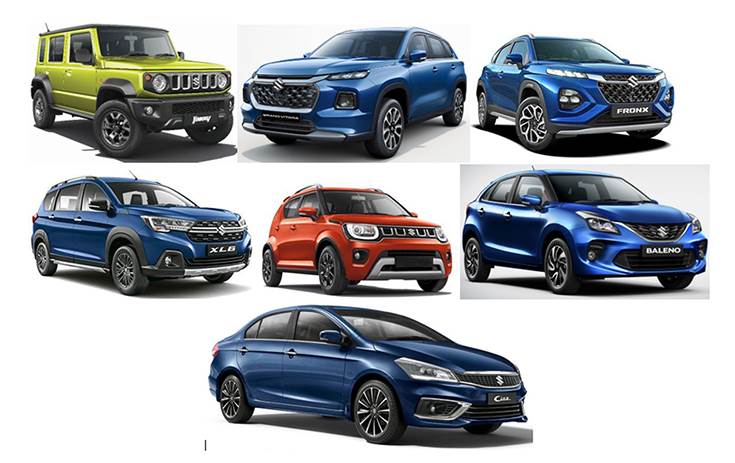 MARUTI SUZUKI INDIA: 156,114 units – up 16% YoY, up 2.62% MoM
Maruti Suzuki India's August 2023 wholesales reflect the same trend as in June and July. The surging demand for its expanded portfolio of UVs and MPVs has once again saved the blushes for the company last month.
Maruti Suzuki despatched 156,114 PVs in August, 21,948 units more than it did a year ago and an increase of 16% (August 2022: 134,166 units). Month on month, August 2023 sales are up 2.62% (July 2023: 152,126 units).
The model-wise sales split, as detailed by Maruti Suzuki, reveals that of its four sub-segments (see data table below), the eight-strong UV portfolio of the Brezza, Ertiga, Fronx, Grand Vitara, Invicto, Jimny, S-Cross and XL6 sold 58,746 units, growing 118% YoY (August 2022: 26,932 units) and accounts for 38% of total sales. A year ago, in August 2022, the UV share in Maruti's total PV sales was just 20 percent. Powering this growth is the new lot of premium SUVs and MPVs from the Nexa channel.
In stark contrast though is the rate of growth in the other three sub-segments – sales of the entry-level budget Alto and S-Presso hatchbacks are down by a massive 45% to 12,209 units from 22,162 units a year ago. The compact car portfolio (Baleno, Celerio, Dzire, Ignis, Swift, Tour S, Wagon R) with sales of 72,451 units, which betters July's 67,102 units, posted just a 1% YoY increase (August 2022: 71,557). The Ciaz sedan's sales were down 44% at 849 units and the Eeco van sold 11,859 units, down one percent.
Overall sales of hatchbacks at 84,660 units in August 2023 are down 10% on August 2022's 93,719 units. Importantly, the share of hatchbacks to Maruti's total PV sales is reducing – it is 54% in August 2023 versus 70% in August 2022. The marked shift to UVs is clearly seen here.
That's also apparent in the cumulative wholesales for the April-August 2023 period. The 247,196 UVs sold in the first five months of FY2024 constitute an 89% YoY increase (April-August 2022: 131,056 UVs). In terms of contribution to overall PV sales, April-August 2023 UVs account for a 34.22% share compared to 20.28% (April-August 2022: 131,056 UVs to 646,170 PVs).
HYUNDAI MOTOR INDIA: 53,830 units – up 9% YoY, up 6.17% MoM
Hyundai Motor India has registered wholesales of 53,830 units, up 9% on year-ago sales of 49,510 units and 6% on July 2023's 50,701 units.
For the calendar year to date, the Chennai-based car and SUV OEM has recorded monthly sales of 50,000 units for the fifth time in the year to date, after January (50,106 units), March (50,600 units), June (50,011 units), July (50,701 units) and August (53,830 units).
Cumulative sales for the first five months of FY2024 at 252,834 units are up 7% year on year (April-August 2022: 235,305 units). What has given Hyundai a fresh charge is the July 10 launch of the Exter mini-SUV at an aggressive price of Rs 599,900. Since then, the company has received over 65,000 bookings which gives it a strong market standing in the coming months.
Hyundai Motor India, whose No. 2 ranking had been under pressure from a hard-charging Tata Motors for quite some time now, will gain from the demand for the Exter and has targeted overall domestic market sales of around 600,000 units in CY2022. Achieving this goal will translate into 8.6% year-on-year growth considering Hyundai had recorded its best-ever calendar year sales of 552,511 units in CY2022.
The Hyundai Creta continues to be the company's best-seller. The Creta, which is also the best-selling midsize SUV in India, recently surpassed the 900,000-unit sales milestone in the domestic market, eight years after launch.
Commenting on the August 2023 sales numbers, Tarun Garg, COO, Hyundai Motor India, said: "The festival season in India has kicked off on a positive note with strong Onam sales in Kerala market and this is an indication of the festive fervour in other parts of the country in the coming months. Demand for SUVs in our portfolio remains robust, contributing more than 60% to our domestic sales in August."

TATA MOTORS: 45,933 units – down 3% YoY, down 3.68% MoM
Following the flat sales in July 2023, Tata Motors has reported a sales decline of 3% in August 2023 with 45,933 units (August 2022: 47,351 units) and also down month on month by 3.68% (July 2023: 47,689 units). This is the first decline in the year to date and indicates the company is feeling the heat of growing competition.
Tata Motors has, for the past couple of years, recorded strong double-digit gains albeit on a lower year-ago base. It had clocked best-ever fiscal sales of 544,391 units in FY2023, averaging monthly sales of 45,365 units. In the first five months of FY2024, cumulative sales are 234,072 units which translates into monthly average of 46,814 units.
From the data table below, one can see that the double-digit growth of April has reduced to single digit in May and June, then to nil in July and to -3% in August.

Tata Motors is among the few OEMs with multiple powertrains spanning petrol, diesel, CNG and electric and currently has a seven-model portfolio comprising four SUVs (Nexon, Punch, Harrier, Safari), two hatchbacks (Tiago and Altroz) and one sedan (Tigor). While it retains the first-mover advantage in EVs, it is seeing growing competition in other segments.
One of the moves it took last month to counter fresh competition was the launch of the Tata Punch CNG, priced between Rs 710,000-Rs 968,000, ex-showroom. The Tata Punch CNG takes on the recently-launched Hyundai Exter CNG, which costs Rs 824,000 to Rs 897,000 and has drawn over 50,000 bookings. Interestingly, Tata Motors has also introduced a single-pane sunroof on the Punch to make it compete head on with the Exter.
Meanwhile, on the EV sales front, Tata Motors continues to make gains. In August, the carmaker sold 6,236 EVs, up 55% YoY. Its April-August 2023 EV sales add up to 31,911 units, which marks robust 81% YoY growth.
Starting this festive season, Tata Motors has outlined launch plans for around half-a-dozen models, including facelifts and new powertrain options. First off is the September 14 launch of the facelifted Nexon and Nexon EV. What's more, given that a Punch EV, equipped with a front charging slot, was snapped testing recently, expect Tata Motors to rev up the launch plans for that variant.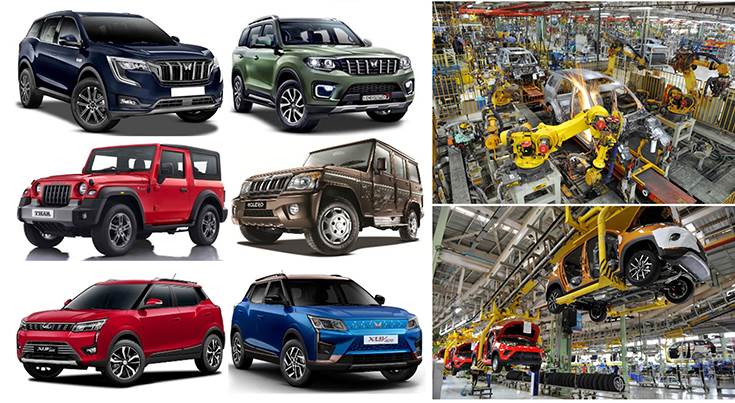 MAHINDRA & MAHINDRA: 36,205 units – up 25% YoY, up 2.94% MoM
Mahindra & Mahindra is hitting new highs each month in the domestic market. After scaled a new monthly high of 36,205 units in July 2023, sales in August have gone past that with 37,270 units, a 25% year-on-year increase (August 2022: 29,852 units) and up 2.94% on July 2023 numbers. Last month was also the sixth straight month that M&M sales have surpassed the 32,000-unit mark.
A glance at the sales data table below reveals the strong and sustained growth trajectory the SUV manufacturer has maintained throughout the first eight months of CY2023. The cumulative eight- month sales of 273,042 units constitute a robust 30% YoY increase (January-August 2022: 209,445 units). This also means that cumulative January-August 2023 sales are already 81% of total CY2022 sales of 335,088 units.
On the current fiscal year front, M&M's April-August 2023 sales of 173,647 units are 48% of the record FY2023's 359,253 units, with seven months left for FY2024 to close.
Mahindra & Mahindra, which has eight SUVs (Bolero, Bolero Neo, Scorpio, Scorpio N, Scorpio Classic, Thar, XUV300, XUV400 and XUV700) and a sole sedan (eVerito), is among the OEMs riding the surging wave of demand for UVs. Its robust and sustained market performance can be gleaned from the fact that it has logged 30% YoY growth in the first eight months of 2023 and 29% YoY in the first five months of FY2024 (see sales data table below).
Commenting on August 2023's sales, Veejay Nakra, President, Automotive Division, M&M, said: "We are excited to witness another record month, as we clocked our highest-ever SUV domestic sales of 37,270 units in a month with a growth of 26 percent. While demand for our key SUV brands continue to be strong, we are keeping a close watch on the availability of semi-conductors and select parts, for sustained and smooth scaleup."
Expect M&M to further up the ante in the coming months as it ramps up production to meet surging demand for most of its models. The company has already expanded its SUV manufacturing capacity from 29,000 units per month to 39,000 units by December 2022 and plans to further increase it to up to 49,000 units in the current financial year or 600,000 units per annum.
TOYOTA KIRLOSKAR MOTOR: 20,970 units – up 40% YoY, up 1% MoM
Toyota Kirloskar Motor (TKM) has reported overall sales of domestic market sales of 20,970 units in August 2023, up 40% year on year (August 2022: 14,939 units). The month-on-month growth was 1% (July 2023: 20,759 units).
The Japanese carmaker's August numbers are its best in the first five months of the fiscal (see data table below) as well as the entire calendar year to date. Cumulative sales in the first eight months of CY2023 at 139,227 units are up 27% (January-August 2022: 109,215) and 22% (92,623 units) in the first five months of FY2024 (April-August 2022: 76,055 units).
What has energised the monthly numbers is the rollout of new models over the past six months as well as the increased production capacity through three-shift operations to meet growing market demand.
Commenting on the sales momentum, Atul Sood, Vice-President of Sales, and Strategic Marketing at Toyota Kirloskar Motor, said, "The Toyota Urban Cruiser Hyryder and Innova Hycross continue to register strong demand and the Innova Crysta, Fortuner and Legender are witnessing sustained segment leadership. The Camry Hybrid and Glanza are also strongly contributing to the overall success. We are also elated with the continued strong performance of the Toyota Hilux."
Last month saw Toyota India launch the new luxury Vellfire MPV, priced at Rs 1.20 crore, as well as the Maruti Ertiga-based Rumion MPV priced at Rs 10.29 lakh.
HONDA CARS INDIA: 7,880 units – up 1% YoY, up 62% MoM
Honda Cars India reported sales of 7,880 units, up by 1% YoY (August 2022: 7,769 units) and 62% month on month (July 2023: 4,464 units). One can pin down the steep MoM increase to the company dispatching a large number of the Honda Elevate SUV to dealers. The Honda Elevate is to be launched on September 4.
According to Yuichi Murata, Director, Marketing and Sales, Honda Cars India, "The festive demand has been strong and continues to show good momentum. The celebratory fervour which began with Onam in Southern India will extend to rest of the markets as we move towards the peak of festivities in the coming months. This is an extremely exciting phase for us and our dealerships as we gear up for the launch of the much-anticipated Honda Elevate. We are confident that this promising addition to our line-up will become a strong pillar for Honda much like our bestsellers City and Amaze."

MG MOTOR INDIA: 4,185 units – up 9% YoY, down 16.50% MoM
MG Motor India has reported retail sales of 4,185 units in August 2023, up 9% on year-ago sales of 3,823 units but down 16.50% on July 2023's 5,012 units. For the first five months of FY2024, cumulative sales are 23,879 units, up 30% (April-August 2022: 18,356 units).
The carmaker is gearing up and building further on the current momentum in the festive season. It is readying to introduce the all-new 'Black Edition' of its Astor SUV, which comes on the back of the July launch of the updated ZS EV with ADAS Suite at Rs 27.90 lakh.
RECORD YEAR COMING UP FOR INDIA PASSENGER VEHICLE INC
With the wave of surging demand for SUVs continuing to grow, and the two-month festival season having commenced, India PV Inc can be assured of sustained demand in the coming months.
What will help the cause are the recent new product launches – the facelifted Seltos midsize SUV, Maruti Invicto MPV, Hyundai Exter compact SUV, Tata Punch CNG and Toyota Rumion MPV. On September 4, Honda returns to the midsize SUV segment with the launch of the Elevate. Ten days later, Tata Motors will launch the much-awaited facelifted Nexon and its electric sibling, Nexon EV. Each of these UVs have the potential to expand the market as well as eat into rivals' market share.
What comes as sweet news for India Auto Inc is the improving economy – GDP growth for the first quarter of FY2024 has accelerated to 7.8% from 6.1% in the preceding quarter with rural demand in recovery mode. This should give a fillip to sales in the current quarter albeit growth is expected to moderate subsequently given high inflationary conditions, a below-normal monsoon and high interest rates.
While demand in the entry level hatchback market remains tepid and worrying, it is much better in the mid-level and premium hatchback segment. Consumer demand for CNG-powered PVs has slackened in the first-half of CY2023 albeit that could be due to OEM supply constraints. Meanwhile, the few OEMs, which have electric cars and SUVs, are also seeing demand grow month on month.
India Passenger Vehicle Inc, which currently has an estimated order backlog of over 700,000 units, has ramped up factory production particularly in view of the ongoing festive season. Nearly all carmakers have put the chip crisis behind them and remain confident of significantly improved semiconductor supplies going forward.
Given the strong momentum of sales, particularly for SUVs, September should prove to be another record-breaking month. Stay tuned in for further updates.
ALSO READ:
Electric two-wheeler sales bounce back in August to 60,000 units
India has over 2.8 million EVs on its roads, Central and South India dominate EV ownership
RELATED ARTICLES