Tata Motors expands CNG portfolio to Punch with twin-CNG-cylinder technology
While the Punch CNG will take on the factory-fitted Hyundai Exter CNG, Tata Motors has also standardised its twin-CNG-cylinder technology across the Altroz, Tiago, Tigor, and Punch, with the aim to extract maximum usable boot space despite CNG cylinder integration.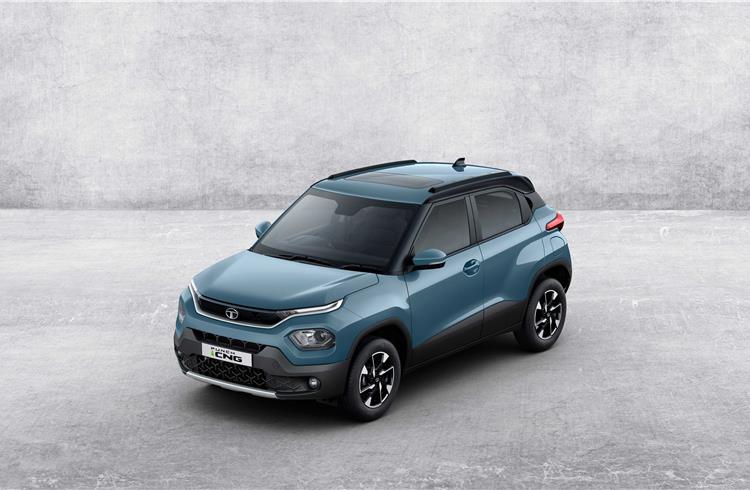 Tata Motors has introduced the Tata Punch CNG, which comes priced in the range of Rs 7.10-Rs 9.68 lakh, ex-showroom. The Tata Punch CNG will rival the recently-launched Hyundai Exter CNG, which comes priced in the range of Rs 8.24-Rs 8.97 lakh, ex-showroom. Tata Motors has also introduced a single-pane sunroof to the Punch to make it compete head on with the Exter.
Uniquely, the company has equipped the Punch CNG with its innovative dual-CNG-cylinder technology which helps maximising boot space, which stands at 210 litres in the Punch CNG. Boot space is a key gremlin in most CNG-powered cars that need to compromise the practical usability of the boot due to the placement of the CNG cylinder.
Tata Motors' twin-CNG-cylinder technology aims to alleviate this issue by deploying two CNG cylinders of 30-litre water capacity each in the boot floor of the vehicle, thereby liberating decent space on top, to be available for day-to-day usage. The spare wheel, which is relocated underneath the car, is accessible from the boot by a chain-and-pulley mechanism.
The Punch uses Tata Motors' twin-CNG-cylinder technology which deploys two 30-litre water-holding capacity tanks in the boot floor to maximise usable boot space.
The company, which had first introduced its twin-CNG-cylinder technology in the Tata Altroz hatchback earlier this year in April, has now standardised the technology in its entire CNG line-up which comprises the Tiago CNG, Punch CNG, Altroz CNG, and Tigor CNG, which becomes the car to boast of the largest CNG-tank capacity with a combined water-holding capacity of 70 litres.
While the Tiago CNG with twin-CNG-cylinder technology comes priced at Rs 6.55 lakh, the Tigor CNG is priced at Rs 7.80 lakh, ex-showroom. The Altroz CNG, on the other hand, comes priced at Rs 7.55 lakh.
Tata Motors has standardised its twin-CNG-cylinder technology across the CNG line-up that comprises Tiago, Tigor, Altroz, and Punch CNG models. Twin-CNG-cylinder-equipped Tigor boasts of segment-best 70-litre combined water-holding capacity of the CNG tanks.
All three models come powered by Tata's 1.2-litre, three-cylinder, naturally-aspirated petrol engine that produces 87hp and 115Nm in petrol mode, while the figures slightly drop to 73.4hp and 103Nm of peak torque in the CNG mode. The petrol-CNG-bi-fuel powertrain gets a sole 5-speed manual transmission on offer.
Tata Motors says that since the launch of its factory-fitted CNG option in the Tiago and Tigor CNG in January 2022, the company has collectively sold 50,000 units across these two cars. It claims that its foray into the CNG segment has been quite successful and its offerings have been immensely appreciated in their respective segments, thereby growing the company's market share, and strengthening its powertrain strategy, which considers petrol, turbo-petrol, turbo-diesel, CNG, as well as full-electric drivetrains.
According to the company, it commands a 16 percent market share in the overall passenger vehicle CNG segment in India, where it presently only caters to personal car buyers, contrary to its chief competitors Maruti Suzuki India and Hyundai Motor India which offer CNG-equipped cars for both personal buyers, as well as taxi fleets.
With a growing number of factory-fitted CNG models, India's market for CNG cars and SUVs is expanding, with CNG car sales being pegged at 156,938 units between January and June 2023. The H1 CY2023 CNG sales, however, registered a 5.47 percent decline (Jan-June 2022: 166,023), which is likely due to the supply chain constraints at OEMs.
According to Tata Motors, the pace of customer adoption of the green, yet more efficient and cheaper fuel compared to petrol and diesel, is gaining strong momentum, with CNG contribution to the sales of the Tiago, Tigor, and Altroz being at 20%, 55%, and 40%, respectively.
"We are confident that with more introductions, we will make our CNG line-up appealing, holistic, and stronger than ever," Vinay Pant, Head, Marketing, Tata Motors Passenger Vehicles, said.
RELATED ARTICLES