Revealed: India's Top 25 utility vehicles in CY2022
These best-sellers have powered the utility vehicle market's record sales of 1.92 million units and 35% YoY growth in CY2022; while 11 compact SUVs lead in terms of overall numbers, 11 midsize SUVs in the Top 25 list reflects their growing demand.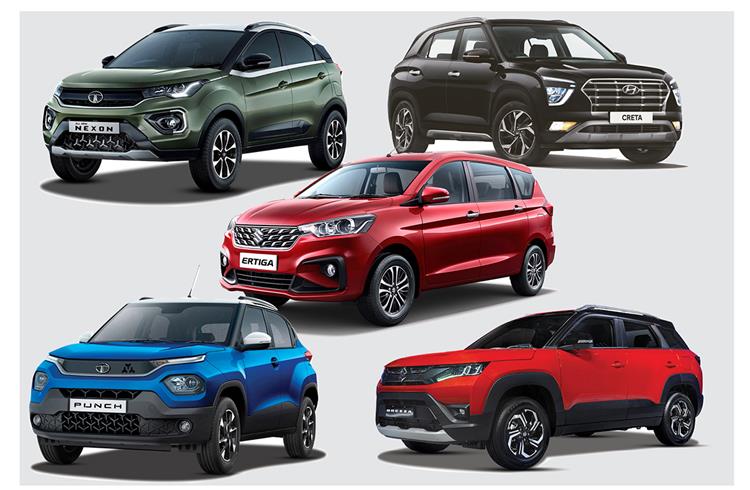 With apex industry body SIAM announcing India Auto Inc's annual wholesale numbers for calendar year 2022 on January 13, the passenger vehicle (PV) segment with nearly 3.8 million units (37,92,356 units, up 23% YoY) remains one of the best performers and the utility vehicle (UV) sub-segment the jewel in its crown. In CY2022, with 19,22,766 units, it not only notched 35% YoY growth but also accounted for 50.70% of total PV sales, up 4 percentage points from the 46% it had in CY2021 (14,19,649 UVs to 30,82,421 PVs).
To put it briefly, the hottest vehicle segment at India Auto Inc right now is easily UVs and every automaker worth its wheel wants to have a slice and more of this booming segment which has been seeing a wave of sustained and surging demand over the past two years.
A number-crunching exercise of the estimated wholesale numbers of the top-selling 25 UVs in India reveals plenty. Cumulatively, these Top 25 UVs account for 17,54,282 units or 91% of the total 19,22,766 UVs sold in India last year. Closing in on them shows that the Top 10 models account for 1,171,489 units or 61% of total UV sales, indicating their dominant market positions. Of these 10 models, seven sold in excess of 100,000 units each and account for 927,717 units or 48% of UV industry sales last year.

The Utility Vehicle segment, with 19,22,766 units, accounted for 51% of the record 3.8 million PV sales in India in CY2022. These Top 25 models contributed 17,54,282 units or 91% of total UV sales.

Tata Nexon is India's No. 1 UV, Mahindra maxes with 5 models
Mahindra & Mahindra has five models (Bolero, XUV700, XUV300, Scorpio, Thar) in the list, followed by Maruti Suzuki with four (Ertiga, Brezza, XL6, Grand Vitara), while Tata Motors (Nexon, Punch, Harrier), Kia India (Seltos, Sonet, Carens) and Toyota Kirloskar Motor (Innova Crysta,Fortuner, Urban Cruiser, which is now discontinued) have three each. While Hyundai Motor India (Creta, Venue) and Renault India (Triber, Kiger) have two models each, Nissan India (Magnite), Skoda India (Kushaq) and Volkswagen India (Taigun) have one model each.
Tata Nexon, with 168,278 units and available with petrol, diesel and electric powertrains across nearly 80 variants, remains India's best-selling UV.
The compact Tata Nexon SUV easily retains its title as India's No. 1 UV with 168,278 units and is ahead of the Hyundai Creta by 27,383 units. Averaging monthly sales of 14,023 units, Its best-ever single month sales were in November 2022: 15,081 units. Sold in as many as 79 variants – 67 petrol and diesel, and 12 electric – this is one SUV where buyers are really spoilt for choice.
Tata Motors clocked its best-ever annual sales of 526,798 units, recording 59% YoY growth – the Nexon is the biggest contributor with a 32% share. Since its launch in FY2018, the Nexon has till end-December 2022 sold a total of 441,589 units.
Creta contributes 26% to Hyundai Motor India's sales
What the Nexon is to Tata Motors, the Creta midsize SUV is to Hyundai, which also recorded its best-ever annual sales in CY2022 – 552,511 units, up 9% YoY. The Creta is estimated to have sold 140,895 units, contributing 25.50% to Hyundai's total sales of 552,511 units.
The Creta, which crossed the 800,000 sales milestone in November 2022 and is now in its second-generation avatar, has cumulatively sold 823,260 units in India since its launch in July 2015.



Maruti Ertiga: the ace of space takes third place
At No. 3 is the popular family car and the ace of space, the Maruti Ertiga with 133,814 units. In a market teeming with compact SUVs and more recently midsize SUVs, the Ertiga continues to maintain a strong presence, delivering the goods consistently.
In mid-April 2022, Maruti Suzuki launched the updated Ertiga, with a restyled front end and interior changes, powered by an upgraded 1.5-litre petrol engine with DualJet technology, and start-stop technology. It also introduced a CNG option to the new line-up, using the same 1.5 DualJet engine. Pricing for the Ertiga model range starts at Rs 835,000 going up to Rs 11.29 lakh for the top-end non-automatic variant.
The vehicle Tour M variant gets a CNG option as well which is clearly targeted at the taxi segment as well as economy-minded buyers who want to keep their ownership costs in check.


Maruti Brezza: all-India best monthly sales in Sep
Maruti Suzuki India's Brezza breezes into No. 4 position with 130,563 units, 3,251 units behind sibling Ertiga. Following the launch of the second-generation new Brezza compact SUV, on June 30 at Rs 799,000, demand for this model has surged and the company recorded its best monthly wholesales of 15,445 units in festive September 2022. In fact, this is the best monthly figure for any UV in CY2022, beating the Tata Nexon's 15,085 units in August.

The Punch compact SUV averaged monthly sales of 10,824 units in CY2022.
Tata Punch continues to punch above its weight
For a model which is just 14 months old, the Tata Punch compact SUV has punched above its weight and powered into the Top UVs list at No. 5 position. In CY2022, the Punch sold a total of 129,895 units, which works out to average monthly sales of 10,824 units.
Four days before its launch, on October 14, 2021, the Tata Punch aced the Global NCAP crash test with a 5-star rating. In the past year, the Punch has quickly moved into becoming Tata Motors' second-best-selling model after the Nexon.


Hyundai Venue: compact package
The Venue, Hyundai's first-ever compact SUV, is the sixth best-seller with 120,703 units. In September 2022, to expand the product's allure, the company launched the Venue N Line at Rs 12.16 lakh. The Venue N Line comes with a single powertrain – a 120hp, 172Nm, 1.0-litre turbo-petrol engine paired to the 7-speed DCT with paddle shifters, with the cosmetic changes the talking point of the variant.
The Seltos with 101,569 units, contributed to 40% of Kia;s sales in 2022.
Seltos remains Kia's best-seller in India
The Kia Seltos, with 101,569 units, is the seventh and the last of the UVs to have crossed the 100,000-unit sales mark in CY2022. Kia India's best-seller from day one remains its biggest contributor and accounted for 40% of the company's record sales of 254,556 units – Kia's best annual sales since its market entry in August 2019.
Small is big in India's SUV market but midsize getting big too
The changing market dynamics in the hugely competitive UV market are amply reflected in the Top 25 list – both compact SUV and midsize SUV segments are represented by 11 models and 44% share each albeit the compact SUVs have 50% of cumulative sales.
Among the compact models, Tata Motors has two (Nexon, Punch), Mahindra two (XUV300, Thar), Renault India two (Triber, Kiger), Maruti Suzuki (new Brezza), Hyundai (Venue), Kia (Sonet), Nissan India (Magnite) and Toyota Kirloskar Motor (Urban Cruiser albeit discontinued since October 2022). Seen from the perspective of total industry UV sales in CY2022, these 11 compact UVs account for 45% sales showing just how strong the demand for these below 4,000mm-long models is.
The growing market shift to higher-priced and bigger UVs is also seen in the midsize UV sub-segment. Of the 11 midsize UVs, Mahindra tops with three models (Bolero, XUV700, Scorpio), Maruti Suzuki has two (XL6 and new Grand Vitara), and the rest have one each – Hyundai India (Creta), Kia (Seltos), Tata Motors (Harrier), Skoda India (Kushaq), Toyota (Fortuner) and Volkswagen India (Taigun). Of the industry's total UV sales of 19,22,766 units, these 11 models account for a 33% share.
People-movers or multi-purpose vehicles (MPVs) are also popular in India and three models – Maruti Ertiga, Kia Carens and Toyota Innova Crysta – are part of the Top 25 UV chart in CY2022. Together they account for 253,139 units and a 14.42% share. Of the total UVs sold in India last year, these three account for a 13% share. Interestingly, the Kia Carens, launched in February 2022 at an aggressive Rs 899,000, sold 62,756 units to go ahead of the Toyota Innova Crysta (56,569 units). The Maruti Ertiga though remains the MPV leader with 133,814 units.
UV sales fall short of 2m milestone by 77,234 units
In CY2022, total UV sales of 19,22,766 units fell short of the 2-million milestone by 77,234 units but given the strong double-digit growth last year and a good number of new models hitting the market this year, this big number should be crossed in CY2023.
Given the current considerable pending vehicle orders in the UV industry, estimated to be around half-a-million units, OEMs now benefiting from much-improved semiconductor supplies have ramped up production. Also, growing demand for electrified SUVs will act as a catalyst for sales.
Meanwhile, with three months left for FY2023 to close, the UV segment has already clocked 99% of FY2022's sales. But that calls for another deep dive into wholesales. Keep watching this space.
ALSO READ:
Records tumble as carmakers notch best-ever sales of 3.8m units in 2022
EV sales in India in 2022 record 210% growth, cross a million for the first time
RELATED ARTICLES