Maruti Suzuki sells more UVs than Tata Motors in February, leads the race in FY2023
With sales of 33,550 utility vehicles, Maruti Suzuki goes ahead of Tata Motors (28,389 units) in February; this performance also helps it pip Tata in 11-month cumulative sales by 1,939 units.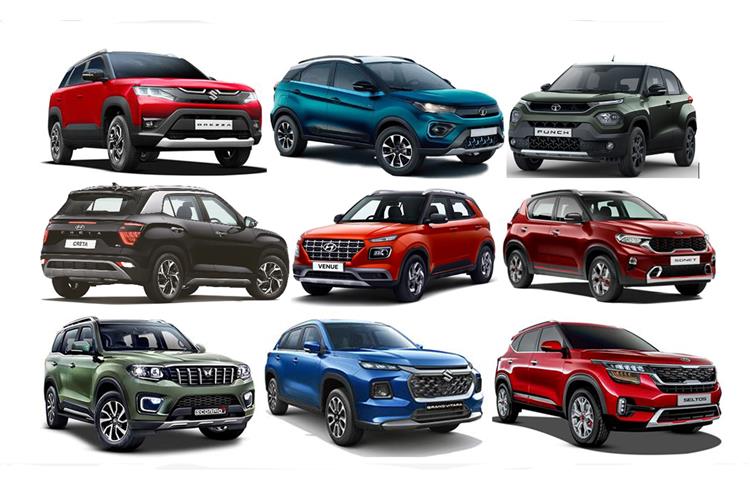 For avid automotive industry observers, India's booming utility vehicle (UV) segment is a truly exciting one with strong double-digit growth month on month. With every second car sold in the country being either a UV, an SUV or an MPV, this sub-segment contributes over 50% of overall passenger vehicle sales. There's also stiff competition for UV leadership, like the no-holds-barred battle currently underway in the ongoing fiscal year between the top three players.
As per SIAM'S wholesales numbers for the first 11 months of FY2023 (April 2022-February 2023) and tabulation of Tata Motors' UV sales for January-February 2023 (since Tata Motors does not provide monthly sales numbers to the apex industry body), a total of 18,15,726 UVs have been sold. This total is 488,139 units more than the year-ago 13,27,587 units and translates into robust 37% year-on-year growth for the UV segment. Reason enough for every OEM worth its wheel to be active here.
Of the 16 OEMs in the UV arena, the top six have each clocked six-figure sales and account for 89% of total sales. But the real battle for supremacy is amongst the top three players, each of whom have sold over 300,000 units. This trio, which has some of the most popular SUVs in their portfolio, has together sold 977,196 units or 54% of total UV sales in the fiscal to date (see data table below).
At the end of February 2023, Maruti Suzuki has a slender lead of 1,939 units over Tata Motors. March 2023 sales will provide the clincher for FY2023.
Trading places at the top of the UV table
The No. 1 position or UV leadership just changed wheels. Yes, Tata Motors, which was leading the UV charts in April-December 2022 with cumulative sales of 268,570 and 18.27% market share, and continued to do so in January 2023, has ceded position to a hard-charging Maruti Suzuki India in end-February.
Tata Motors was in No. 1 position right till January, with cumulative sales of 298,747 units to Maruti Suzuki's 295,525 – ahead by 3,222 units. But the shift in market position happened in February – Tata Motors sold an estimated 28,389 UVs compared to Maruti Suzuki's 33,550 units: a difference of 5,161 units. If one deducts Tata's 3,222-unit lead in January from Maruti's 5,161-unit lead in February, you get the current difference between the two companies – a slender lead of 1,939 units.
Mahindra & Mahindra, which has clocked 320,985 units, is the third OEM with over 320,000 UV sales to its credit. At present, it is 8,090 units behind Maruti Suzuki and 6,151 units behind Tata.
Maruti Suzuki's February performance has led to to an uptick in market share to 18.12%, helping it pip Tata Motors, which now has 18%, while M&M is close on Tata's wheels with 17.67 percent.
These top three OEMs' best-sellers are mainstays of the Top 10 models each month. In CY2022's Top 25 UV models, Maruti had four (Ertiga, Brezza, XL6 and Grand Vitara), Tata Motors three (Nexon, Punch, Harrier), and Mahindra five (Bolero, XUV700, XUV300, Scorpio and Thar)
Let's take a closer look at how India's top UV manufacturers fared in February as well as the first 11 months of the ongoing fiscal year. .
With sales of over 15,750 units, the Maruti Brezza is the best-selling UV in February and ahead of the Tata Nexon, which remains India's No. 1 UV.
Maruti Suzuki India: 329,075 units / up 24%
UV market share: 18.12%, down from 20.01% a year ago
A resurgent Maruti Suzuki, the overall PV market leader, has driven past Tata Motors to take the lead in the UV market. The company, which continues to see its production and sales impacted by semiconductor supply chain issues, has done well to sell 329,075 UVs in the first 11 months of FY2023 (up 24%).
What has given a fresh charge to its UV sales is the surging demand for the Grand Vitara SUV. Launched in September 2022, the Grand Vitara has clocked estimated sales of 41,270 units in just six months.
Meanwhile, sustained demand for the new Brezza compact SUV, launched in end-June 2022, has ensured that the brand is the best-seller in the fiscal to date with 129,438 units, followed by the Ertiga MPV with 118,652 units and the XL6 with 34,669 units. The Brezza was the best-selling UV in India last month with over 15,750 units, ahead of the Tata Nexon.
This solid performance notwithstanding, Maruti Suzuki's pace of sales growth is slower than Tata Motors and M&M, both of whom also have plenty more UV models. This means its UV share is down to 18.12% from 20.01% a year ago albeit better than April-December 2022's 17.70 percent.\
Tata Motors: 327,136 units / up 66% YoY
UV market share: 18.01%, up from 14.80% a year ago
Tata Motors, which has four SUVs – Nexon, Punch, Harrier and Safari, in its seven-model portfolio which includes the Tiago, Tiago and Altroz, has maintained strong double-digit growth throughout the fiscal. It has registered estimated wholesales of 327,136 units in the April 2022-February 2023 period, up 66% YoY.
The carmaker was in No. 1 position right till January, when it had cumulative sales of 298,747 units to Maruti Suzuki's 295,525 units but the latter's much-improved performance in February has pipped Tata to the top spot.
In terms of market share, Tata Motors currently has 18% compared to 14.80% a year ago and remains the company which has achieved maximum gains. It has a market advantage in that it has the largest EV portfolio – Nexon, Tigor, Tiago – and products with petrol, diesel and EV powertrains.
The Nexon, India's best-selling UV, has sold an estimated 157,369 units, accounting for 48% of overall sales. It is followed by the Punch compact SUV (122,925), Harrier (28,072) and Safari (18,767). Will Tata Motors claw back its lead this month and for FY2023? We have a few more weeks to find out.

M&M, which has a sizeable order backlog, has ramped up its manufacturing capacity to reduce the waiting period for its high-in-demand SUVs.

Mahindra & Mahindra: 320,985 units / up 64%
UV market share: 17.67%, up from 14.78% a year ago
Just 6,151 units behind Tata Motors, Mahindra & Mahindra is also an outperformer in the ongoing fiscal. The period under review sees M&M increase its UV share – by three percentage points to 17.67% from 14.78% a year ago with robust 64% growth to 320,985 units from 196,302 units.
The Bolero, with 91,031 units, is the top-selling product, followed by the Scorpio (61,698), XUV700 (61,366), XUV300 (56,258) and the Thar (42,496).
M&M, which is understood to have a sizeable order backlog, is ramping up manufacturing capacity to reduce the waiting period for popular models like the flagship XUV700, Scorpio N and Scorpio Classic, Thar, Bolero and Bolero Neo and the XUV300.
Meanwhile, deliveries of the all-electric Mahindra XUV400 – the first proper rival to the Tata Nexon EV – have commenced and as per the latest SIAM data, 183 units have been sold till end-February 2023.


Hyundai Motor India: 274,510 units / up 20%
UV market share: 15.11%, down from 17.17% a year ago
At No. 4 in the UV rankings is Hyundai Motor India with 274,510 units, up 20% YoY. The bulk of the company's UV sales have come from the Creta, the No. 2 best-selling UV in India with 136,346 units, and the Venue compact SUV (110,629 units). These two SUVs together constitute 90% of Hyundai's total UV sales.
Like Maruti Suzuki, Hyundai's slower rate of growth compared to faster-growing rivals like Tata and Mahindra mean that its UV market share has reduced to 15.11% from 17.17% in April 2021-February 2022.


Kia India: 247,728 units / up 51%
UV market share: 13.64%, up from 12.36% a year ago
Kia Motors, with 247,728 units and 51% YoY growth, is fifth in the UV industry rankings and 26,782 units behind its Korean sibling. Like Hyundai, Kia too clocked its best-ever annual sales numbers in CY2022 but stiff market competition means its market share growth remains marginal.
Its first product, the Seltos midsize SUV remains its best-seller with 93,578 units, followed by the Sonet compact SUV with 85,419 units, the Carens MPV (64,212), Carnival MPV (4,089) and all-electric EV6 (430).
Clubbing the two Korean carmakers' UV market share gives 28.75%, which is more than the combined 8.41% share of three Japanese players – Toyota, Nissan and Honda – in the Indian marketplace.
The Toyota Urban Cruiser Hyryder is estimated to have sold 19,365 units.
Toyota Kirloskar Motor: 117,506 units / up 36%
UV market share: 6.47%, down from 6.51% a year ago
The sixth player with six-figure sales and also sixth in the UV rankings, Toyota Kirloskar Motor has sold a total of 117,506 units, up 36% YoY. The bulk of the sales came from the popular MPV, the Innova Crysta (47,497), Fortuner (27,580), the discontinued Urban Cruiser (April-September 2022: 22,158) and the recently launched Hyryder which has sold 19,365 units in six months since launch. The company also retails the Hilux and the Vellfire.
Will UV sales cross 2-million milestone in FY2023?
With one month left for FY2023 to end, the Indian UV industry is 184,274 units short of the two-million-units milestone. Utility vehicle sales in CY2022 fell short of this big number by 77,234 units with total sales of 19,22,766 units.
Given that vehicle prices are slated to rise from April 2023 when RDE (Real Driving Emission) norms kick in, it is likely that UV, SUV and MPV buyers might advance their purchase decisions to this month.
Meanwhile, with much-improved chip supplies and an estimated backlog of around half-a-million UVs (most of them with the top five OEMs), vehicle manufacturers are putting their shoulder to the production wheel to keep their assembly lines busy and cater to demand. All in all, an exciting time for India UV Inc. Stay tuned in.
ALSO READ:
Car and SUV sales surpass 300,000 units for eighth time in 11 months of FY2023

February 2023 auto retails rise 16%, all five segments record double-digit growth ahead of festive March
RELATED ARTICLES