February 2023 auto retails rise 16%, all five segments record double-digit growth ahead of festive March
With sales of over 1.77 million units, February was one of the better months in the ongoing fiscal for India Auto Inc; with festival-laden March, it looks like FY2023 is set to close on a high note.
The India Auto Inc growth story is improving, given the February 2023 retail numbers released by the Federation of Automobile Dealers Associations (FADA). The 17,75,424 units encompassing cumulative sales of five vehicle segments are a 15.95% year-on-year increase over February 2022's 15,31,196 units. And it's set to improve in March 2023, which has a number of festivals that help drive vehicle buying in India.
Importantly, in February, all five segments have recorded growth – two-wheelers (15%), three-wheelers (81%), passenger vehicles (11%), commercial vehicles (17%) and tractors (14%). The numbers are indicative of the improving economic scenario in the country albeit according to FADA president Manish Raj Singhania, overall retails last month are down by around 8% when compared to the pre-Covid month of February 2020.
February 2023 one of the better months in FY2023 with 1.77 million units.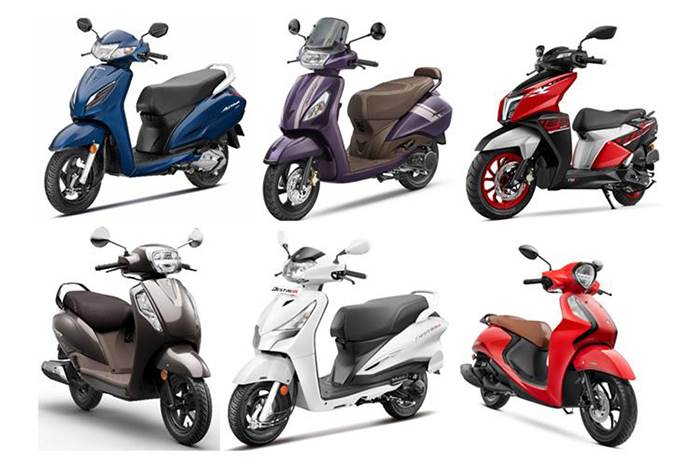 Two-wheeler retails: 12,67,233 units / up 14.75%
The two-wheeler industry's February 2023 retail sales of 12,67,233 units are up 14.75% on the year-ago 11,04,309 units. However, seen month-on-month, this number is just 2,164 units more than January 2023's 12,65,069 units. This indicates the sector is yet to see a strong revival and is awaiting the return of demand from rural India, which is a big buyer of entry-level commuter motorcycles. Compared to February 2020, retails are down by 14% and the FADA president is of the opinion that high inflation and poor sentiment continue to keep two-wheeler buyers at bay.
FADA's comprehensive company-wise retail numbers has plenty of takeaways for every vehicle category. In the two-wheeler segment, the top four OEMs, each with six-figure sales – Hero MotoCorp, Honda Motorcycle & Scooter India, TVS Motor Co and Bajaj Auto – account for 10,42,620 units or 82% of the total sales while six EV-only players – Ola Electric, Ather Energy, Hero Electric, Okinawa, Ampere Vehicles and Classic Technologies – account for 44,470 units or 3.50% of overall retails in January 2023. The EV OEM share of overall two-wheeler sales is on the upswing – a year ago, EV retails were 2.14 percent.
In terms of OEM-wise market share status, Hero MotoCorp (to 30.83% from 31.55%) and Bajaj Auto (to 10.92% from 11.615) have seen their market share reduce in the face of new competition and a growing marketplace. Meanwhile, Honda Motorcycle & Scooter India has logged one percentage basis point increase to 23.85% from the 22.25% share it had in February 2022. The OEMs which have posted good market share gains include TVS Motor Co (to 16.68% from 15.41%), Royal Enfield (to 5.07% from 4.20%) and Suzuki Motorcycle India (to 4.66% from 4%).
Yes, the pure-EV OEMs are getting their slice of the action – market leader Ola Electric with 17,647 units now has a 1.39% share of India's two-wheeler market while Ather Energy, with 9,982 units has a 0.79% share. Hero MotoCorp, Bajaj Auto and TVS Motor Co each have a single EV – TVS is currently the No. 2 EV OEM after Ola.
Three-wheeler retails: 72,994 units / up 81.47%
The three-wheeler category, which has seen the biggest shift to e-mobility as a result of the lower-cost-of-ownership mantra, has clocked overall growth of 81% – 72,994 units vs 40,224 units in February 2022. Month on month too, sales are up – by 11% (January 2023: 65,796). Overall numbers are up by 3% compared to pre-Covid February 2020.
Within the overall segment, EVs at 32,795 units account for a 45% share of total three-wheeler sales, slightly up from 44% (17,779 units) a year ago. FADA says EV sales are benefiting from Central and State government subsidy along aggressive finance schemes. However, industry is expecting considerably higher levels of growth.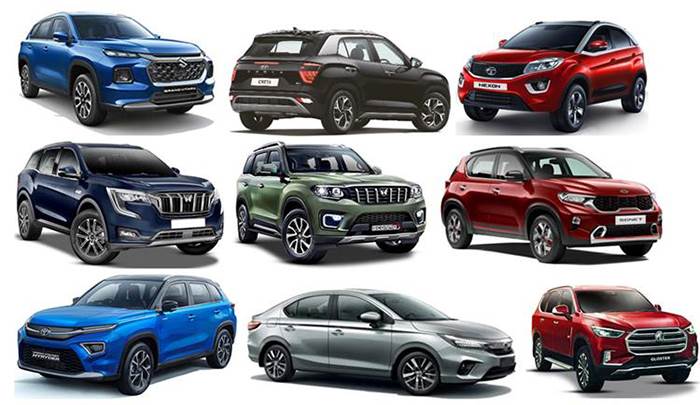 Passenger Vehicle retails: 287,182 units / up 11%
With sustained demand in this segment, a total of 287,182 units were retailed in February 2023, up 10.99% (February 2022: 258,736) and 16% versus pre-Covid February 2020. However, last month's sales are 15% down and 53,038 units less than January 2023's 340,220 units. The rural India market is yet to see a full recovery, which is why sales in the entry level market are tepid at the moment.
According to Singhania, "Launch of new models, continuously improving supply coupled with healthy booking-to-cancellation ratio and wedding bells kept the momentum going for this already well-to- do segment."
The slackened demand in the entry level market is reflected in the reduced YoY market share of the top two OEMs – Maruti Suzuki and Hyundai. While Maruti Suzuki's PV share is down by one percentage basis point to 41.40% last month, Hyundai also sees its share reduce to 13.62% from 14.95% a year ago.
Tata Motors (13.57% share), just 141 units behind Hyundai Motor India in February 2023, remains ahead of Mahindra & Mahindra (10% share) and Kia India (6.81%), both of whom have also achieved good market share gains. The Tata-Mahindra-Kia trio has increased their share year on year. No surprise that these three companies have the maximum models in India's Top 25 SUVs of CY2022.
Thanks to the booming SUV segment, the PV segment continues to record double-digit gains albeit growth can increase if some OEMs including Maruti Suzuki and Mahindra, which have large order backlogs, aggressively ramp up production and reduce delivery times to customers.


Commercial Vehicle retails: 79,027 units / up 17%
What will bring smiles to India Auto Inc is the return of demand to the commercial vehicle sector, recognised as the barometer of the country's economy. Sustained demand as a result of fleet replacement, increased freight availability and also the government's continued push for infrastructure development across the country is helping the CV sector rise above pre-Covid numbers.
At an overall 72,027 units, February 2023 retail sales are a 17% increase over year-ago 67,391 units. Given the overwhelming demand from logistics companies as well as last-mile operators, it is no surprise that the light CV (LCV) segment with 44,392 units and 12% growth accounts for a 56% share of overall retails. Heavy commercial vehicles (HCVs) with 26,469 units have a 34% share of the CV market and have clocked 24% YoY growth. This is similar to that in January 2023 and reflects the sustained demand for tippers, trailers and other heavy goods carriers. The medium CV category, which had seen a decline in January (4,670 units), is back in the black with 4,808 units (February 2022: 4,419).
In terms of market share, CV market leader Tata Motors is feeling the heat of growing competition – despite its February 2023 sales of 30,280 units being 6.64% better than February 2022's 28,392 units, the speedier rate of growth of some rivals means its overall CV market share is down by nearly four percentage basis points to 38.32% from 42.13% a year ago.
Mahindra & Mahindra, with its hardy range of Bolero pickups among other models, has made maximum gains last month – 18,845 units, up 32.47% YoY which shows in its much-improved market share of 24% compared to 21% in February 2022.
The heightened demand for HCVs, particularly for mining and infrastructure operations, has benefitted Ashok Leyland, VE Commercial Vehicles and Daimler India CV – all three have increased their CV market share to 17%, 7% and 2.26% respectively in February 2023.
According to Singhania, "The CV category has also shown robust growth by growing 17% YoY though it fell by -10% when compared to February 2020. Walk-in enquiries improved during the month. Apart from this, demand has also increased due to change in OBD norms which is will see price hikes. On the government's side, infrastructure spending has been healthy and is also aiding better sales."
Tractor retails: 68,988 units, up 14%
Sales of agricultural equipment and tractors is another indicator of auto industry growth. At 68,988 units in February 2023, which is one of the best months for tractor OEMs, sales were up 14% YoY. Market leader Mahindra Tractors and its Swaraj Tractors, with combined sales of 28,357 units, have farmed growth and have a market share of 41%. Both are ahead of third-placed OEM, International Tractors which has a 12.49% market share. Escorts (10.64%), John Deere India (8.66%) and CNH Industrial (3.85%) have also achieved market share gains year on year.

Near-term outlook: strong March coming up
With March 2023 having multiple festivals like Holi, Ugadi, Gudi Padwa and Navratri, which is when India sees plenty of new vehicle buying, sales across vehicle segments are likely to see strong demand.
Other sales accelerators in March 2023 will include improved OEM factory production, consumer rush to buy vehicles in the last month of the fiscal year, and upcoming change in OBD norms from April 1, 2023 which will increase vehicle prices and also have OEMs offering buyer incentives this month.
On the flipside, India's chief economic advisor said that urban demand recovery is taking place at a faster pace than rural. This, along with a sharp slowdown in private consumption expenditure to a two-year low, suggests a softening in household spending demand amid inflationary pressure as post covid pent-up demand starts to fade.
A possible future sales dampener could be the impact of 'El Nino' conditions culminating in a weaker monsoon in India and likely to result in lower output and higher prices. Thus, FADA's medium-term outlook remains a cautious one until the IMD delivers a forecast of a better monsoon. But until then, vehicle manufacturers will be going all out to make March 2023 count.
ALSO READ: Car and SUV sales surpass 300,000 units for eighth time in 11 months of FY2023
EV sales charge past 100,000 units for fifth month in a row and a million in FY2023's first 11 months
RELATED ARTICLES