Hyundai races ahead of Ford with made-in-India PV exports in H1, FY2020
With shipments of 103,300 units in April-September 2019, Hyundai Motor India is ahead of Ford India by 31,450 units. And, it is plotting an aggressive export-led growth strategy designed to take the passenger car export crown.
Even as passenger vehicle OEMs struggle for sales traction in the domestic market, they are looking at increased exports as a growth de-risking strategy and also to keep their manufacturing plants in India busy. In H1 FY2020 (April-September 2020), even though the overall export numbers, compared to domestic market sales, are small, the fact is that they are in the black. Compared to overall domestic sales of 13,33,251 units (-23.56%), total exports of made-in-India PVs at halfway stage in the fiscal year add up to 365,282 (4.38%).
Verna powers Hyundai's charge
Leading the charge is the Chennai-based Hyundai Motor India, which has in the fiscal year till now shipped a total of 103,300 units (19.26%). Taking prime position is the Verna sedan, with shipments of 34,772 units and accounting for 33.66% of the company's overall exports. Interestingly, demand has more than doubled; in H1 FY2019, 15,853 Vernas had been exported; H1 FY2020 marks a 119% year-on-year growth.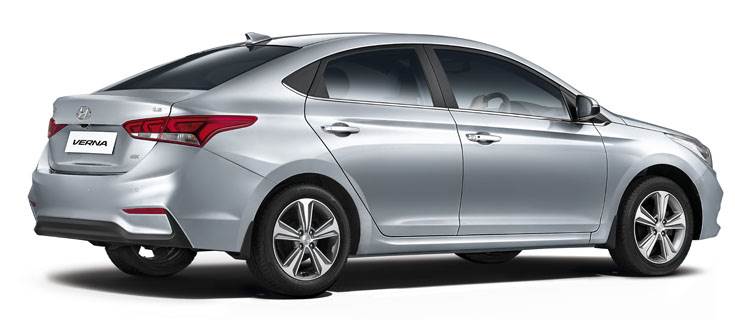 The Verna sedan, with shipments of 34,772 units, accounts for 33.66% of Hyundai India's total exports in H1 FY2020 and clocked 119% YoY growth.

On the SUV front, 23,863 units comprising the Creta and Venue have been exported, accounting for 23% of total Hyundai exports in H1 FY2020. The Grand i10, Xcent, Elite i20 and Santro constitute another 44,665 units, albeit 10% down on year-ago despatches of 49,661 units.
Hyundai Motor India currently exports to around 91 countries across Africa, Middle-East, Latin America, Australia and Asia Pacific. While there is a consistently high demand for the Grand i10 and i20 in Africa and Latin America, the Verna is an extremely popular model in the Middle East.
At this stage in the fiscal year, Hyundai is ahead of Ford India, the export market leader for the past two years and which maintained its No. 1 position in FY2019 by a whisker, breasting ahead of Hyundai by a mere 696 units.
Hyundai Motor India, which exported a total of 162,105 (5.30%) PVs in FY2019, is plotting an aggressive export drive. On September 24, it held an International Partner's Meet 2019 in New Delhi where 60 of its global partners gathered to brainstorm an Indian export strategy. Partners representing Hyundai from several countries including South Africa, Saudi Arabia, Lebanon, Vietnam, Chile, Peru and Columbia participated and many new markets like Ethiopia, Zambia and Ghana were also explored for export of the Atos (Santro in India). The representatives got a close look at the company's latest product line-up -- the Venue, Grand i10 Nios, Atos (Santro in India) -- at the event held at the Buddh F1 circuit. Of late, the Verna sedan has seen strong demand in overseas markets.
S S Kim, MD and CEO, Hyundai Motor India said, "Hyundai Motor India plays a key strategic role in Hyundai Motor Company's global export plans for the world markets. Our 60 international partners joined us to experience our the latest product line-up -- the Venue, Grand i10 Nios, Atos (Santro in India). All the three benchmark products received overwhelming response, strong appreciation and long-term commitment from our international partners for their respective markets."
"Our consistent efforts towards ensuring world-class quality have helped us become a highly loved brand both in India and overseas. We are overwhelmed with the customer response and appreciation from international markets for made-in-India cars," added Kim .
"Our deep understanding of export markets helps us to balance out production plans for domestic and exports which further help us to manage our sales numbers for smooth business operations," he said.
The company says that the global sales trend has been gradually shifting from small cars to midsize sedans and SUVs. HMI's strategy to offer customised cars to its customers in different markets has been helping it cater to their varied needs.
While the Verna has shown an extremely high growth of over 147 percent in exports in 2019 (YTM) (YoY), contributed by the high demand from the Middle-East markets especially Saudi Arabia, its Creta SUV, on the other hand, has been very well accepted in Chile, Peru, Mexico, Tunisia and South Africa.
Hyundai Motor Group's other automaker, Kia is also now in India and has begun its export drive. In September, the carmaker shipped 471 Seltos SUVs, transported by road from the Anantapur plant in Andhra Pradesh, from the Chennai Port to some South American countries. Other export markets on the cards for Kia Motor India are the Middle East and South East Asia.
Ford EcoSport: the most-exported vehicle in H1 FY2020
Ford India, the existing export market leader, has between April-September 2019, shipped a total of 71,850 units (-6.60%). The company had exported a total of 162,801 units in FY2019 (-11.33%). Ford India's exports are fuelled majorly by its Ka / Ka+ hatchbacks, Aspire sedan (made in the Chennai plant) and the popular global SUV, the EcoSport compact crossover (made at the Sanand plant), all going to over 50 countries across Europe, Middle-East, Sub-Saharan Africa, Asia, and to emerging markets in North America as well as in Australia.
With 38,593 units, the Ford EcoSport is the maximum export vehicle from India in the April-September 2019 period and accounts for 56% of all of Ford India's exports.
In FY2019, the EcoSport was the mainstay of Ford India's exports, accounting for 56 percent of its PV exports. It looks to be the same this fiscal too. In H1 FY2020, a total of 38,593 EcoSports have been exported, accounting for 53.71 percent of Ford India's overseas sales in April-September 2019, but 8% down on year ago exports of 41,993 units. The Figo, Figo Aspire and Freestyle make up the balance 33,257 units of the total 71,850 units exported in H1 FY2020.

Maruti Suzuki in third place
India's PV market leader is at third position in the export list with shipments of 52,603 units (-4.09%). The sextet of the New Wagon R, Celerio, Ignis, Swift, Baleno and Dzire account for 41,516 units, the UVs (Gypsy, Ertiga, S-Cross, Vitara Brezza) take up another 3,278 units, the Ciaz 1,167 units and the Eeco-Omni van combine 490. A total of 6,152 Altos were also exported. In FY2019, Maruti Suzuki India had shipped out a total of 106,492 units, down a substantial 14.05 percent (FY2018: 126,074).
GM wants to Beat it
GM India, which remains solely an export player with manufacturing from the Talegaon plant, has exported a total of 40,096 Beat hatchbacks, down 1.75% YoY. This is the sole model the company produces at the plant, which has huge idle capacity.
The Chevrolet Beat is the sole product manufactured at the Talegaon plant.

Slowing demand for the Beat hatchback, which is exported to Latin American countries, means GM will have to rethink its export strategy in India.
High five for Volkswagen India
At No. 5 position is Volkswagen India, which exported a total 37,908 cars, up 4.74% on year-ago exports. This total comprises 30,010 units of the Vento and Ameo midsize sedans (1.16%) and 7,798 Polo hatchbacks (21%).
File pic of Volkswagen cars being shipped from Mumbai Port.
Mexico is one of the most important destinations for the company's made-in- India cars and the Vento has become the highest-selling Volkswagen in that market. Since VW India began exporting cars in 2012, more than 400,000 cars manufactured from the Volkswagen Pune Plant have reached over 50 different countries in Asia, Africa, North America and South America.
Nissan seeing an uptick
Nissan Motor India, once a strong exporter, is seeing better days and is at No. 6 in the PV Exporters List. At 33,897 units, its numbers are up 20% YoY. The Sunny sedan makes up the bulk of its sales, with 26,590 units or 78.44% of total exports in H1 FY2020 and are also a robust 49% YoY growth (H1 FY2019: 17,839). The Evalia MPV, Terranp, Go+ and Kicks account for 1,089 units and the Micra, Datsun Go and Redigo for another 6,218 units.
M&M numbers up on low year-ago base
Mahindra & Mahindra shipped a total of 7,280 units, up 23% YoY. This includes 5,701 units between the Bolero, ST, Quanto, Thar, TUV300, KUV100, NuvoSport and XUV300, 1,101 units between the Scorpio, Xylo, HT, Bolero Plus, XUV500, TUV300 Plus, and Marazzo and 453 passenger-carrying Maxximo Minivan VX and Supro models.
Renault exports 6,882 Kwids and 3 Dusters
For Renault India, the Kwid hatchback is the mainstay of its overseas sales. Of the total 6,885 units exports, the Kwid accounts for 6,882 with the balance three being the Duster SUV.
Toyota Livas it up
Toyota Kirloskar Motor has shipped a total of 5,476 units, up 20.67% on a low year-ago base. The the Liva hatchback accounts for the bulk of exports with 3,175 units or 58%, with the Etios sedan, with 2,280 units or 41%, making up for the rest. The Innova and Fortuner with 10 units each and the Yaris with 1 round off the Toyota exports for H1 FY2020.
Some global OEMs better at exports than domestic sales
As the PV makers gear up for the remaining six months of FY2020, not many are hopeful of the domestic market throwing up big numbers, what with the impending shift to BS VI, tepid consumer sentiment, a slowing economy and zero clarity on a vehicle scrappage policy. Exports, therefore, offer more than a glimmer of hope and with made-in-India vehicles seeing growing acceptance, OEMs are beginning to sharpen their focus on the export front.
For the Indian arms of global OEMs like Ford, Volkswagen and Nissan, their exports are recording better numbers than their domestic sales. For instance, Ford India, which sold a total of 35,566 PVs (-27%) in India in H1 FY2020, has exported twice that number: 71,850. Volkswagen India, which recorded domestic market sales of 14,520 units (-20%), has exported 37,908 cars (4.74%) and Nissan Motor India, which sold just 9,502 units in India, has shipped 33,897 units (20%) between April and September.
RELATED ARTICLES