FADA urges two-wheeler makers to boost customer sentiment
The Indian automotive retail sales in the year FY22 saw an uptick of 7 percent with overall sales of 16,375,799 units, compared to 15,274,314 units for the same period last year.
India's retail sales for FY22 saw an increase of 7 percent with 16,375,799 units sold as compared to 15.27 million units for FY21. However, in comparison to the pre-Covid fiscal 2019, overall sales were down 25 percent.
For March 2022, sales across two-wheeler, passenger vehicles and tractors saw year-on-year declines largely due to a slowdown in rural areas.
Vinkesh Gulati, president, Federation of Automobile Dealers Association (FADA) said, "The auto industry sales in March 2022 fell by 3 percent and 30 percent respectively when compared to March 2020 when the industry transitioned from BS IV to BS VI.
The two-wheeler segment, already affected by rural distress saw a further dampening of buying sentiments due to a rise in vehicle ownership and fuel costs. I once again urge all two-wheeler OEMs to introduce special schemes to uplift the morale of this segment to boost sales."
According to Gulati, the three-wheeler segment which saw a decline in market size due to issues concerning permits, and closure of educational institutions is seeing double-digit growth as the country opens up fully for business. Moreover, EVs sales account for close to 45 percent of market share with demand for cargo vehicles from captive customers.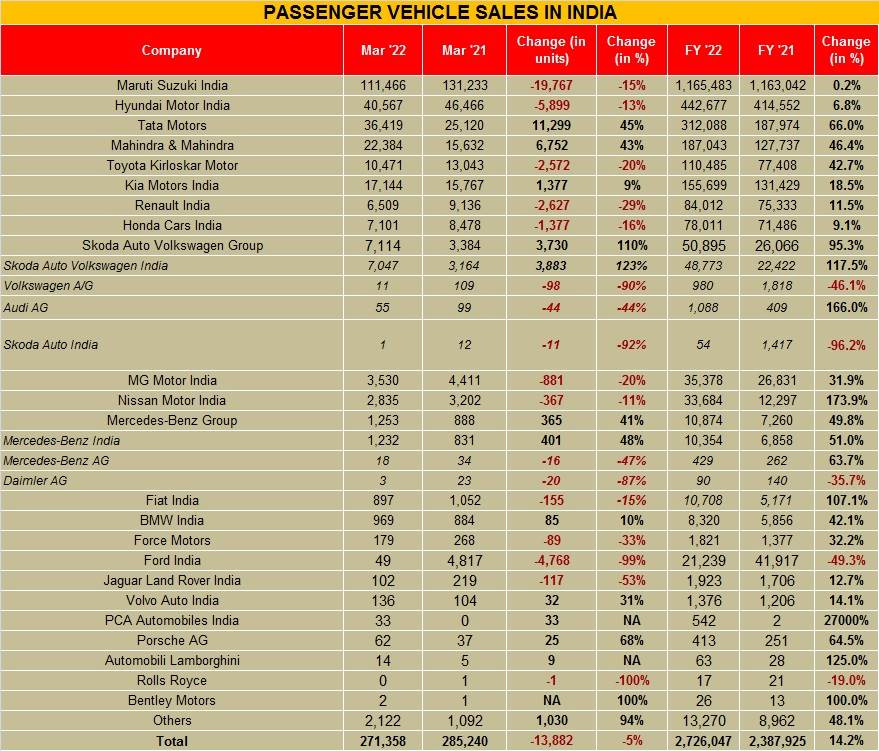 On the PV front, FADA pointed out that the segment continues to see high demand and long waiting period as a result of semiconductor shortages that have affected production even though supplies have improved marginally. "The Russia-Ukraine war and China lockdown will further impact supplies and vehicle availability leading to longer waiting periods."
The CV sector saw a slight recovery due to the government's push on infrastructure and replacement demand but a full recovery is still a long way off," Gulati said. In terms of year-wise sales, he said, "FY2022 was the first year of recovery after the Covid-19 pandemic."
The just-concluded fiscal did not begin on a good note as the second Covid wave ripped through the country last April and May leading to lockdowns and job losses.
Geopolitical situation
According to FADA, in comparison to the impact of Covid lockdown in April FY20 and April FY21, April 2022 will see growth but on a lower base. In his view, Gulati says the near-term outlook for Indian auto industry continues to remain a challenge. As a result of skyrocketing crude prices, fuel prices have already gone up by around Rs 10 a litre. "This will continue to rise and further hit buying sentiments. In addition, to compensate for higher raw material costs, OEMs have increased prices of their vehicles," he said.
According to FADA, the upcoming wedding season and re-opening of educational institutions and offices could some pent-up demand coming in two-wheelers. Overall, FADA remains extremely cautious on any recovery given the on-going Ukraine war. It anticipates that auto industry may come out of the woods and reach pre-pandemic highs by FY24.
Also read
CNG makes inroads in India's auto sector

RELATED ARTICLES