EV sales in India surpass 150,000 units for the first time in May
At 157,338 units, May 2023 is the eighth month in a row that EV sales have charged past the 100,000-unit mark; sharp rise in e-two-wheeler sales due to buying ahead of June 1 price rise caused by slashed FAME subsidy; M&M maintains 9% share in three-wheelers; Tata Motors also leads in buses and goods vehicles.
The fifth month of calendar year 2023 has turned out to quite a news-making one when it comes to scaling new highs in the electric vehicle segment in India. For starters, cumulative sales of all EV segments – two- and three-wheelers, passenger vehicles, buses and light and heavy goods vehicles – have gone past the 150,000-unit mark for the first time. And May 2023 is the eighth consecutive month that EV sales have crossed the 100,000 mark, as per retail data gleaned from the Vahan website.
May 2023's sales of 157,338 units are 16,669 units ahead of the previous best – March 2023's 140,669 units and a robust 41.74% month-on-month increase (April 2023: 110,999). The year-on-year growth is a handsome 125% increase (May 2022: 69,901 units) as detailed in the data table below.
Monthly retail sales of the EV industry notched a record 157,338 units in May 2023, up 125% YoY and 42% on April 2023.
Along with the sustained consumer shift to EVs, last month's retail score is also thanks to the electric scooter and bike market setting a new monthly benchmark of over 104,750 units as a result of buyers rushing to buy before prices rose from June 1 as a result of the slashed FAME II subsidy.
Of the total 157,338 EVs retailed in May 2023, two- and three-wheeled EVs – the most affordable products in the zero-emission segment – accounted for 66% (104,829 units) and 28% (44,609 units) respectively of the overall EV pie. Electric passenger vehicles, which are seeing growing demand amidst the personal usage consumer transition to e-mobility, accounted for 7,443 units and a 4.73% share. The remaining 1.27% share of the total EV pie is accounted for by electric buses and goods vehicles.
Let's take a closer look at how each sub-segment performed along with the company-wise retails.
Value-conscious vehicle buyers advanced their purchases before EV OEMs raised prices on June 1 due to the slashed FAME subsidy. Between May 23 and May 31, 57,917 units were sold – that's 7,239 units each day.
Electric 2-wheelers: 104,829 units, up 147% YoY
Ola, TVS, Ather and Bajaj Auto clock best-ever monthly sales
Retail monthly sales of electric two-wheelers surpassed the 100,000-unit milestone for the first time and scaled a new high of 104,829 units in May 2023, which is a month-on-month increase of 57% (April 2023: 66,724 units). This translates into 3,381 EVs on two wheels sold on each day last month.
This number beats the previous best of 85,452 units in March 2023 by a good 19,377 units. It may be recollected that sales had fallen by 22% month on month in April 2023.
What has accelerated retail sales in May 2023, more so in the last week of the month, is the government's decision on May 22 to revise the subsidy on the FAME India Scheme to Rs 10,000 per kilowatt per hour (kWh) as against Rs 15,000/ kWH. Furthermore, the cap for incentive has been brought down to 15% of the two-wheeled EV's ex-factory price as against 40% benefit extended earlier. That's a 37.5% cut, which will easily translate into higher vehicle prices, which kicked in from June 1, 2023.
Value-conscious vehicle buyers advanced their purchases before EV manufacturers raised vehicle prices. Between May 23 (when retail sales were registered at 46,838 units) and May 31, a total of 57,991 units were sold. Do the math – that's 7,248 units sold in the last eight days of May.
The rapid pace of sales in the last week of last month means that demand soared for the leading players and of the Top 25 best-selling OEMs from the 129 in the fray, only three saw their sales decline month on month (see retail data sales table below).
While the top three OEMs – Ola Electric, TVS Motor Co and Ather Energy – saw demand for their products rise smartly, Bajaj Auto rose up the ladder to take fourth rank for the first time with a 168% month-on-month increase in sales to 9,910 units. All these four EV makers also recorded their best-ever monthly sales yet.
Market leader Ola Electric recorded retail sales of 28,438 units comprising the S1 Pro and S1 e-scooters, beating its previous best of 21,991 units in April 2023 by 29 percent. TVS Motor Co's iQube also crossed the 20,000-unit mark with 20,253 units, surpassing its previous best of 17,878 units in March 2023 and recording 131% month-on-month growth over April's 8,751 units. Third-placed Ather Energy also hit a new monthly high in May 2023 with 15,256 units, growing 96% over April's 7,786 units. Meanwhile, Ampere Vehicles took fifth place with 9,618 units, up 15% over April's 8,324 units.
The combined sales of these five OEMs add up to 83,475 units of the total 104,755 EVs sold in May, which translates into 80% of total sales last month.
Seven other OEMs – Okaya EV (3,875 units), Okinawa Autotech (2,905 units), Hero Electric (2,109 units), Bgauss Auto (1,811 units), Battre Electric Mobility (1,199 units), Greaves Electric Mobility (1,155 units) and Lectrix EV (1,000 units) clocked four-figure sales.
Mahindra maintains its leadership with 4,409 units (left); Dilli Electric (right) with 2,078 units is third, behind YC Electric's 3,244 units.
Electric 3-wheelers: 44,609 units, up 85% YoY
Mahindra Last Mile Mobility maintains 9% share, YC Electric stays firm at No. 2
The e-three-wheeler segment, with retail sales of 44,609 units improved upon its April 2023's 38,012 units sales by 17% albeit it was down 1% of this year's best monthly performance of 45,236 units in March 2023. Sales in January and February were 34,315 units and 36,011 units respectively.
This sub-segment, which has all nearly 430 players and counting, continues to see strong double-digit growth, thanks to sustained demand for passenger transportation and from last-mile operators for e-commerce applications, food deliveries and other applications.
Mahindra Last Mile Mobility (MLMM), the market leader in FY2023 with over 35,000 units and a 9% share, which kicked off FY2024 on a strong note – 3,487 units in April 2023 – has maintained the same in May with 4,049 units. MLMM, which expanded manufacturing capacity in April with a new line for its Treo e-three-wheelers at the Haridwar plant, currently has six EVs on sale – the Treo, Treo Yaari and e-Alfa Mini for passenger transport and the Zor Grand, Treo Zor and the e-Alfa cargo for goods transport.
YC Electric, the No. 2 e-three-wheeler OEM in FY2023, has maintained its position in the first two months of FY2024 with 2,773 units April and 3,244 units in May. This company, which retails five products – Yatri Super, Yatri Deluxe and Yatri for passenger duties and E-Loader and Yatri Cart for cargo operations – is benefiting from low initial product cost (from Rs 125,000 to 170,000 for passenger EVs, and Rs 130,000 to Rs 165,000). Dilli Electric moves up the ladder to take third place with 2,078 units, up from fourth in April, and ahead of Saera Electric's 2,061 units last month.
Five other OEMs sold in excess of 1,100 units each – Piaggio Vehicles (1,654), Champion Polyplast (1,218), Mini Metro (1,202) and Unique (International). Combined sales of these eight OEMs, which clocked four-figure retails are 16,628 units and they account for 37% of total e-three-wheeler sales in May 2023. The 17 other OEMs from the Top 25 in May (see data table below) account for 9,736 units or 22% of sales, which means 400 e-three-wheeler players also in the arena battled for their share of the remaining 41 percent share of the pie.
Electric passenger vehicles: 7,443 units, up 151%
Tiago EV gives Tata Motors a new charge, MG and Mahindra grow market share
There's action aplenty in the electric car and SUV sub-segment and at 7,443 units retailed in May 2023, YoY growth is a handsome 150.50% (May 2022: 2,961 units). What's more, month-on-month growth is 24.42% on April 2023's 5,982 units which indicates growth is here to stay. The ePV sector had its best month of retail sales in March 2023 (8,805 units).
Electric PV market leader Tata Motors, which has the biggest portfolio in India in the Nexon EV, Tigor EV, Tiago EV and the Xpres-T (for fleet buyers), sold a total of 5,829 units. While it maintains a strong grip with a 78% share, it is seeing new competition entering and expanding the overall market.
That new competition is the Mahindra XUV400 – the first real rival to the Tata Nexon EV, which is the best-selling ePV in India. As per Vahan data, M&M, which also retails the e-Verito, clocked sales of 365 units, which gives it a market share of 5%, but MG Motor India (442 units) pushes it to third position with a 6% share in May 20023. MG, which has launched the Comet EV recently, is already seeing a good market response to the compact EV which takes on the Tata Tiago EV.
PCA India, which retails the Citroen eC3, the electric version of the C3 hatchback, moves into fourth place with 309 units, ahead of Hyundai Motor India (165 units) and BYD India (139 units).
Luxury carmakers contributed 146 units or 2% to total ePV sales with BMW India leading with 72 units and Volvo Auto India in second place with 42 units.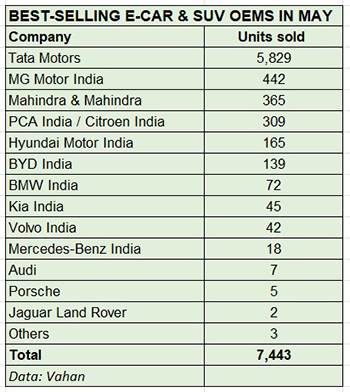 JBM Auto with 52 units and a 19% share is in second place, ahead of PMI Electro Mobility (48 units) and Olectra Greentech (39 units) in May retails.
Electric buses: 274 units, up 66% YoY
Tata Motors sells 109 units to take 40% market share, JBM Auto is No. 2
For the first time in the year to date, electric bus retails have entered the three-digit mark. May 2023 saw sales of 274 units, which is a 66% YoY increase (May 2022: 165 units) and a 226% increase over April 2023's 84 units. January (97 units), February (98 units) and March (87 units) had also seen double-digit sales.
The jump in numbers is due to Tata Motors selling and delivering 109 buses, which gives it a 39.78% share of the e-bus market in May 2023. JBM Auto with 52 units and a 19% share is in second place, ahead of PMI Electro Mobility (48 units) and Olectra Greentech (39 units).
Electric goods vehicles: 160 units, down 38% YoY
Tata Motors' Ace sells 110 units, Mahindra eSupro in second position
The goods vehicle sub-segment is split into light and heavy goods vehicle categories. May 2023 sales of 160 units essentially belong only to the light goods vehicle category and are up 263% YoY (May 2022: 44 units). However, with no heavy goods vehicle being sold last month versus 217 in May 2022, the overall growth is dragged into negative territory – down 38%.
Electric car and SUV market leader Tata Motors also leads in this segment retails of 110 units, of the electric Tata Ace light goods carrier. The e-Ace, which is powered by a 27kW (36hp) motor with 130 Nm of peak torque, has a claimed range of 154 kilometres on a single charge.
Mahindra & Mahindra with 23 units of the electric Supro is in second place, followed by Omega Seiki with 18 units.
Expanding EV market offers more product choice
The shift from IC engine vehicles to EVs is underway in India, which has outlined EVs to account for 30% of its mobility requirements by 2030. This domestic industry momentum is being driven by the FAME scheme, state subsidies and a growing portfolio of products across vehicle sub-segments.
Increasing consumer awareness about the need to use eco-friendly transport and the wallet-friendly nature of EV cost of ownership over the long run is proving to be a big catalyst to adoption of electric mobility. This, even as the private sector chips in by setting up new EV charging infrastructure across the country.
Given the Union Budget 2023's focus on this segment of the automobile industry, the increased allocation of the FAME II subsidy should help accelerate sales of EVs. The transition of consumers towards electric mobility for personal use as well as B2B operations is on the upswing. Last-mile delivery operators and the e-commerce industry, particularly in urban India, are now banking on electric cargo vehicle to deliver the goods in a cost-efficient manner.
Furthermore, recognising the huge business potential, component manufacturers are fast upping the ante on localising EV parts, either through full ground-up development or through technology licences. This will lead to enhanced optimisation of costs and in turn EV affordability.
Finally, what is benefiting EV buyers, particularly in the two-, three- and four-wheeler segments, is the growing product basket. Greater choice in the marketplace offers a multiplicity of choice to EV buyers and also creates healthy competition, which is a win-win scenario for India EV Inc.
ALSO READ:
EV sales in India rise 41% in April 2023 to over 109,000 units
EV sales in India hit 1.17 million units in FY2023, charge past 100,000 for six months in a row
RELATED ARTICLES