Tata Motors to hike car prices for fourth time this year
Carmaker cites increased input costs as reason for price hikes; in the year to date, the cumulative price hike of Tata Motors' passenger vehicle range is around 3.45% – 0.9% on January 18, 1.1% on April 23, 0.55% on July 9 and 0.9% on November 7.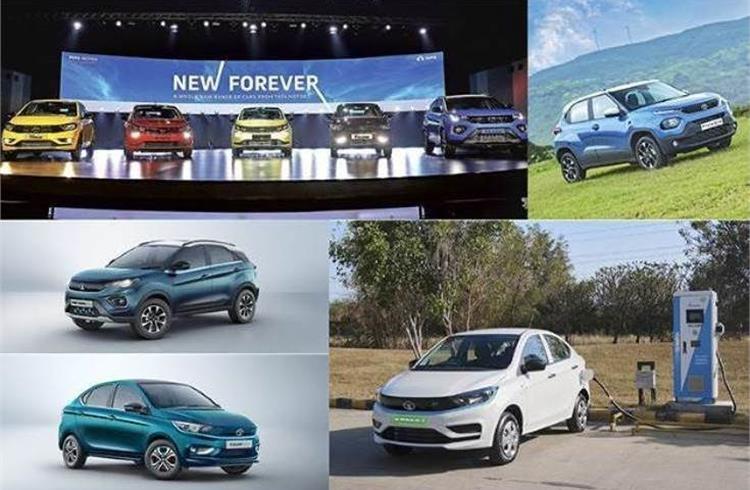 Tata Motors, which is on a roll in the passenger vehicle (PV) market and is the strong No. 3 player after Maruti Suzuki India and Hyundai Motor India, is to increase prices of its PV range on November 7, 2022. The average price across the six-model range will be 0.9%, depending on the variant and model.
In a statement issued today, the company said: "Tata Motors, India's leading vehicle manufacturer, has announced a marginal price increase across its passenger vehicles. Effective November 7, 2022, weighted average increase will be 0.9%, depending on the variant and model. The company has been absorbing a significant portion of the increased costs but the steep rise in overall input costs has compelled it to pass on some proportion through this minimal price hike.
The November 7 price increase will be Tata Motors' fourth in the year till date. The first was on January 19, 2022 when the carmaker raised prices by an average 0.9%, similar to the latest hike. The second price increase, of 1.1%, came on April 23 while the third hike saw PV prices raised by 0.55%, on July 9, across the range. As per the company, all four prices hikes are a result of the rise in overall input costs.
On track to achieve 500,000 sales target in FY2023
Tata Motors, which retails seven models – Altroz, Harrier, Nexon (and Nexon EV), Punch, Safari, Tiago (and Tiago TV), Tigor (and Tigor EV) – is on a roll in India's booming PV market. In October 2022, the company sold 45,217 units comprising 41,146 IC-engine cars and 4,071 EVs. This is the highest monthly sales for Tata Motors' EV portfolio which gives it a strong advantage over its PV rivals. At present, it has three EV variants – the Nexon EV, Tigor EV and the fleet-only XPres-T EV – which will soon be joined by the Tiago EV.
The company, which has targeted production and sale of over 500,000 PVs, including 50,000 EVs in FY2023, is well on track towards achieving its goal. At end-October 2022 with 317,667 units, it is 182,333 units away from that target – Tata is averaging monthly sales of 45,381 units which means the half-a-million target is being seen clean and large in its crosshairs.
As of end-September 2022 (H1 FY2023), Tata Motors had a PV market share of 14.23%, up from 10.77% in first-half FY2022.
Tata hard on Hyundai's heels, battle for No. 2 position hots up
Tata Motors is currently hard on Hyundai's heels. In October 2022, it sold 45,217 units, up 33% (October 2021: 33,925), to be just 2,784 units behind India's No. 2 PV OEM, which sold 48,001 units last month. On the cumulative 7-month sales front, Tata Motors, with 317,667 units in the April-October 2022 period, is 15,339 units behind Hyundai which has clocked 333,006 units. Clearly, the battle between these two OEMs is set to intensify in the coming months as Hyundai will try to protect its turf and Tata aim to usurp the No. 2 PV position.
ALSO READ:
Festive October lights up car sales to over 336,000 units and 29% growth
Tata, Mahindra gain UV share in H1 FY2023, Maruti, Hyundai see declines
RELATED ARTICLES