Tata Motors achieves best-ever monthly sales in January: 47,987 units
January 2023 sales better previous best of 47,654 units in September 2022; the carmaker is now 48,266 units shy of its FY2023 target of half-a-million units with two months left for the fiscal to end.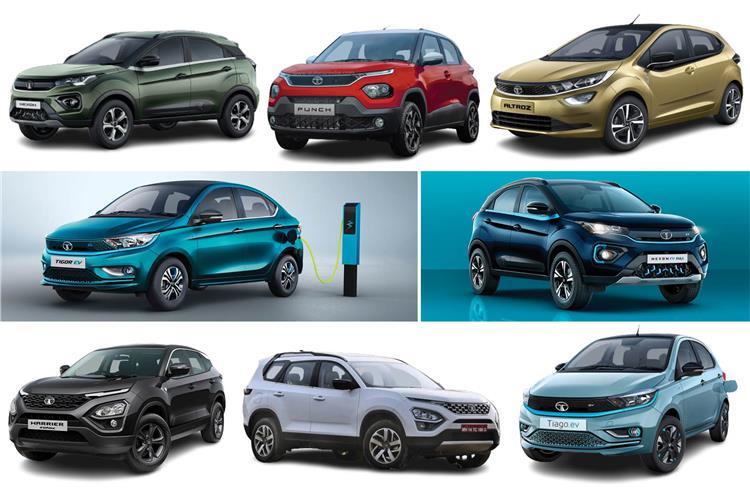 Tata Motors, which achieved its highest-ever sales for a calendar year in 2022 with 526,798 units and 50% year-on-year growth, is continuing its accelerated run in 2023. The carmaker has announced sales of 47,987 units in January 2023, up 18% (January 2022: 40,777 units) including an estimated 3,831 EVs. This is its best-ever monthly market performance and betters the 47,654 units it recorded in the festive month of September 2022 (see data table below).
The company, which retails seven PVs – Altroz, Tigor, Tiago, Nexon, Punch, Harrier and the Safari – in the domestic market, has capitalised on surging demand for its SUVs, particularly the Nexon and the Punch which are currently the best-selling and the No. 4 SUVs in the Indian market.
What has also helped Tata Motors' accelerated growth is its first-mover advantage in the fast-growing electric vehicle market, where it has an over 80% market share. The company currently retails the Nexon EV, Tigor EV and Xpres-T (for fleet buyers) and has also recently launched the sub-Rs 10 lakh Tiago EV. Tata Motors, which has an order book of 20,000 units for the electric hatchback, has commenced deliveries of the sub-Rs 10 lakh electric hatchback this month. Given the additional volumes from the new car, Tata Motors could well cross the 50,000-unit monthly sales mark for the first time in February.
On track to achieve 500,000 sales in FY2023
With cumulative sales of 451,734 units in the first 10 months of FY2023, which is a 57% YoY increase (April 2021-January 2022: 288,098 units), Tata Motors is 48,266 units shy of its targeted half-a-million sales, including 10% EVs, in FY2023. With two months to go for the fiscal to close, the company is well on track to achieve this.
The company is the UV market leader, ahead of both Maruti Suzuki and Mahindra & Mahindra, and has increased its UV market share in the April-December 2022 period to 18.27% from 13.71% a year ago. The company has four UVs on offer of which the Nexon, India's best-selling UV, has sold 127,888 units in the first nine months of FY2023. The Nexon is followed by the Punch (99,750 units), Harrier (24,446 units) and Safari (16,486 units).
Given the market momentum it is witnessing, the company is also getting future-ready with manufacturing capacity. On January 10, it completed acquisition of Ford India's Sanand plant which unlocks an additional state of-the-art manufacturing capacity of 300,000 units per annum which is scalable to 420,000 units per annum.
ALSO READ:
Tata Motors returns to profitability with net profit of Rs 2,958 crore in Q3 FY2023
Maruti Suzuki opens CY2023 with 14% growth, sales of 147,348 cars in January
Hyundai Motor India surpasses 50,000 sales for the second time this fiscal in January
Kia India records best-ever monthly sales of 28,634 units in January
RELATED ARTICLES