Volvo XC 40 Recharge joins the Metaverse bandwagon
The Swedish carmaker joins OEMs such as Maruti, M&M and MG Motors that are betting on the virtual route to connect with young and millennial buyers.
Even as the Volvo XC 40 Recharge breaks cover today, it will be the first for an automaker to debut the vehicle exclusively on Metaverse which is gaining popularity as the destination for new vehicle launches.
Recently, Maruti Suzuki, MG Motors, Mahindra, and even public sector undertaking, Union Bank of India have set up virtual customer experience zones to draw in the young buyers who are increasing their consumption of digital content.

So what makes Metaverse tick? The metaverse is theoretically the future of the internet, a 3D virtual world where people will be able to interact using sensors, lenses, and other gadgets with Non Fungible Tokens, commonly known as NFTs, have made quite a buzz ever since they were introduced in the market.
"Metaverse is the perfect gateway for millennials to disappear into vicariously living through avatars, as a sort of an escape from the mundane boring living into your twin life with an increased sense of Freedom with a feeling of liberation," says Marketing & Brand management expert Harish Bijoor who runs his Bengaluru-based consulting firm Harish Bijoor Consults Inc.
Timmy Ghiurau Volvo Cars innovation Lead, Virtual Experience says Metaverse is a cocktail of XR (extended reality), VR (virtual reality), AR (augmented reality), and MR (mixed reality). "You have to make things interesting for the younger generation that may not watch TV, have ad blockers on YouTube and some commercials never reach them. You need to find new ways to make it interactive and interesting to them."

Post-launch XC40 Recharge will begin Volvo's new journey in the country as its first luxury EVs to be assembled at their Hosakote plant in Bangalore. This car has two electric motors with a combined output of 408 horsepower and 660 Nm of torque. In addition, It has a 78kWh lithium-ion battery which can cover a distance of 400 kilometers per charge and can be charged in just 40 minutes claimed, says Jyoti Malhotra, Managing Director Volvo Car India

Globally a greater degree of Gen Z and Uber millennials are logging into Metaverse to virtually drive exotic & iconic cars, and travel to far and wide destinations with automakers following them in hot pursuit.

Nissan revealed the Nissan Sakura electric mini-vehicle in the virtual world offering its aficionados an opportunity to test drive the Sakura at the Nissan Sakura Driving Island. Ferrari has created a division that will capitalise on the opportunities offered by the virtual world. Mercedes-Benz also launched the G-Class in the Metaverse.

Lamborghinis NFT project: Space-Time Memory a series of five NFUltimategraphs of a Lamborghini Ultimae depicting the car flying towards the stars raked in $659,63 at Sotheby's auction bids in less than 75 hours and 50 minutes at a recent auction

To add more, BMW's technology enables its customers to build and drive a car through VR and 4k technologies. Not to be left behind Hyundai has upped the ante as part of "Hyundai Mobility Adventure" concept offering its customers a chance to entertain themselves with five "theme parks allowing users to view Hyundai's latest motorsport technologies and the Smart Tech Campus, where users can act as virtual engineers.

As Volvo's Ghiurau says." the idea is to figure out a way that we could put people inside the car without them physically being there."
Higher budgets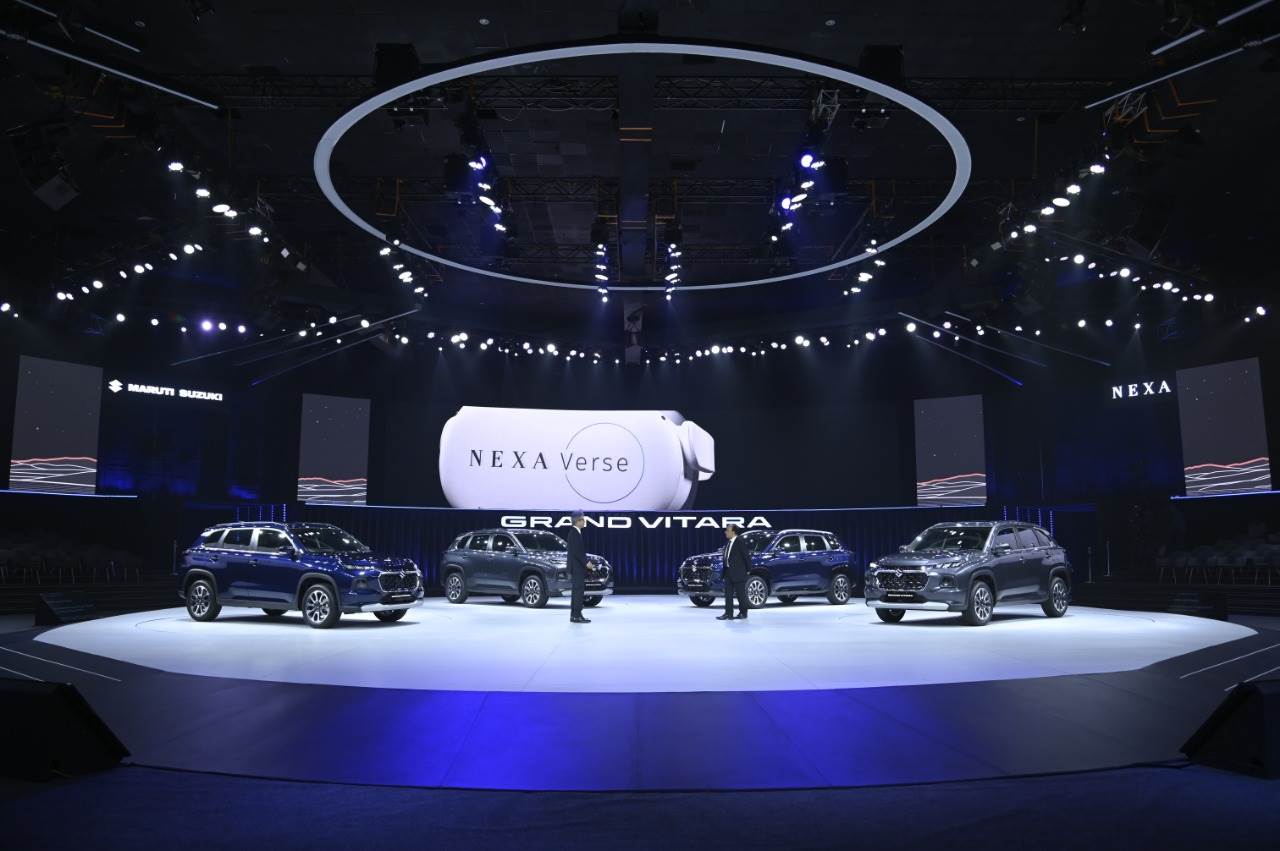 Shashank Srivastava, Senior Executive Director, Maruti Suzuki whose company has had two back-to-back launches first with the Brezza and then Grand Vitara says its sojourn on Metaverse started in 2018 as part of Mobility & Automation Innovation Lab introducing a "One Foot Showroom" at the dealerships. It has now upped this with Virtual Reality and Artificial reality on its website. Srivastava says his company has budgets with plans to add 10-15 percent of its technology up-gradation spend that roughly translates to Rs 6 to 8 crores for creating the second phase of the immersive Metaverse experience.
"Maruti's Metaverse Part II will have customers to virtually interact with a sales representative, take a test drive the vehicle, configure your own vehicle in the convenience of one's home, without going to a dealership," Srivastava stated.

So moving forward will the dealerships, lose their relevance? "For us it will always be Phygital (physical + Digital) with the deal to be closed at the dealership level, as he is the owner of the customer relationship-Metaverse is only a tool to get the brand closer to the customer," he adds.

To create more excitement, Maruti plans to add burnable and redeemable Non Fungible tokens (NFTs) much like Mahindra & Mahindra did to step up the excitement with the introduction of the Thar way back in March.
The Thar NFT that Mahindra released on Metaverse raked in Rs 26 lakhs that was donated to "Nanhi Kali" which supports the education of underprivileged girls in India Mahindra commenting on Thar NFT's success said "An overwhelming response to the auction which means it's almost as expensive as buying the real #Thar! But that makes sense since the NFT is truly one of a kind."

With the Born Electric launches coming closer, the Mahindra is all set to up the game to unleash their upcoming models in the digital space, giving customers "A chance to experience our range of SUVs virtually much before they are physically launched to widen brand value in a space that looks sorted for the future", as a senior M&M official said.
MG Motors India as part of its MG Verse is also going the Toyota way where globally Toyota employees can use avatars to engage in company events and corporate meetings. Gaurav Gupta Chief Commercial officer of MG Motors indicates that the MG Verse besides the regular bells and whistles of NFT tokens and display galleries and race tracks for its customers also has an MG Knowledge Centre that provides opportunities to its employees and partners for up skilling and attending virtual training sessions, conferences, meetings, etc.

"Metaverse is a technology that will allow various social and financial interactions in a 3D virtual world," Arun Krishnamurthi, MD and CEO, Axiscades Technologies said in an earlier interaction with Autocar Professional.
On the possibility of automakers tying up with banks and offering finance options and even buying cars, that is still some time away as the RBI has restricted usage of KYCs on Metaverse. Banks and automakers are both in wait n watch mode before they take the plunge for transactions and payment-driven solutions, which certainly is the next stage of customer engagement.
Also read
Metaverse set to drive luxury car sales
Volvo Car India announces local assembly of XC40 Recharge, launch in July

RELATED ARTICLES