It's a homecoming for Chetak at Akurdi
The iconic scooter brand, now in its new electric avatar, is back to its old home from where it first rolled out in 1972. 
The mood at the Akurdi plant was distinctly nostalgic on June 10, the 84th birthday of Rahul Bajaj. The former Chairman of Bajaj Auto had passed away earlier this year and it was at this very plant 50 years ago when the iconic Chetak scooter first rolled out.
"We have always joked that Chetak was his favorite son so I would like to assume that he must be very happy right now," said his son and Managing Director, Rajiv Bajaj (pictured). This was a special occasion because it marked the rollout of the Chetak all over again, albeit in its new electric avatar.
The company had launched the scooter in 2019 but Akurdi is now its new home under the aegis of Chetak Technology. It was the best tribute one could pay to Rahul Bajaj who truly paved the way for affordable mobility with the scooter decades earlier. Bajaj Auto stopped manufacturing scooters many years ago and turned its focus to motorcycles but the revival of the Chetak is a clear acknowledgment that brands never die.
For Rajiv Bajaj, the event brought back a whole lot of memories. "On a more practical note, it is also an important day for me because this production shop, known as the scooter assembly shop, was where exactly I started work on December 19, 1990," he reminisced.
As he put it, his "first day, first show" was in this very production shop which was way different back then. This was also the place where he met some of the most important people in his life. Bajaj recalled a list of names who were present on the occasion and laughingly added that they were, like him, old furniture who had been around for decades.
Among these included his core team of Abraham Joseph, Bajaj Auto's Chief Technology Officer, and "the brain behind our strategy", as well as Executive Director, Pradeep Shrivastava, with whom "I had a fight in the first week and I told that everything he was doing was wrong". The mood was distinctly one of warm bonding and camaraderie as the MD continued his narrative.
He then turned his attention to the Chetak facility where three key words drove the team involved with this initiative. The first, said Bajaj, was 'Focused' with the underlying fact being that "this is a focused facility" for electric vehicles with no ICE (internal combustion engine) products made here.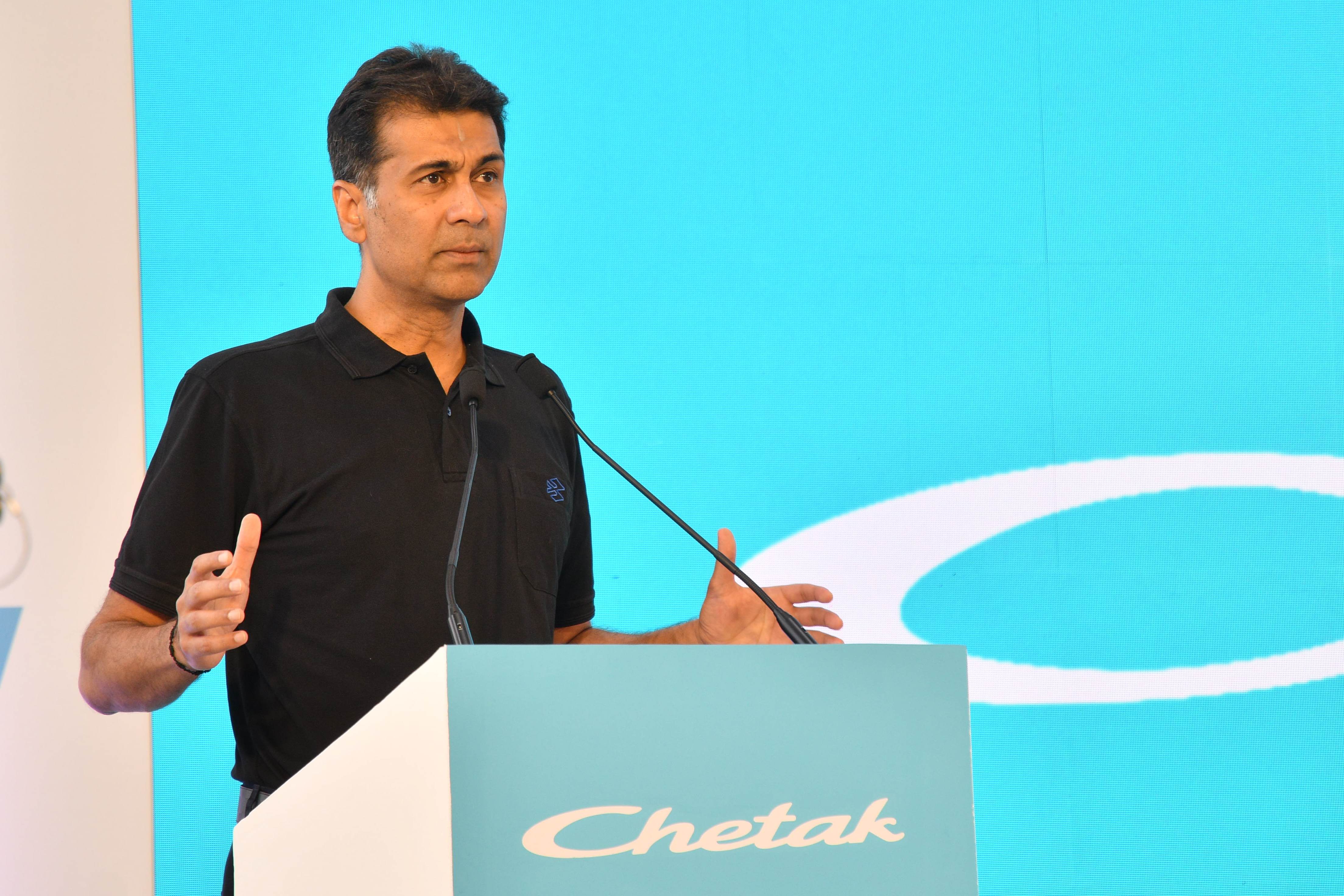 "All the people working here are focused on this task of EVs. It is not difficult to create a focused facility — any fool can do it with money — but what I think is smart is the way Pradeep and his team have gone about it," he added. They did not ask for big budgets on new land, amenities, treatment plants etc but did a smart thing instead by leveraging "our existing strengths" and the infrastructure that was already available.
This in essence meant that they found a way to use it for the future. Elaborating on this, he said anybody could find the future but making relevant current activities such as skills, cost structure, infrastructure and resources was the key to being smart and efficient. "As you look around, you will see how we have tried to use our current for our future and this is the smart way of doing a focused job," said a visibly pleased Bajaj.
The second key word is 'Integrated' and this facility "is where we have everything". The R&D teams sit and talk, sketch, test and so on. When finally things are done and products are born out of the R&D, engineering — the most vital function onsite — takes over.
Bajaj said it was important to convey the message that the best manufacturing and production engineers work in engineering. This is because it is "the job of engineering to convert what is conceived in R&D into what can be made by us or our suppliers" to the highest quality and at the lowest possible costs.
Other key functions like purchase and production are also part of this facility which further emphasise the importance of an integrated operation. "We are not a company that picks up a random design from Europe, some not-so-good parts from China, assembles these somewhere in India and then sells them," said Bajaj.
On the contrary, this was a company with integrated R&D, engineering, purchase and production facilities where "everything happens seamlessly". As he added, this "is particularly important when it comes to pure technology and its management" in early days.
The third key word is 'Agile' as in being quick, nimble, fast, flexible…"every day we wake up to some new event" in the EV world be it in the form of policy, a new competitor, technology or a product launch. It is vital to be aware, react and adapt and so "all of us are ready" for this when it happens. It becomes "easy for us" to quickly meet, discuss and plan forward as part of the agile theme.
Yet, beyond these three key driving mantras, Bajaj said there was a larger goal while drawing up the EV strategy at Akurdi. "What is to us that is the most important aspect about this facility? It is the acquisition of knowledge," he said. This is the "highest purpose of work" which goes beyond making, selling and exporting. Sure, all of these are important from the viewpoint of business but knowledge is all-supreme.
Just as some decades earlier, Bajaj Auto was the place where "you could come" and participate in making some of the world's best motorcycles, the benefit gained in the process was knowledge.
"Similarly, the message we are sending out today is that this focused, integrated and agile facility — right from R&D to production — represents perhaps the finest brains for someone to work in," said Bajaj.
This could be in whichever function they wish to participate in while making some of the best electric vehicles in the world. "This is our simple message," he signed off as the first Chetak was all set to be rolled out from the assembly line.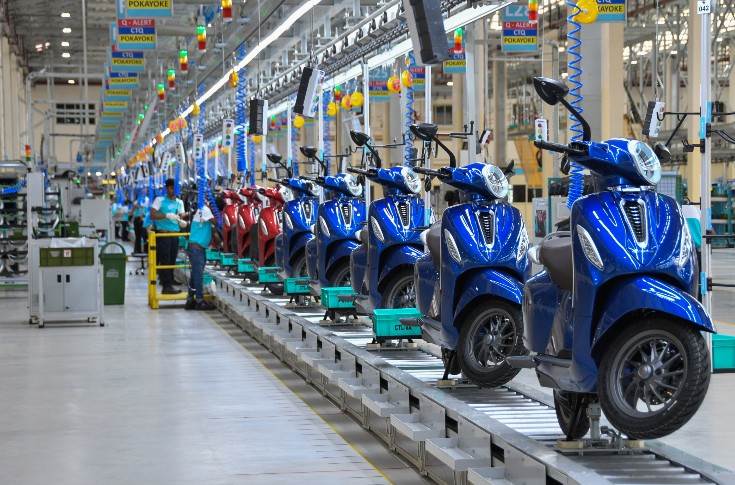 For a company that had stopped manufacturing scooters much to the dismay of old-timers, the revival of a historic brand 50 years since it first made its debut and on Rahul Bajaj's birthday, was the best tribute anyone could pay.
Things have clearly changed since then for the brand. The facility, which once used six conveyors to produce 128 scooters, can now make 800 electric Chetaks on a single line translating into annual output of 2.5 lakh units annually. Bajaj Auto and its suppliers have jointly invested Rs 800 crore and all the EV parts have been locally developed.
The Chetak line also supports the company's philosophy of lean manufacturing and everything is designed to ensure maximum flexibility. Nearly 90 percent of parts are made by 55 vendors in a cluster which is less than 25 km away from the Akurdi plant as part of the effort towards a lean and agile supply chain.
More importantly, added a senior official, Bajaj Auto works on the "dynamic capabilities" of its engineering team and has ensured that its existing ICE manpower is used for EVs too. The employees on the assembly line and production shop are diploma engineers with 50 percent women employees, a component that will increase to 80 percent. "We are creating over 11,000 new jobs across our supply chain in the next three years," he said.
Abraham Joseph, CTO, said the EV foray marked a big transition for the company especially in the area of collaborative working between critical functions like marketing, R&D and manufacturing to make a seamless product. "We are fortunate to be in the same place and we found the hard way that the old-fashioned face-to-face approach is the most productive and effective way of collaboration from the viewpoint of innovation," he added.
According to him, seeing one another and brainstorming made a huge difference compared to online meetings and the like which have become the norm during the pandemic and continue to this date among a lot of organisations. "It is this integrated approach in working together that is critical," continued Joseph.
Clearly, making EVs also poses its unique challenges especially with the motor, telematics unit, battery etc making up 70 percent of the cost. Each of these elements defines quality, performance and character and control is imperative to ensure sustainability, he said.
The most important aspect, however, is the people who are at the centre of everything. They have gathered valuable knowledge over the years and "we have merged the past with the future". As Joseph reiterated, the company had not started something in isolation but was leveraging its cerebral strengths within the ecosystem to take things forward and create the future.
"We know how to make a great product in terms of dynamics, durability, performance etc and this knowledge will hold us in good stead for the future. We have created teams from youngsters for different functions in EVs. Sustainability is the key and this transfer of knowledge will go into the new product," he elaborated.
Bajaj Auto has created a flexible EV platform for different uses like three-wheelers and it is "just not a bunch of parts" but every component has been designed and developed carefully from a viewpoint of quality. "We have top competencies in software and equipment to validate cells, magnetics etc. Safety is all-important and this remains our top focus as we build layers of protection to ensure that there is always a counter option to protect the customer," said Joseph.
Also read
Rajiv Bajaj on why EV startups are upstarts
Bajaj Auto bullish on ASEAN opportunity for Chetak

RELATED ARTICLES