2013 SOUTH INDIA SPECIAL - TAFE
TAFE, India's largest exporter of tractors, has taken key steps on an initiative in North East India that promises to give farmers a helping hand and boost the region's agricultural productivity.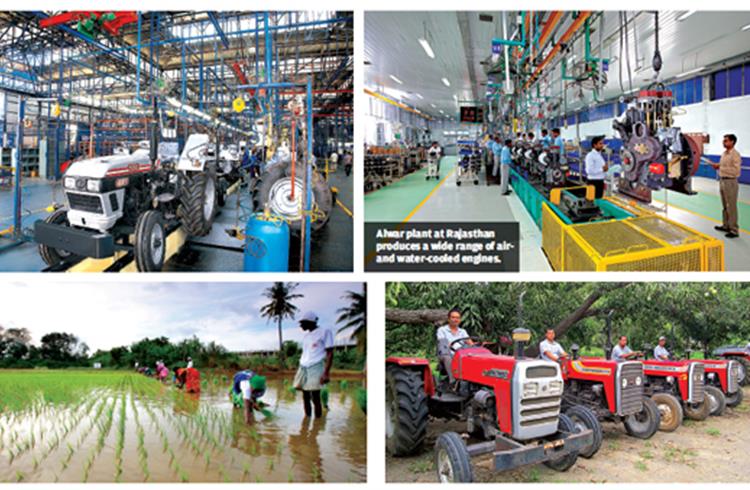 South-based tractor major to provide advisory services to entrepreneurs in North-East India as part of a government programme.Brian de Souza reports. TAFE, India's largest exporter of tractors, has taken key steps on an initiative in North East India that promises to give farmers a helping hand and boost the region's agricultural productivity. The tractor major is working closely with state governments in this part of the country as part of the government's National Mission for Agricultural Mechanisation (NNAM). A TAFE spokesperson told Autocar Professional that as part of this initiative, the government wants to set up custom hiring centres that will help marginal farmers obtain tractors and related farming equipment. Under this initiative, the Mission aims at providing equipment such as sugarcane harvesters, combine harvesters and laser land levellers to boost agricultural productivity. The initiative also aims to provide financial assistance to self-help groups and farmers' cooperatives. Farming in the North-East has its own challenges. For one, the terrain is different from other parts of the country. While the topography of Assam and Manipur comprise of plains, the others have undulating land. "The traditional form of agriculture is the jhum-style. Moreover, productivity is not as much as other parts of the country," the TAFE spokesperson explained.
Driving a new paradigm
TAFE wants to be able to help bring about a change and hopes it can help create entrepreneurs who can buy tractors and equipment and hire them out to small farmers who cannot afford agricultural equipment. It's a small step for TAFE in the North East and could well be seen as a sort of CSR activity for now. Over time, however, this could have commercial implications for the company's business but TAFE is clear that this is a long-term initiative.
Begun just over a year ago, the company hopes it can stabilise itself in two to three years. It has already kicked off training activities with the agricultural departments concerned, the first being Meghalaya. This initiative is true to TAFE where training and mentoring is a tradition of sorts within the company. Way back in 1964, the company started the JFarm Research Centre, on the outskirts of Chennai, to spread awareness about mechanised farming and to help 'evangelise' the latest technologies to farmers.
At JFarm, TAFE undertakes what is called adaptive research in which region-specific crops are studied and best practices recommended. The work includes networking with agricultural experts and bank officials as well. Above all, the centre is open to farmers whatever the brand they use. The organisation's web portal disseminates information to farmers in several languages covering 18 states and featuring over 200,000 pictures, articles and tips. Right now, TAFE is enjoying a huge surge in growth thanks to Q1 sales that have gone up 20 percent. Combined with the ongoing good monsoon, it hopes to clock between 6-8 percentgrowth in 2013-14. However, even in a good market, the company which like any other has to handle supply chain issues and sudden spikes in demand. Incidentally, TAFE sold 150,000 tractors in 2012-13, both in the domestic and international markets. One of the key challenges of the tractor industry is its cyclicity which companies try to manage by catering to export markets. India exports between 60,000 to 70,000 tractors every year.
Current market trends
While 90 percent of tractors are funded, there appears to be a trend towards 100 percent cash payment. India's tractor industry is also going through several other changes. Customers are younger and more demanding. TAFE claims it was the first to offer power steering for tractors, even before carmakers did in India. Fuel efficiency and price points hugely matter for the potential customer. These changes in recent years are due to better support prices for agricultural products and the spread of employment under the MNREGA scheme. Tractors have become very important as farm labour now has more employment options in the construction sector where wages are significantly higher. As a result, greater mechanisation is becoming the order of the day. On other fronts, thanks to technology from its alliance of over 20 years with Massey Ferguson, now owned by AGCO Corporation of the US, TAFE can design, develop and manufacture tractors for a range of products for the North American market. This is now being extended to other countries. TAFE has four plants in India at Mandideep, near Bhopal, Kalldipatti near Madurai, Doddaballapur near Bangalore and Sembium near Chennai. Thanks to its acquisition of Eicher's tractor assets in 2005, the company acquired Eicher's Bhopal plant, its engine plant at Alwar in Rajasthan and EicherTrasmissions' plant at Parwanoo in Himachal Pradesh. Its overseas plant is located at Turkey which caters largely to the Turkish domestic market.
On the product front, the company offers farm power solutions and from primary farming equipment such as harvesters and trailers is now moving to secondary equipment – rotary cultivators and potato harvesters. It also supplies parts and aggregates to its technology partners like AGCO but the numbers are small. In fact, such innovations have a long history. In the 1990s,TAFE had developed a tractor for vineyards called Orchard Plus which has the ability to go under the vines to spray them. It could also be used as a regular tractor.Similarly, it also made a tractor for use in quarries in Punjab which were capable of carrying heavy-duty compressors. Overall, India remains a small-size tractor market with demand largely for 30-40 hp products but things are changing and buyers are preferring higher horsepower products. TAFE's product range extends from 24 hp to 82 hp. Its 15 hp products are made in a strategic tie-up with the Rajkot-based Captain Tractors.
At present, the market for tractors is growing at both the high and entry-level segments and TAFE has litle to complain about since it sells a lot of its tractors in Rajasthan, Madhya Pradesh, Bihar, UP and Uttarakhand. At TAFE, in-house training constitutes a very important role in its gameplan. The company conducts performance tests that are assessed twice a year. It has entered into tie-ups with MITI, Franklin Covey, the Indian School of Business and Warwick University of the UK depending on respective employee levels.
RELATED ARTICLES