Winners and losers in the SUV market share game
The SUV segment has been a mover and shaker in the overall PV market in India and globally. Here's looking at how Indian OEMs stack up on the UV market share front.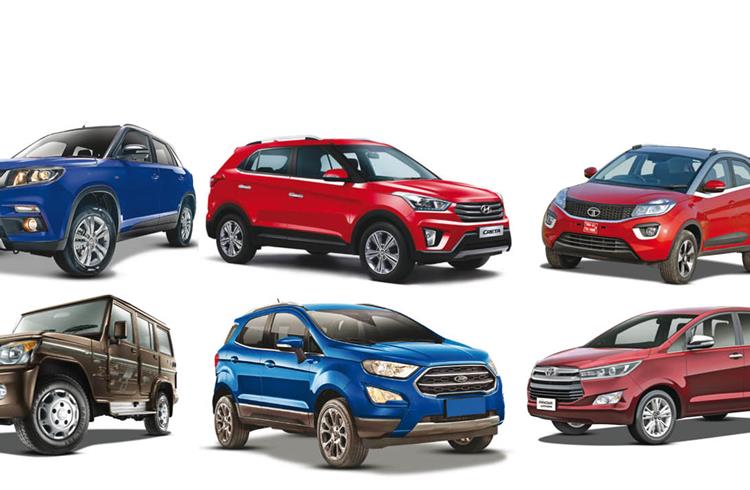 The surge of consumer demand for SUVs is getting stronger by the day. For the first 11 months of FY2018 (April 2017-February 2018), a total of 830,334 UVs have been sold in India (+21.34%), accounting for 27.79 percent of the overall passenger vehicle (PV) market which saw total sales of 2,987,259 units (+8.4%). Every fourth PV sold in the country is an SUV and this segment is gradually eating into PV sales.
February 2018 was a stellar month for UVs – a total of 80,254 units went home to new owners, posting year-on-year growth of 21.82 percent and accounting for 29.14 percent of the PV market (275,329 units). In fact, at the end of February 2018, the UV segment has already notched its highest-ever sales in a fiscal – 830,334 – and there's one month still to go for the closure of FY2018. In 2016-17 a total of 761,997 UVs (+21.91%) were sold. We estimate the UV segment to nudge the 920,000 units domestic sales mark by FY2018 and in 2018-19 drive past the 1-million units sales landmark.
The handsome growth in the SUV market, which has come on the back of glut of new models and changing consumer preferences, has led to substantial gains for some vehicle manufacturers, both in terms of sales as well as market share.

THE MARKET MOVERS
Of the 16 players which produce and market UVs in the country, seven have increased their market share, three of them rather marginally. The big market share gainers are Maruti Suzuki India, Tata Motors, Honda Cars India and FCA India, which opened its UV segment account with the Jeep Compass. The prominent ones who've lost market share are Mahindra & Mahindra, Hyundai Motor India, Ford India, Toyota Kirloskar Motor, Renault India and Nissan Motor India.
Let's take a closer look at how the OEMs have fared in the fiscal year till now. Maruti Suzuki India, which has a stranglehold on the passenger vehicle market with a 50.09 percent share, is attempting to do an encore in the UV segment. In the April-February 2018 period, the country's largest automaker sold a total of 230,995 UVs, thereby growing its market share to 27.82 percent from 25.93 percent a year ago. Considering that Maruti has sold a total of 1,496,297 PVs till end-February, its UV sales constitute 15.43 percent. This means the company has already driven past both its total sales (1,443,641 PVs) as well as UV sales (195,741 units) in FY2017 and March 2018 sales are yet to be factored in. Clearly, FY2018 is turning out to be a bumper year for the bellwether of the Indian automobile industry.
The biggest contributor to Maruti's UV sales is, of course, the Vitara Brezza, its first compact SUV. Between April-January 2018, the Brezza was bought by 123,615 new owners, the Ertiga MPV by 56,410 buyers, the S-Cross sold 23,481 units and the Gypsy 7,085 units. Add February's UV sales of 20,324 units and you arrive at the 11-month UV sales of 230,995. Maruti is also the biggest volume gainer, having increased its UV sales by 53,565 units over the 11-month period under review.
Honda Cars India has successfully ridden the wave of SUV demand. In a competitive marketplace like India, a successful product works wonders for a company. That's just what the WR-V crossover has done for Honda Cars India. Launched on March 16, 2017, the Jazz-based crossover has brought the buzz and consumer footfalls back into the Japanese carmaker's showrooms across the country.
The Japanese carmaker, which has sold a total of 54,473 UVs in the fiscal year till now, has seen its UV market share double, thanks to the charge of the WR-V. Honda which had a 3.17 percent share of the UV market a year ago, now has 6.58 percent. The WR-V, which has sold a total of 43,612 units, contributed 80 percent to Honda's total UV sales in this fiscal year till end-February.
Another player for whom SUVs are playing a key role is Tata Motors, which has more than doubled its UV market share. With sales of 44,138 UVs, the company's market share has risen from 2.37 percent in April-February 2017 to 5.32 percent in April-February 2018. No second guesses for who is the game-changer here. With the Nexon, its first compact SUV launched in September 2017, Tata has got the momentum and till end-January had sold 18,979 units. The Hexa premium crossover sold 10,911 units in the same period.
The Jeep Compass has helped FCA India get traction in the booming UV market. The locally manufactured Jeep Compass, which was launched in India on July 31, has helped FCA India Automobiles open its market share account in the booming UV segment in the country. Between August and February 2018, the SUV, whose pricing starts at an aggressive Rs 14.95 lakh (ex-showroom, New Delhi), for the base Sport petrol trim and comes in a total of six variant options – three each in diesel and petrol – and the top-end diesel Limited 4x4 variant at Rs 20.65 lakh, has sold a total of 17,186 units. This has given the Italian manufacturer a 2.07 percent market share in the UV segment.
THOSE WHO'VE CEDED MARKET SHARE
The loss of market share for some companies – Hyundai, Mahindra and Toyota – is more due to the overall vehicle segment expanding with a glut of new models, rather than poor sales performance by the automakers concerned. In fact, for these players, their sales point to a year-on-year growth.
Mahindra & Mahindra, the UV leader in FY2017 with a market share of 29.20 percent and sales of 222,541 units, has ceded its position to Maruti Suzuki India which, last fiscal, had a 25.69 percent share with sales of 195,741 units.
In the 11 months of FY2018, Mahindra has sold a total of 209,322 UVs, which is a year-on-year growth, but with the market expanding sizeably has seen its market share drop by four percentage points to 25.21 percent. Maruti currently is the UV market share leader with 27.82 percent. The Bolero continues to be the sterling performance for Mahindra and till end-January had sold 68,263 units, followed by the Scorpio (43,178), XUV (21,945), TUV300 (23,152) and KUV100 (8,459).
Hyundai Motor India, which had 12.91 percent market share in April-February 2017, has seen its UV share drop to 11.89 percent albeit its sales have grown from 198,712 units to 209,322 units in the 11-month period this fiscal. The Creta, the second best-selling SUV in India after the Vitara Brezza, has sold a total of 87,847 units in the April-January 2018 period.
Toyota Kirloskar Motor, which sold 89,751 UVs in the April-January 2018 period, a 7.79 percent increase over the previous year (83,258), has seen its market share drop from 12.17 percent to 10.81 percent. For the company, the Innova MPV with 61,058 has been its major contributor followed by the Fortuner SUV with 20,478 units.
Ford India, which has seen the new EcoSport SUV liven up its sales numbers in recent months, has also seen its market share slip – from 7.30 percent to 6.13 percent – having sold 50,861 units in the period under review compared to 49,967 in April-February 2018.
Also Read:
Top 5 UVs – January 2018 | Vitara Brezza breezes, Creta cruises, Bolero bristles
Growth accelerates for passenger car OEMs in February
Why won't some car firms call an SUV an SUV?
Scooters power two-wheeler industry growth in Q1 FY2018
Top 10 Scooters – January 2018 | Honda Activa and TVS Jupiter firing on all cylinders
RELATED ARTICLES