SUVs power July sales to a record high, tepid small car demand drags growth to low single digit
At an estimated 352,492 units, passenger vehicle wholesales have scaled a new monthly high on the back of sustained and surging demand for SUVs and MPVs albeit demand for small cars remains tepid and impacts overall growth to low single digits.  
With seven of the 16 car, SUV and MPV manufacturers in India announcing their wholesale numbers for July 2023, it is amply clear that the 325,000-unit sales mark has been surpassed for the seventh month in a row. While the cumulative sales of these seven OEMs add up to 317,356 units, it is estimated that the remaining OEMs have added another 35,136 units. This delivers a total wholesales figure of 352,492 units, up (July 2022: 341,971 / +3.1%), making July 2023 the best month for the passenger vehicle industry in the calendar year to date and likely the best July too.
With every second car sold in India being a utility vehicle, SUV or an MPV and the rate of growth in this segment far above that of hatchbacks or sedans, the UV segment continues to be the number-driver for nearly all OEMs. However, given the large year-ago base, growth has now slowed down to single digits.
Nonetheless, cumulative sales for the first seven months of CY2023, estimated at 23,62,500 units are up 9% YoY and are 62% of CY2022's record 3.79 million units (37,92,356). It may be recollected that cumulative wholesales in the first six months of 2023 crossed the 2-million mark for the first time ever in India.
Let's take a closer look at the top six OEMs in July 2023, starting with the passenger vehicle market leader.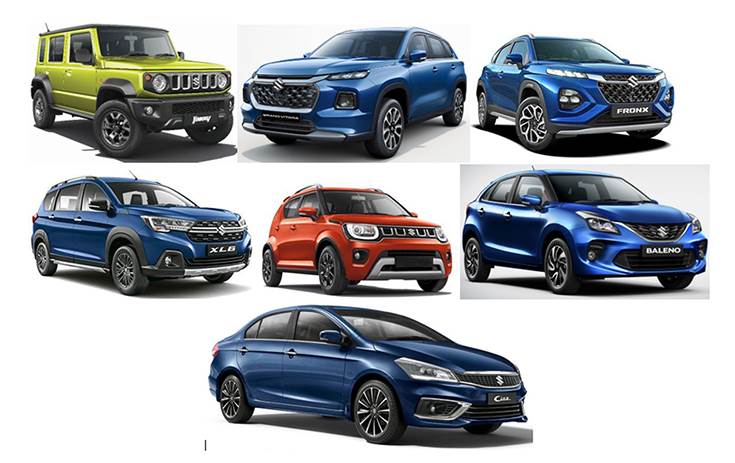 Premium Nexa models, with 52,500 units, accounted for 34.5% of total PV sales for the passenger vehicle market leader.
Maruti Suzuki India: 152,126 units – up 6% YoY, 14.35% MoM
As in June, the surging demand for its expanding portfolio of utility vehicles, comprising compact and midsized SUVs and two MPVs ensured that UVs saved the blushes for Maruti Suzuki India in July.
The company despatched a total of 152,126 units, just 9,276 units more than it did a year ago (July 2022: 142,850), which translates into 6% growth. The model-wise sales split, as detailed by Maruti Suzuki, reveals that of its four sub-segments (see data table below), the eight-strong UV portfolio of the Brezza, Ertiga, Fronx, Grand Vitara, Invicto, Jimny, S-Cross and XL6 sold 62,049 units, growing very strongly by 167% YoY (July 2022: 23,272 units) and accounts for 41% of total sales last month compared to just 16% in July 2022. Clearly, the rollout of new models from the premium Nexa channel have powered this growth. The Nexa models, with 52,500 units, account for 34.5% of total PV sales for the company.
However, in comparison, sales in the other three sub-segments have all declined – the Alto and S-Presso budget hatchbacks are down 28% to 49,990 units – their contribution to Maruti's total sales is now to just 6.30% from 20,333 from 14% in July 2022. Likewise, the compact car portfolio (Baleno, Celerio, Dzire, Ignis, Swift, Tour S, Wagon R) with sales of 67,102 units is down 21%, with its share to total sales dropping to 44% of total sales versus 59% a year ago. The premium Ciaz sedan as well as the Eeco van both sold their sales dip by 2% and 8% respectively.
At 6.5%, Maruti Suzuki's growth is faster than the overall industry and the company says its SUV-driven performance has enabled it to gain 1.4 percentage points and grow its market share to 43.3% in July 2023 compared to 41.8% in July 2022. Maruti Suzuki, which is confident of rural India being a strong demand driver with an 18.6% growth rate versus urban India's 14.2%, saw rural market penetration in sales at 43.8% in July 2023.
Hyundai Motor India: 50,701 units – up 0.39% YoY, 1.39% MoM
Hyundai Motor India has registered wholesales of 50,701 units, which constitutes flat year-on-year sales growth of just 0.39% (July 2022: 50,500 units). On a month-on-month basis, the Korean carmaker's July domestic market sales are up 1.39% (June 2023: 50,001 units).
Calendar-year-wise, the Chennai-based car and SUV manufacturer has recorded monthly sales of 50,000 units for the fourth time in the year to date, after January (50,106 units), March (50,600 units), June (50,011 units) and July (50,701 units).
Cumulative sales for the first four months of FY2024 at 199,004 units are up 7% year on year (APril-July 2022: 185,795 units). July 10 saw Hyundai launch the Exter mini-SUV at an aggressive price of Rs 599,900 and had received over 11,000 bookings till July 10.
Hyundai Motor India, which continues to see its No. 2 position under pressure from a hard-charging Tata Motors, is banking on the Exter to protect its turf and has targeted overall domestic market sales of around 600,000 units in CY2022. Achieving this goal will translate into 8.6% year-on-year growth considering Hyundai had recorded its best-ever calendar year sales of 552,511 units in CY2022. This targeted 8% growth is a tad better than the expected Indian passenger vehicle industry growth of 5-7% in FY2024 due to the high year-ago base when PV sales hit a record 3.89 million units.
The Hyundai Creta continues to be the company's best-seller. The Creta, which is also the best-selling midsize SUV in India, recently surpassed the 900,000-unit sales milestone in the domestic market, eight years after launch. In fact, it is hard on the heels of the country's best-selling SUV, the Tata Nexon. At the end of June 2023 and for Q1 FY2024, at 43,082 units, the Creta was just 170 units behind the Tata Nexon (43,252 units).
Commenting on the July 2023 sales numbers, Mr. Tarun Garg, COO, Hyundai Motor India Ltd. said, "Our domestic July sales volume of 50,000-plus units is backed by a strong SUV portfolio. This has been bolstered by the addition of Hyundai Exter to an already strong SUV line-up led by the Creta, Venue, Venue N-Line, Tucson, Alcazar, Kona Electric and the Ioniq 5 e-SUV. With the semiconductor supply issues more or less behind us, we are all geared up for the upcoming festive season in India starting with Onam in Kerala."
Tata Motors: 47,689 units – 0% YoY, 0.69% MoM
Tata Motors has reported wholesales of 47,689 units in July 2023, which makes for flat and zero growth year-on-year sales (July 2023: 47,636 units). Month-on-month growth too is minimal – just 0.11% (June 2023: 47,359 units).
Growth clearly is slowing down for Tata Motors which has, for the past couple of years, witnessed strong double-digit gains albeit on a lower year-ago base. Nonetheless, given the average monthly sales of 45,365 units on its best-ever fiscal year sales of 544,391 units in FY2023, the car and SUV maker is currently averaging monthly sales of 47,034 units in the April-July 2023 period. But the double-digit growth of April 2023 has reduced to single digit in May and June and to nil in July.
Tata Motors is among the few passenger vehicle OEMs with multiple powertrains spanning petrol, diesel, CNG and electric and currently has a seven-model portfolio comprising four SUVs (Nexon, Punch, Harrier, Safari), two hatchbacks (Tiago and Altroz) and one sedan (Tigor).
On the EV front, the company sold a total of 6,329 units, up 53% (July 2022: 4,151 units). While it retains a first-mover advantage in this segment, the company is seeing new competition. While the Mahindra XUV400 is the first real rival to the Nexon EV, Hyundai Motor India's recently launched Exter mini-SUV is squarely targeted at the Tata Punch. And MG has, earlier this year, rolled out the Comet EV as a rival to the Tata Tiago EV.
With the just-launched Exter, Hyundai has signalled its intention to take the battle into Tata Motors' camp, hoping to outpunch the Punch in the numbers game. But expect Tata Motors to maintain the successful five-pronged strategy it has deployed for the past few years – an aspirational product portfolio, EV network and ecosystem development, front-end reimagination, operational debottlenecking and product quality enhancement.
The going may be slow right now but starting this festive season, Tata Motors has outlined launch plans for around half-a-dozen models, including facelifts and new powertrain options. While the petrol-engined Punch will get CNG and electric siblings, the Nexon, Harrier and Safari are slated to receive mid-cycle enhancements. And the Nexon EV too is headed for a facelift.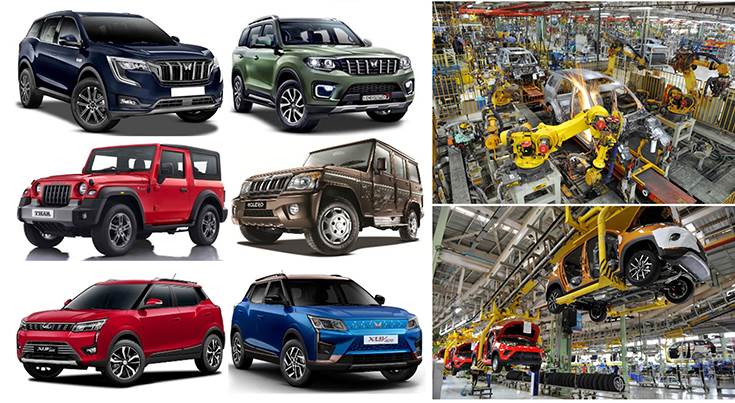 Mahindra & Mahindra: 36,205 units – 29% YoY, 11% MoM
Mahindra & Mahindra has reported total wholesales of 36,205 units (all SUVs) in July 2023, which makes for strong 29% YoYgrowth (July 2022: 28,053 units). This is its highest-ever monthly sales of SUVs. The month-on-month growth in July 2023 is 11% (June 2023: 32,588 units).
July is the fifth month in a row this year that M&M's sales have surpassed the 32,000-unit mark and also ahead of the previous best in the year to date (March 2023: 35,997 units). M&M opened this year with sales of 33,040 units in January and followed it up with 30,358 units in February.
M&M, which has eight SUVs (Bolero, Bolero Neo, Scorpio, Scorpio N, Scorpio Classic, Thar, XUV300, XUV400 and XUV700) and a sole sedan (eVerito), is among the OEMs riding the surging wave of demand for UVs. Its robust and sustained market performance can be gleaned from the fact that it has logged 31% growth both in the first seven months of 2023 as well as the first four months of FY2024 (see sales data table below).
What's more, with cumulative sales of 235,772 units in the first seven months of CY2023, M&M has already clocked 70% of its CY2022 sales of 335,088 units.
The continued strong performance is bound to reflect in increased market share in July. In the first quarter of FY2024, M&M has driven ahead of Tata Motors to take second position in the UV rankings with a UV market share of 18.32%, up from 16.23 in April-June 2022. With Tata Motors witnessing flat sales in July 2023, expect Mahindra to maintain its momentum on the market share front.
Commenting on last month's sales, Veejay Nakra, President, Automotive Division, M&M said, "It has been a record-breaking month for us. We are excited to clock the highest-ever SUV domestic sales of 36,205 in a month. The XUV700 tribe grew to 100,000-strong, in a record time of 20 months. Also in July, the Scorpio brand achieved the highest sales in a month since its launch. We continue to receive robust demand for our key brands. We will keep a close watch on the availability of semi-conductors and select parts to ensure sustained scaleup."
Expect M&M to further up the ante in the coming months as it ramps up production to meet surging demand for most of its models. The company has already expanded its SUV manufacturing capacity from 29,000 units per month to 39,000 units by December 2022 and plans to further increase it to up to 49,000 units in the current financial year or 600,000 units per annum.
Toyota Kirloskar Motor: 20,759 units – 5% YoY, 14% MoM
Toyota Kirloskar Motor (TKM), which is riding a fresh and sustained wave of demand for its cars, SUVs and MPV, has reported domestic market wholesales of 20,759 units in July 2023, an increase of 5% (July 2022: 19,693 units).
Month-on-month, sales are up 14% on June 2023's 18,237 units. TKM's July numbers are its best monthly sales in the fiscal year to date. For the first four months of FY2024, cumulative sales at 71,653 units are up 17% year on year (April-July 2022: 61,116 units).
Commenting on last month's numbers, Atul Sood, Vice-President of Sales & Strategic Marketing at Toyota Kirloskar Motor, said: "We are witnessing an overwhelming response to our entire product range including the Urban Cruiser Hyryder, Innova Hycross, Fortuner, Legender, New Innova Crysta, Camry and also the versatile Hilux."
He added, "The new Glanza also continues to woo a fresher set of customer base for Toyota. Given the mid-year sales trend and the favourable demand sentiments, coupled with our increase in production by adding a third shift operation, we are confident of recording one of our strongest years in the country. We are also keenly looking forward to a good festive season and gearing up to meet the further surge in demand."
MG Motor India: 5,012 units – up 25% YoY, down 2.2% MoM
MG Motor India reported retail sales of 5,012 units, which represents 25% year-on-year growth in July 2023 (July 2022: 4,013 units). Month-on-month, July's sales are down by 2.2% versus June 2023's 5,125 units.
In a statement, the company said that its retail sales were impacted due to severe weather and floods witnessed in major parts of the country recently.
Cumulative sales for the first four months of FY2024 are 19,694 units, which constitutes strong 36% year-on-year growth (April-June 2022: 14,533 units).
Last month saw MG Motor India launch the updated ZS EV with ADAS Suite at Rs 27.90 lakh. The latest update adds more features such as traffic jam assist, forward collision warning, autonomous emergency braking, lane keep assist, lane departure warning, speed assist systems, and adaptive cruise control.
Growth outlook for India PV Inc
With the wave of surging demand for SUVs continuing to grow, India PV Inc can be assured of sustained demand in the coming months albeit growth will continue to be in single digits, given the high year-ago base effect.
What will help the cause are the recent new product launches – the facelifted Seltos midsze SUV, Maruti Invicto MPV and the Hyundai Exter compact SUV. Each of these UVs have the potential to expand the market as well as eat into rivals' market share. These three UVs as well as the two launches in this segment coming up in August – Tata Punch CNG and Toyota Rumion MPV – should provide added momentum to the marketplace.
With five months to go in CY2023 and monthly growth moderating to single digits, PV manufacturers could be looking at slower growth in the interim before numbers turn livelier in the festive months. While demand in the entry level hatchback market remains tepid and worrying, it is much better in the mid-level and premium hatchback segment. Consumer demand for CNG-powered PVs has slackened in the first-half of CY2023 albeit that could be due to OEM supply constraints. Meanwhile, the few OEMs, which have electric cars and SUVs, are also seeing demand grow month on month.
India Passenger Vehicle Inc currently has an estimated order backlog of over 750,000 units, most of them with Maruti Suzuki (336,000 units with 95,000 units of its Ertiga and XL6 MPVs forming the largest chunk), Mahindra & Mahindra (292,000 units at the beginning of June), and Toyota Kirloskar Motor (around 85,000 units). With sustained demand for SUVs, assembly lines at most OEMs are humming with activity as OEMs ramp up production. A couple of them – Maruti Suzuki and M&M – continue to be impacted by insufficient supply of chips that go into electronic components albeit they remain confident of significantly improved semiconductor supplies going forward.
(With additional inputs from Mayank Dhingra)
RELATED ARTICLES