Surging demand for SUVs sees Mahindra record its highest sales third month in a row
Huge demand for XUV700, Scorpio N, Scorpio Classic, Thar and Bolero means M&M has clocked not only its best monthly sales in September but also 75% of its total UV sales in FY2022.
Flagship XUV700 is leading the charge for the company.
Between 8,000 to 10,000 Scorpio Ns are to be delivered to customers by October 15.
Dealers say they have been taken by surprise by the market response to the Scorpio Classic, even after the Scorpio N was launched.
The rugged Bolero Neo is among the models pulling in a fair number of buyers in the compact-SUV segment.
The Thar continues to see strong consumer demand. The diesel hard-top variant is the top-selling trim. The 4x4 SUV has a waiting period of 6 weeks for petrol variants, and 3-5 months for a diesel powerplant.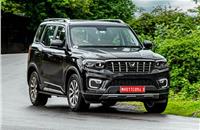 Mahindra & Mahindra, whose utility vehicle-laden portfolio comprises of 11 utility vehicles and the all-electric Verito sedan, is among the OEMs benefiting from the surging wave of demand for SUVs in India. Therefore, it is not surprising that the company continues to post record numbers month after month.
M&M has just announced record sales of 34,262 UVs in September 2022, which makes it the third consecutive month that the company has scaled a new high in its UV sales, after August 2022's 29,519 units and July 2022's 27,854 units (see sales data table below).
XUV700, Scorpio N, Scorpio Classic and Thar see robust demand
Autocar Professional learns that the best-selling model is the flagship XUV700, which had received a record number of bookings since its launch in August 2021. Since then through to end-August 2022, a total of 54,133 XUV700s have been delivered to customers, with September 2022 retails yet to be collated.
A few months ago, the waiting period for this hugely popular model had peaked at 19 months for some variants but that has now reduced with M&M ramping up production. The petrol and diesel variants of the top-spec AX7 and AX7 L trims, which come loaded with all the bells and whistles, are the most in demand. The waiting period for these variants, equipped with automatic transmission, is currently 9 months.
Despite being a two-door lifestyle vehicle, the Thar continues to see strong consumer demand. The diesel hard-top variant is the top-selling trim in the Thar. The 4x4 SUV currently has a waiting period of 6 weeks for petrol variants, and 3-5 months for a diesel powerplant. As per dealers, a black-coloured Thar with a diesel-automatic drivetrain in a hard-top guise, has the highest waiting period.
The Scorpio, both in its N and Classic model form, is also a big hit. According to an M&M dealer, between 8,000 to 10,000 Scorpio Ns will be delivered to customers by October 15. Meanwhile, the Scorpio Classic is seeing renewed demand after being rechristened. Dealers say that they have been taken by a surprise by the response received by the Scorpio Classic which was presumed to lose its sheen in front of the Scorpio N. However, "it is really being lapped up by customers," a dealer said.
Sustained demand for XUV300 and Bolero, Bolero Neo
The XUV300 and Bolero siblings are the only ones to be without a major waiting period. The XUV300, a popular buy, is believed to be readily available albeit, depending on colour and variant, there could be a 2- to 4-week wait for delivery. There's no backlog for the Bolero or the Bolero Neo and they continue clocking good numbers each month.
With improved supplies of semiconductors and Mahindra & Mahindra judiciously managing its production operations it is expected that the waiting periods for most high-selling SUVs will come down. Yes, there have been cancellations of bookings, which is the norm when the waiting periods are massive but when the pace of new bookings are faster than cancellations, a month-on-month sales increase is warranted.
M&M headed for record sales in FY2023
At half-way stage in the fiscal, M&M has sold a total of 167,052 UVs, which makes for robust 82% YoY growth (H1 FY2022: 92,016 units). This total is already 75% of the company's total sales of 223,682 UVs in FY2022, which were its best-ever UV sales.
Given the strong market momentum, the unabating demand for SUVs and also safer vehicles, M&M could be headed to hit the 350,000 UV sales mark for the first time in FY2023. That would constitute 56% YoY growth and not unachievable if the company keeps its plants humming at a rapid pace. And M&M has another reason to celebrate – number-crunching (see sales stats below) reveals that it has sold over 20 million UVs in the past nine-and-a-half years.
RELATED ARTICLES