Maruti Suzuki strengthens its grip on car exports in H1 FY2023
Having shipped 131,070 units in April-September 2022, Maruti Suzuki India accounts for 41% of total made-in-India vehicle exports and is nearly 57,000 units ahead of Hyundai Motor India.
India's passenger vehicle industry, which is on a roll in the domestic market with sales of 1.93 million units and 40% year-on-year growth, is also the best performing on the export front across vehicle segments in first-half FY2023. Given current high inflationary trends the world over and the sharp rise of the dollar, overall exports have been muted and of the four segments, only PVs and commercial vehicles have managed to record growth, while two- and three-wheelers have seen year-on-year declines for the first half of FY2023 (see SIAM data table below).
With shipment of 320,853 units overseas, the PV industry has posted 13% YoY growth, which looks good given the prevailing global market scenario in light of the high-rising dollar. It's likely the numbers would have been higher but with an estimated backlog of over 750,000 units in the domestic market, most carmakers would be pushing production to cater to the surge of local demand.
Maruti Suzuki extends its lead
At the end of September 2022, PV market leader Maruti Suzuki India has strengthened its grip on the export numbers. The company, which wrested the made-in-India PV export crown from Hyundai Motor India in FY2022 with shipments of 235,670 units, has shipped a total of 131,070 units, which makes for 26% YoY growth, and 56% of last fiscal's volumes. This also constitutes 41% of total PV exports from India in the first half of the ongoing fiscal.
This comprises 97,552 cars (up 21%), 33,330 UVs (up 50%) and 188 Eeco vans (-66%). While the Baleno would have comprised the bulk of the car exports, the strong growth in UV exports can be attributed to the Jimny and the Brezza.
Verna best-selling export model for Hyundai
Hyundai Motor India has despatched a total of 74,072 units overseas in H1 FY2023, up 11%, comprising 53,843 cars (up 16%) and 20,229 UVs (-1.3%). The Chennai-based OEM, which was the No. 1 exporter in FY2020 when it took the crown from Ford India, and also in FY2021, when it pipped a hard-charging Maruti Suzuki by just 9,404 units, will have to do a fair bit of catching up if it is to beat Maruti in the export game this fiscal. At present, it is 56,998 units behind Maruti Suzuki, with another six months to go in the fiscal.
While the trio of the Aura, i10 and the i20 saw exports of 34,162 units (up 8%), the Verna was the strong growth driver with 19,681 units (up 30%) and accounts for 27% of total Hyundai exports. However, the Creta and Venue numbers have seen a decline: the Creta with 13,728 units is down 13% YoY, and the Venue with 2,510 units is down a sharp 43%. The premium Alcazar SUV has 3,991 units to its export tally.
Kia doubles exports in H1 FY2023
At No. 3 position is Kia India with 44,564 units, up 101% (H1 FY2022: 22,213). The midsized Seltos SUV, Kia's longstanding best-seller in India, is also its most popular export model with 24,541 units (up 73%), followed by the Sonet compact SUV with 16,414 units (up 81%). Kia also exported 3,609 Carens MPVs.
Nissan Motor India exported a total of 25,813 units in first-half FY2023, up 39%. The export-only Sunny sedan remains its best-selling model with 22,961 units (up 72%) or 89% of total exports. The company also shipped 2,852 Magnite SUVs (-29%). Nissan India's overall export performance remains better than its domestic market sales: 17,883 units in April-September 2022. In end-July, the company recorded a key export milestone: shipment of its millionth vehicle manufactured at the Renault-Nissan Automotive India plant in Chennai. The export journey to the million-units milestone has taken a little less than 12 years.
Renault Motor India, at fifth place in the export rankings with 14,733 units and 19% YoY growth, saw demand for its Kiger/Triber SUVs grow 34% YoY to 9,314 units while the Kwid hatchback with 5,419 units saw flat sales (0.18%).
Exports across vehicle segments will continue to be under pressure with the US dollar continuing to gain strength compared to local currencies. This has meant that a number of countries in Asia and Latin America, which are key markets for Indian-made vehicles, have been compelled to introduce restrictions to reduce outflow of foreign exchange.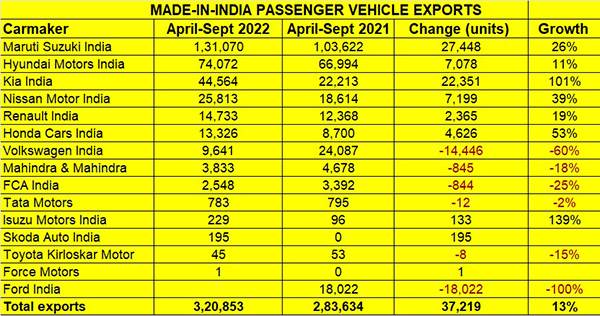 RELATED ARTICLES