India market's strong contribution to Hyundai and Kia global sales continues in 2023
Following record sales in CY2022, sustained growth for Hyundai Motor India and Kia India in January and February 2023 sees them maintain a strong level of contribution to their parent companies' global sales.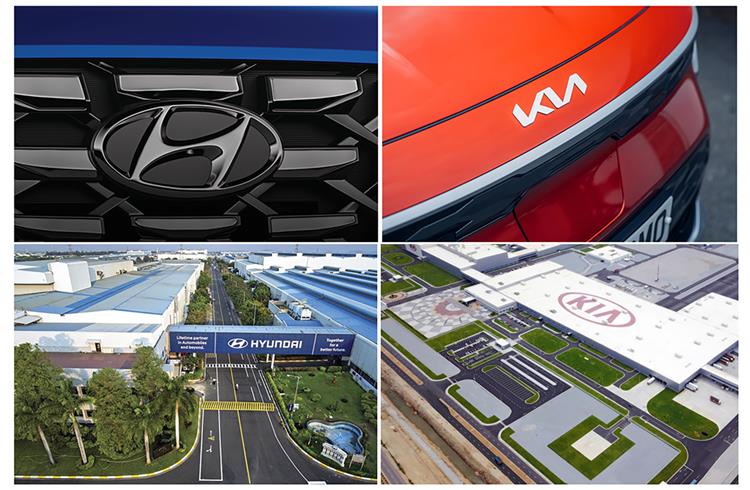 The smart growth of the Indian passenger vehicle market, which surpassed a record 3.8 million vehicles in CY2022 and continues to record strong numbers in 2023, is paying off for the Hyundai Motor Group. The Korean automaker is increasingly witnessing growing contribution to its global sales from its Indian operations through Hyundai Motor India and Kia India. The just-announced February 2023 sales are a good indicator of this market dynamic.
Hyundai Motor Company recorded total global sales of 327,718 units in February 2023, a 7.3% increase year-over-year. Its sales outside of Korea increased by 4.1% to 262,703 units. The Indian market, along with the North American, European and ASEAN markets helped drive momentum.
Hyundai Motor India, which sold 47,001 units in February 2023, accounted for 14.34% of its parent company's global sales; its contribution increases to 18% when it comes to overseas sales. In January 2023, with 50,106 units, the Chennai-based company accounted for 16.15% of Hyundai Motor Group's 310,123 units sold worldwide in the first month of 2023. And in CY2022, which saw Hyundai Motor India clock its best-ever annual sales of 552,511 units, the company's contribution to global sales was 14% to Hyundai's global sales of 3.94 million units (3,944,579 units).
Kia India packs a punch
Kia Corporation has reported total global sales of 254,027 units in February 2023, a 14.7% increase YoY. While its Korean market sales increased 26.9%, sales outside of Korea increased 12% over February 2022 sales. Kia India, which sold 24,600 units in February, accounted for 9.68% of Kia's global sales and 12% to overseas sales of 203,708 units last month. In January 2023, Kia India, which recorded its best-ever monthly sales of 28,634 units, accounted for 12.17% of its parent company's global sales of 235,105 units.
The carmaker's Indian operation's performance in the first two months of 2023 follows a strong CY2022 when Kia India notched record sales of 254,556 units in the domestic market, up 40% (CY2021: 183,604 units), and in the process contributed 9% to Kia's global sales last year. What's more, the Seltos – Kia India's best-selling product – contributed 101,569 units or 33% to global sales of the midsized SUV last year.
Since its market entry in August 2019 with a single product, Kia India is now a formidable player in India's passenger vehicle market with five products – the Seltos midsize SUV, Sonet compact SUV, Carnival and Carens MPVs and the EV6 electric crossover – it has an around 13.5% utility vehicle share and is ranked fifth in the overall passenger market of 15 players.
In 2023, Kia is targeting global sales of 3.2 million units. By region, Kia expects to sell 585,120 units in Korea and 2.61 million vehicles overseas. It will surely be banking on Kia India to deliver the goods once again this year.
ALSO READ:
Hyundai Motor India drives past 500,000 units in first 11 months of FY2023
Hyundai stays ahead of Tata Motors in CY2022, the battle for No. 2 continues in 2023
Kia Carens sells 70,656 units within first year of launch in India
RELATED ARTICLES