Kia Carens sells 70,656 units within first year of launch in India
Versatile MPV with a usable third row of seats clocks its best-ever monthly sales of 7,900 units in January; it has already contributed 11% to Kia India's cumulative sales of 650,564 units.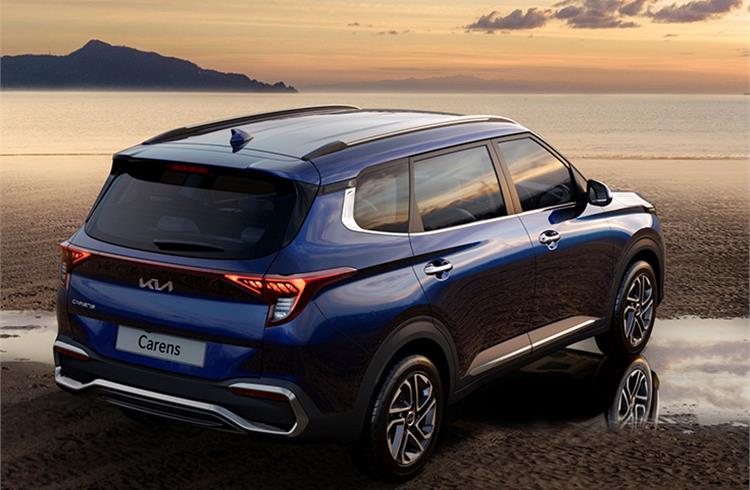 Kia India, which clocked its best-ever annual sales of 254,556 units in CY2012, up 40% over CY2021, and has maintained the strong performance with its best-ever monthly sales of 28,634 units in January 2023, up 48% YoY, has a new growth accelerator in the Carens MPV.
The Carens, which has registered its best-ever monthly sales of 7,900 units in January 2023, bettering the previous best of 7,895 units in June 2022, has cumulatively sold 70,656 units in India since its launch a year ago.
The Carens' role in Kia's recent growth trajectory assumes even more importance when seen in the company's overall sales in the Indian market till now. Last month, Kia India surpassed the cumulative sales milestone of 650,000 units in January in less than four years since its market entry in August 2019. The Carens, with total sales of 70,656 units, has already contributed to 11% of the carmaker's total sales of 651,653 units (see sales data table below).
Proof of the model's potential success in the Indian market came in the first few days of bookings opening on January 14, 2022 – 7,738 bookings in the first 24 hours. By March 10, bookings had crossed the 50,000 mark, compelling Kia India to start the third shift at its Anantapur plant to meet demand for its new model, as well as for the mainstream Seltos midsize SUV and Sonet compact SUV.
Launched on February 15, 2022 at an introductory pricing of Rs 899,000 through to Rs 10.85 lakh in five variants with multiple powertrain (a 115hp, 1.5L petrol, 1.4L turbo-petrol, 1.5L diesel) and transmission options, the company positioned the Carens as a premium six- / seven-seater recreational vehicle with a blend of modern styling and features, and offered with six airbags as standard. Fuel efficiency is claimed at up to 16.5kpl for the petrol Carens and 21.5kpl for the diesel variants.
Available in as many as 19 variants, Autocar India describes the spacious Carens as "a versatile MPV with a usable third row of seats". High on space and comfort, the Carens is targeted at large families scouting for a premium, spacious cabin as well as day-to-day practicality, and a choice of multiple powertrains. While it is more MPV than SUV, the Kia Carens has not only taken on the existing competition in the MPV market but seems to have also draw buyers from the SUV segment.
ALSO READ:
India contributes 12% to Kia's global numbers in January

Kia India breaks through 600,000 sales in just 40 months, chases further growth
Kia India to invest Rs 2,000 crore in EVs, to introduce new e-RV in 2025
RELATED ARTICLES