Honda, Royal Enfield, Suzuki and Piaggio expand 2W market share
Of the 12 players in the Indian two-wheeler segment, only four OEMs have seen growth in their market shares with Honda, Suzuki and Piaggio particularly benefiting from the surging demand for scooters.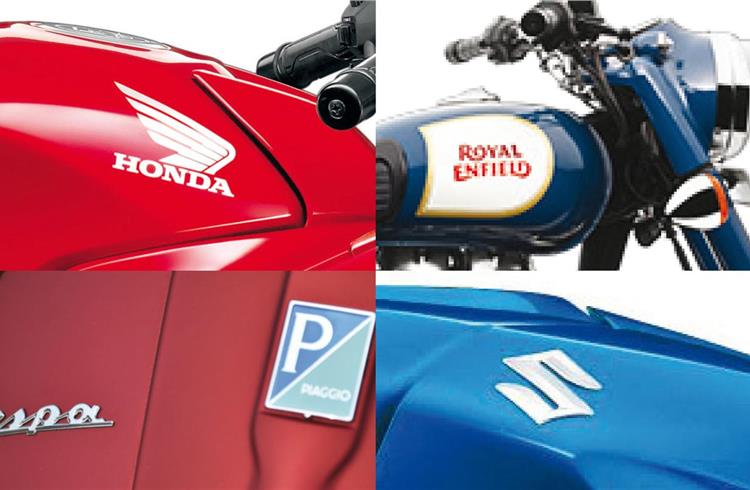 Even as the overall two-wheeler market in India posted 10.41 percent year-on-year growth in the April-August 2017 period, of the 12 players who reveal sales numbers to industry body SIAM, only four – Honda Motorcycle & Scooter India, Royal Enfield, Suzuki Motorcycle India and Piaggio Vehicles – have expanded their market share. The other eight OEMs have all seen their share decline in varying degrees in the five-month fiscal period.
For Royal Enfield, Honda, Suzuki and Piaggio, the uptick has come at a time when the market is set to move into festive mode; while RE is focused only on motorcycles, the other three OEMs have seen growth across both their motorcycle and scooter portfolios. Piaggio, notably, manufactures and retails only scooters under its premium Vespa and Aprilia brands.
In the first five months of this fiscal, HMSI has sold a total of 2,576,675 two-wheelers (+20.76%), indicating that the company is well placed to notch a new high for the year. Of this total, the company sold 1,711,898 scooters or 66.44 percent of its overall sales; this performance saw it expand its scooter market share marginally from 59.02 percent to 59.22 percent. In August 2017, the company despatched 586,237 units (+25.72%) to its dealers, readying inventory for the flood of business it expects in the festive months to follow.
The company has seen demand come in from the southern and western regions, which contribute most for its all-India sales. Honda is also looking to complete the countrywide rollout of India's most affordable scooter model, the 110cc Cliq by end-September. The Cliq scooter, which is focused at the ultra-cost sensitive and utility-obsessed buyers from rural areas, defines Honda's aggressive product strategy to counter its arch-rival Hero MotoCorp. The Japanese two-wheeler major has a clear priority of attracting Hero MotoCorp's conventional rural customers, banking on the rapidly surging demand for scooters across India.
Royal Enfield, which recently began manufacturing operations from its third plant near Chennai, is seeing sales accelerate like never before. The Chennai-based manufacturer, which now has a total combined capacity of 825,000 units for FY2017-18, sold a total of 308,911 units in April-August 2017 (+23.47%) including 66,872 units in August (+22.17%). In the fiscal year till now, the company has grown its overall market share in the domestic two-wheeler segment to 3.65 percent from 3.26 percent in April-August 2016, banking singlehandedly on the growing demand of its Classic range of retro-styled motorcycles.
Royal Enfield is understood to be working on at least three new engine platforms to drive its future growth, not only in India but across the several global markets. In order to have its presence ready by the time its new products roll out starting CY 2018 onwards (expected), the Siddhartha Lal-led company continues to expand its global footprint.
Suzuki Motorcycle India seemingly is the dark horse, what with sales of 190,573 units in April-August 2017 (+54.77%). While this performance has seen the company expand its market share to 2.25 percent from 1.61 percent a year ago, the smart growth has come in from the surging consumer demand for its popular scooter model - the Access 125. The model was re-launched early last year with major updates and it has now become the largest selling model from the stable of Suzuki Motorcycles in India.
Suzuki sold a total of 159,267 scooters, 64.54 percent up on the 96,795 units it sold in April-August 2016. Importantly, its scooter market share has risen from 3.96 percent a year ago to 5.51 percent in April-August 2017.
The company has seen marginal growth in its motorcycle sales – 31,306 units as compared to 26,337 units in April-August 2016 and a growth in bike market share from 0.54 percent to 0.60 percent.
Piaggio Vehicles is the fourth player to register YoY growth for the April-August period. It has sold 25,605 units compared to 11,589 units a year ago. Accordingly, its market share doubled from 0.15 percent of the overall domestic two-wheeler market to 0.30 percent.
The growth has come on the back of the surge in sales of its premium Aprilia-branded scooter models. The company manufactures scooters under its Vespa and Aprilia brands at its state-of-the-art prodcution plant in Baramati. Going forward, Piaggio Vehicles, which is only present in the major cities across the country, aims to expand its dealership network in order to enhance its reach in India. In order to boost its sales during the upcoming festive season, the company is expected to soon expand its Aprilia portfolio with new scooter variants.
Going forward, it is expected that while demand returns to the motorcycle fold, demand for scooters – which is akin to that of SUVs in the passenger vehicle segment – will continue to grow, month on month. As is known, the scooter market is seeing a smart uptick in sales from rural India as a result of a higher number of women taken to the gearless, comfortable-to-ride machines. The scooter segment is averaging 18 percent YoY growth, which augurs well for the fiscal. In August 2017, 673,444 buyers (+18.61%) put their money on a scooter while the April-August 207 period saw a total of 2,890,943 units being sold across the country (+18.27%).
In comparison, growth in the motorcycle market, albeit a much larger one compared to scooters, sold 1,135,699 units in August 2017 (+12.93) and 5,239,340 units in April-August 2017 (+7.89%). Going forward, as demand returns to the commuter bike market due to rural incomes improving, the sector is likely to post better numbers.
WHO'S DOWN IN APRIL-AUGUST 2017?
Market leader Hero MotoCorp, which sold a total of 3,084,140 units – comprising 2,729,343 motorcycles and 354,797 scooters – has seen growth of 9 percent YoY. But this has not been enough to prevent the company's two-wheeler market share from slipping to 36.43 percent from 36.88 percent a year ago. The decline is mainly due to slow sales of its scooters, where its market share has dropped to 12.27 percent from 14.90 percent a year ago. On the contrary, Hero is faring better on the motorcycle front where its market share has risen to 52.09 percent from 50.74 percent.
In order to recover its lost market share, the Pawan Munjal-led company plans to launch at least half-a-dozen products starting from the festive season. Among them an all-new 125cc scooter and a premium 200cc motorcycle are confirmed.
The company, which aims to boost its scooter volumes with its incoming 125cc model, is understood to have plans to aggressively take on the 125cc scooter sub-segment. Notably, the said category has only strong models namely the Suzuki Access 125 and the Honda Activa 125.
On the front of the motorcycles, the company is now focussing on the premium end ranging from the 125cc to 200cc models.
TVS Motor Co has seen a very slight decline in overall two-wheeler share – to 13.75 percent from 13.79 percent a year ago – with its sales of 1,164,507 units (+10.15%). The impact is due to slow sales of motorcycles – 380,318 – where market share dropped to 7.26 percent from 7.56 percent a year ago. But TVS is seeing handsome demand for its clutch of scooters, particularly the Jupiter. The company, which sold 448,188 scooters in April-August 2017, has seen its scooter market share grow to 15.50 percent from 13.18 percent a year ago.
TVS Motor will also be rolling out a premium scooter in the 125cc engine displcement category and a premium motorcycle built in-house using the platform from its alliance with BMW Motorrad later this fiscal. The company is also understood to have lined up an all-new hybrid and a pure battery electric vehicle among its new product launch portfolio for FY2017-18.
Bajaj Auto, whose export numbers are up 4 percent to 561,616, is down 15 percent on the domestic front. The company, which has sold a total of 763,141 motorcycles, has seen its market share decline to 9.01 percent from 11.71 percent a year ago.
The company has recently rolled out an electric start variant of its most affordable 100cc mass commuter motorcycle, CT 100 ES, to boost its sales at the entry-level. While it has no big-bang launch scheduled for this year's festive season, the company does plan to rejig its Pulsar line up later this fiscal. The Pulsar line-up, which currently comprises motorcycle models ranging from 135cc up to 200cc, continues to be the highest contributor to Bajaj Auto's annual two-wheeler sales.
However, the company is focussing on the surging midsize motorcycle segment, which not only offers an early start to Bajaj Auto but also superior margins when compared to the small capacity motorcycles. According to senior company officials, Bajaj Auto plans to push sales of Dominar through marketing campaigns acorss the different mediums.
On its R&D hotbed, Bajaj Auto is learnt to be developing electric vehicle capabilities and evaluating new products under its newly formed alliance with UK's iconic big bike maker, Triumph Motorcycles.
India Yamaha Motor's two-wheeler market share has dipped marginally to 4.05 percent from 4.36 percent a year ago, with sales of 342,750 units (+2.62%). The motorcycle market share (156,960 units) was down to 3 percent from 3.04 percent a year ago while scooter share (185,790 units) declined to 6.43 percent from 7.62 percent in April-August 2016.
The company is bullish about the sales of its entry-level midsize models – the single-cylinder, 249cc FZ 25 and Fazer 25 during the incoming festive months. Owing to sub-par performance this year, Yamaha has also revised its annual sales target from original one million units to 900,000 units now. Subsequently, the company has also revised its initial target of reaching 10 percent market share in the domestic scooter segment in CY2017.
With the festive season upon us, the 12 two-wheeler OEMs will be going all out to bolster their sales numbers. While, the large players (Hero, Honda, TVS Motor and Bajaj Auto) have already started building their inventory across their dealerships as Dussehra approaches, the industry seems to be in the mood to bank on the positive market sentiments and a season of good rainfall.
RELATED ARTICLES