CV industry shifts gear into growth mode in September
M&HCV sales benefit from growing spend in infrastructure and logistics, LCVs/SCVs from the humungous demand for last-mile delivery operations in town and country.
Cumulative September 2022 wholesales are 77,269 units, which constitutes 44% YoY growth.
Higher spend on infrastructure development translating into demand for tippers even as M&HCV sales bounce back.
E-commerce boom and robust demand for last-mile deliveries across India driving SCV sales.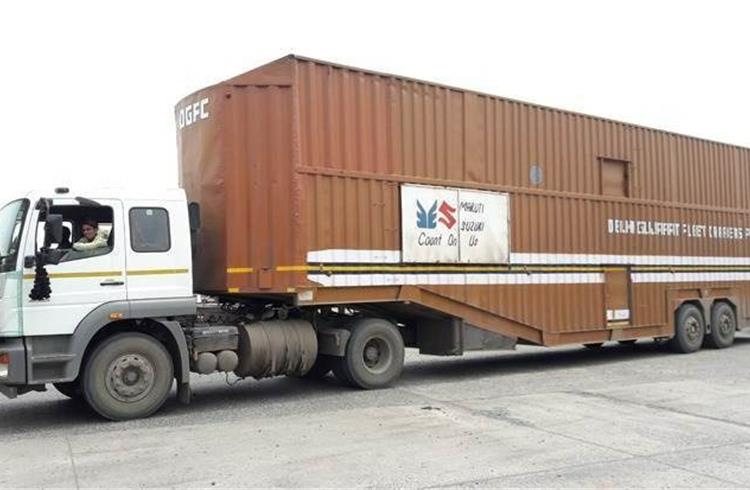 With Indian carmakers notching their best-ever monthly sales in September, logistics trucks will see much traction in the months to come.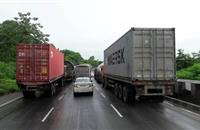 The tailwinds of positive change are blowing firmly behind the Indian commercial vehicle (CV) sector, mirroring the trend in the passenger vehicle industry. With the country back into work mode, macroeconomic improvement, increased government spend in infrastructure development and the massive boom in the e-commerce industry along with the hugely successful last-mile hub-and-spoke delivery model across the country, the CV sector is heading into good times.
Commercial vehicle customers are back into purchase mode as they go about replacing older vehicles and also invest in future business operations.
As per the numbers released by four leading CV manufacturers, cumulative September 2022 wholesales are 77,269 units, which constitutes 44% YoY growth. Importantly, the demand is coming for all sub-segments of the industry: M&HCVs, LCVs and SCVs. It could be better for ILCVs though.
Tata Motors: 32,979 units / 9% YoY
Tata Motors, the CV market leader, has reported consolidated sales of 32,979 units across four sub-segments – M&HCV, ILCVs, buses and small CVs (cargo & pickups) – in September 2022, 9% growth YoY (September 2021: 30,258 units). All but ILCVs have posted YoY growth last month albeit for Q2 (July-September 2022) all four are in the black (see sales split below).
Demand for M&HCVs, which are seen as movers and shakers of the CV industry, is up 16% to 9,983 units. The re-opening of schools and offices across the country, as also inter-city tourist travel is leading to growing demand for buses, which is reflected in the handsome 111% YoY growth for Tata: 2,287 units in September 2022.
In terms of volume units, Tata despatched 15,565 small CVs comprising cargo carriers and pickups. Last month saw the company launch a trio of pickups – Intra V20, Intra V50 and Yodha 2.0 – designed to make inroads into the SCV market. The standout vehicle is the dual-fuel petrol/CNG Intra V20 which has a claimed range of 700km.
Commenting on overall Q2 numbers, Girish Wagh, Executive Director, Tata Motors said, "This growth was led by stronger sales of MHCVs and a robust recovery in passenger carrier demand. Improving fleet utilisations, pick up in road construction projects and increase in cement consumption catalysed the demand recovery for MHCVs. The recent exciting launches of the new range of smart trucks in M&HCV and ILCV, and best-in-class pickups will help us serve our customers better. Going forward, while we expect a strong sales in the festive season we will maintain a close watch on the evolving geopolitical, inflation and interest rate risks on both the supply and demand."
Ashok Leyland: 16,499 units / 88% YoY
Chennai-based Ashok Leyland delivered a strong performance in September with total sales of 16,499 units, representing 88% growth (September 2021: 8,787).
The company, which is seeing sustained demand for its AVTR trucks, more than doubled sales of M&HCV trucks to 9,628 units (September 2021: 4,321). Its passenger-carrying buses too saw robust growth at 847 units, up 351% albeit on a low year-ago base of 188 units. Its small CV, the Dost sold 6,024 units to record 41% YoY growth.
Mahindra & Mahindra: 21,666 units / 129%
The hub-and-spoke model is paying dividends to M&M. In the small CV segment (up to 3.5 tonnes), the company despatched a total of 20,865 units, which is a 137% increase over year-ago sales of 8,784 units.
In the below-2T sub-segment, 4,452 units meant YoY growth of 192% while those in the 2T-3.5T sub-segment added 16,413 units, a 126% increase YoY (September 2021: 7,259 units). Mahindra M&HCVs, in comparison, saw modest growth – 801 units and 17% over year-ago sales of 684 units.
Growth outlook: Very bullish
Given the momentum the CV industry, which sees growth in cyclical patterns, there is little doubt that FY2023 is set to be one with strong numbers, albeit the YoY growth will look better given the low-base of the previous year. Nonetheless, CV OEMs are very bullish on demand coming their way.
Speaking at the IAA India Day in Hanover on September 21, Vinod Aggarwal, President, SIAM and Managing Director & CEO, VE Commercial Vehicles, said: "In 2022, the CV industry's market size was 716,000 units. We are expecting very speedy growth in this sector – a CAGR of 14% to 1.2 million units by 2025. The sectors which are going to boost this industry are infrastructure and real estate, e-commerce is getting stronger and transportation and logistics which are fundamental to the economy. Therefore, the confidence level on this growth is very high."
Demand for M&HCVs, a key growth driver for the industry, is coming from the steel, cement and mining industries as a result of the spend on infrastructure, which is why tipper sales are on the upswing.
Similarly, demand for passenger-transporting buses, which was dormant for over two years, is back with a bang with urban India back in action, re-opening of schools and inter-city travel taking off.
The 3.5T to 8T LCV sub-segment should continue to see sustained growth with countrywide demand for speedy delivery of goods as well as replacement demand from logistics operators.
Humungous demand for last-mile delivery vehicles in town and country, particularly from the e-commerce industry which is seeing a boom like never before, will see Tata Motors and Mahindra, both of whom have multiple products in this category, benefiting in a big way in the coming months.
Yes, there will be challenges to growth in the form of higher interest rates, rising fuel and possibly commodity prices which in turn will increase vehicle sticker prices. However, given the strong momentum which has kicked in a few months ago, growth is here to stay for the CV industry.
ALSO READ
At 355,000 units, September best month ever for carmakers in India

Surging demand for SUVs sees Mahindra record its highest sales third month in a row
RELATED ARTICLES