Bajaj Auto, TVS and Suzuki snatch Q1 2W market share
With sales of market leaders Hero  MotoCorp and Honda under pressure, these three OEMs have increased their two-wheeler share in the first quarter of FY2020.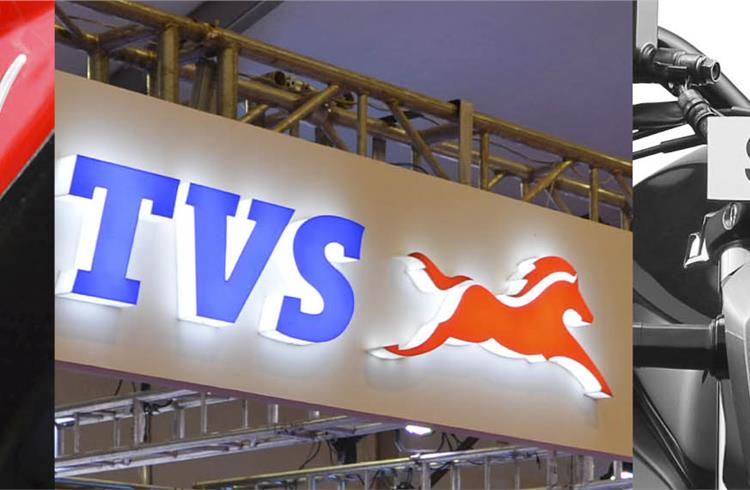 Despite the overall Indian two-wheeler industry feeling the hard pinch of the continuing and unprecedented slowdown, there is a clutch of companies that are bucking the general trend of falling sales, as a result of their well-priced products, adroit retail strategy and speedy customer engagement. Here's looking at how the Indian two-wheeler industry has fared in April-June 2019 or the first quarter of FY2020
If one keeps the much smaller bike players like Harley-Davidson India (785 units / +11.03%) and India Kawasaki Motors (687 units / +56.85%) out of the ambit of this analysis, then Bajaj Auto (+1.71%), TVS Motor Co (+1.26%) and Suzuki Motorcycle India (+0.84%) are the three major OEMs to have increased their market share in what were a tough three months. The remaining 9 OEMs have all seen their market share fall in Q1 FY2020 (see detailed sales and market share table below).
While Hero MotoCorp has more or less maintained its 2W market share at 36 percent, Honda Motorcycle & Scooter India has lost nearly three percentage points from 29.77 percent in Q1 FY2019 to 26.80 percent in Q1 FY2020.
In the first quarter of FY2020 (April-June 2019), a little over 5 million two-wheelers were sold in India (5,014,071 units / -11.68%) comprising 1,514,202 scooters (-16.72%), 3,331,782 motorcycles (-8.76%) and 168,087 mopeds (-19.02%), not a good situation at all and one which threatens to worsen over the coming months.
Bajaj Auto bucks the trend
Despite this bleak scenario and in a tight market hunting for buyers, Pune-based motorcycle major Bajaj Auto, which led the domestic two-wheeler market share charge in FY2019, continues to up the ante.
In Q1 FY2020, Bajaj Auto despatched a total of 610,936 motorcycles, which marks 2.81 percent year-on-year growth for the company. The entry level commuter motorcycle trio of the 99.27cc CT100, 102cc Platina and Discover 110 continue to bring in the numbers for Bajaj Auto. In Q1 FY2020, with 319,857 units, they accounted for 52 percent of the company's total sales. However, their growth was flat (-0.96%).
In the 110-125cc executive commuter bike segment (115cc Platina, 124.6cc Discover, 125cc KTM Duke) sales are down 34 percent (12,243 units in Q1 FY2020 / 18,538 units in Q1 FY2019) but there has been smart 13.50 percent YoY growth in the 125-150cc segment with sales of 184,108 units (Q1 FY2019: 162,216) in the form of the 124.6cc Discover and the 149cc Pulsar).
Demand for the Pulsars, which play in the 150-200cc and 200-250cc segments, which have seen sales of 56,244 units (+6.17%) and 31,948 units (+1.31%) respectively remains strong.
Scooters and entry level commuter bikes power TVS Motor
TVS Motor Co, which recently launched India's first ethanol-powered motorcycle, has in Q1 FY2020 despatched a total of 711,632 units, down 3.05 percent YoY (Q1 FY2019: 734,011). Nonetheless, with other OEMs ceding market share, TVS has seen its 2W share grow to 14.19 percent from 12.93 percent a year ago.
What has helped give the charge is the company's scooters, particularly the Jupiter and the NTorq. TVS' total scooter sales totaled 281,456 units comprising 30,738 units (Pep+ / -0.29%) and 250,718 units of the higher-powered Jupiter, Wego, Zest 110 and NTorq 125 (+2.50%). The company's best gains though came in through its entry level commuter motorcycles – Victor, 110cc Star City, Sport and Radeon) which with sales of 124,357 units in Q1 FY2020 marked 32.46 percent YoY growth.
The Apache Series though came under pressure with sales of 122,864 units, down 5.11 percent on year-ago Q1 sales of 129,480 units. Moped sales were down 19 percent at 168,087 units.
Access 125 catapults Suzuki to No. 3 spot in scooters
Suzuki Motorcycle India has been recording strong sales for some time now. Of the major two-wheeler OEMs in the fray, the Japanese OEM is the one which is recording the best growth rate. In fact, in June 2019, it was the sole major two-wheeler OEM which has clocked double-digit growth – a robust 22 percent – with despatches of 57,023 units. India Kawasaki Motors has recorded 43 percent YoY growth but it is on a far lower base and not comparable to what the major players are engaged in.
For the April-June 2019 period, Suzuki has 176,668 units to its credit, which marks 16.14 percent YoY growth. The high-selling Access 125 scooter which, along with sibling Burgman, accounts for the bulk of this number – at 167,509 units, the Access more or less constitutes 94 percent of Suzuki 2Wheelers' total sales in Q1.
Importantly, its brisk scooter sales in Q1 FY2020 have helped Suzuki to increase its scooter market share by 3.86 basis points to 11.06 percent from 7.20 percent a year ago. This takes the company to No. 3 position, behind market leader Honda Motorcycle & Scooter India (56.41%) and TVS Motor Co (18.59%). Q1 has seen Suzuki ride past the previous No. 3 – Hero MotoCorp – whose scooter market share has fallen to 7.35 percent from 10.41 percent in Q1 FY2019.
The next best-seller for Suzuki is the Gixxer / Intruder combine in the 150-200cc segment with 7,532 units but this number is 61 percent down on year-ago sales of 19,498 units, followed by 1,526 units of the Gixxer SF250. Q1 also saw Suzuki sell 40 GSX S750s (+74%), 4 GSX 1000s (-69%) and 57 Hayabusas (+32%).
With Q2 having begun and consumer footfalls yet to assume sizeable proportions in showrooms, it looks to be a while before the two-wheeler industry will be firing on all cylinder.
Read more: Hyundai records PV market share gains in a red-inked Q1
Hyundai Venue and Mahindra XUV300 drive UV market share gains in tough Q1
RELATED ARTICLES