Three-wheeler sales take a hit in FY2017
Bajaj Auto, Mahindra & Mahindra and TVS Motor's three-wheelers sale decline as aggressively priced four-wheeled mini-trucks draw buyers.
Rajkot-based Atul Auto sold 36,507 three-wheelers in 2016-17, down 13.82 percent year on year.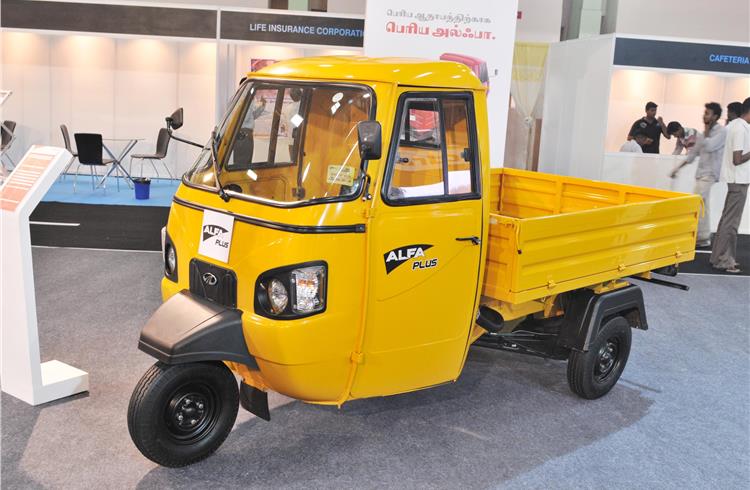 At 52,306 units, Mahindra & Mahindra posted a sales decline of 4.85 percent in the domestic market.
While overall automotive sales for 2016-17 remained positive as a result of the uptick in demand for passenger vehicles, commercial vehicles and two-wheelers in the domestic market, one segment that took a hit was three-wheelers.
All three-wheeler manufacturers saw a sizeable drop in both their domestic and export sales, a trend which is attributed to three-wheelers being replaced by aggressively priced, small four-wheeled mini-trucks.
Over the past few years, manufacturers like Tata Motors and Mahindra & Mahindra have been expanding the mini truck segment to every load and price point. This is taking a toll on the three- wheeler segment which is seeing transport operators preferring to buy a four-wheeler which offers better operating economics and also social status in the Indian context.
Overall three-wheeler sales in FY2016-17 fell 4.93% to 511,658 units (2015-16: 538,208). While sales of passenger carriers, the biggest segment in the three-wheeler segment, declined 8.83% to 402,034 units (2015-16: 440,978), the goods carrier segment registered 12.75% growth with sale of 109,624 units (2015-16: 97,230).
How the OEMs fared
All the key three-wheeler OEMs comprising Bajaj Auto, Mahindra & Mahindra, TVS Motors, Atul Auto and Piaggio have felt the impact of slowing sales.
Bajaj Auto, the largest player in the three-wheeler industry with a dominating presence in the passenger carrier segment, posted flat sales. Its India market sales were a total of 253,147 units, down 0.72%. Its exports though took a bigger hit – down 31.70% with total shipments of 191,236 units.
Piaggio Vehicles, the No. 2 player, sold 151,106 units during 2016-17 which marks a fall of 6.13%. Its exports dropped sharply by 28.07% to 17,592 units.
Mahindra & Mahindra, the No. 3 OEM, saw its sales decrease by 4.85% with total sales of 52,306 units, its exports is minuscule of just 1,425 units up by 17.77%.
The Rajkot-based Atul Auto sold a total of 36,507 units during 2016-17, lower by 13.82% than the year before; its exports were up 49.35% at 2,288 units.
While Scooters India sold 6,315 units, down 32.55%, TVS Motor saw its domestic sales fall by 20.98% during 2016-17 with total sales of 12,277 units.
Unlike the LCV trucks where the goods carrier segment dominates, in the three-wheeler segment the passenger carrier model is the best-seller with good demand for transporting passengers across short distances in Indian cities. In the passenger carrier segment, Bajaj Auto remains the market leader with a 59.9% share, followed by Piaggio Vehicles (24%), M&M (7.9%), Atul Auto (4.5%) and TVS Motor (3%). In the goods carrier segment, Piaggio has the leadership with 49.7% market share, followed by M&M, Atul Auto, Bajaj Auto and Scooter India with 18.6%, 16.5%, 12% and 2.9% respectively.
Slackening demand in the export market
The export market for three-wheelers mirrored the domestic market scenario. Overseas shipments fell by a substantial 32.77% to 271,894 units as compared to 404,441 units in FY2016. The passenger carrier segment registered a fall of 33% while growth in the goods carrier segment was flat. Bajaj Auto remains the largest export player with a 70% share of total export, followed by TVS Motor with 20.9% and Piaggio with a 6% share.
RELATED ARTICLES