M&HCV sales see green shoots of recovery in June
After two straight months of falling sales, M&HCV numbers have returned to the black, indicating recovery is underway in this key segment of the Indian commercial vehicle industry.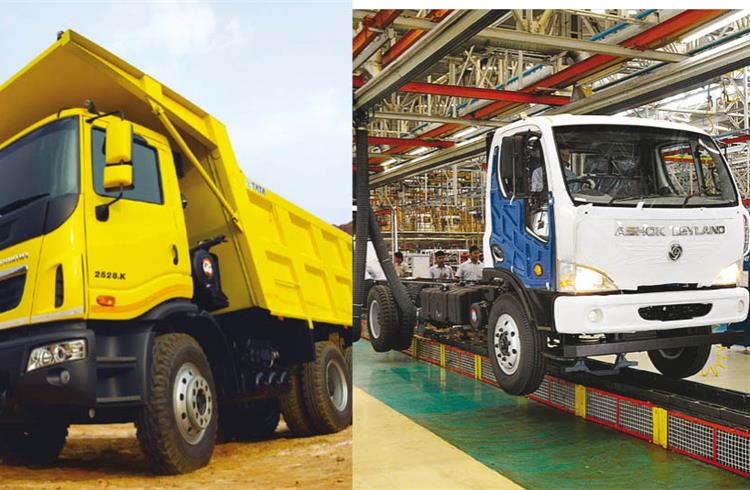 Amid the hustle and bustle of GST news, what seems to have gone unnoticed is that the critical medium and heavy commercial vehicle (M&HCV) segment, the largest in terms of volume and value in the domestic CV industry, has recovered marginally after experiencing a slump in April and May 2017.
As a result of the BS IV upgrade on April 1, vehicle prices were raised slightly but were enough to have fleet operator defer their new truck purchases. Furthermore, there were supply constrains as OEMs were unable to produce enough BS IV-compliant vehicles in first two months of FY2018. As a result, the slowdown in replacement demand impacted M&HCV sales in April and May, with sales dropping considerably by over 30-35 percent. Market leader Tata Motors and Ashok Leyland, which together hold close to 85 percent of the domestic market, both recorded a sharp drop of 35-40 percent in those months while, Mahindra & Mahindra and VE Commercial Vehicles also remained under pressure.
Given this trend, it was felt that June sales would take the same path but the numbers for last month released by CV OEMs reveal that M&HCV sales are gradually returning to growth territory. Tata Motors, Ashok Leyland and M&M have recorded a month-on-month increase in their sales, which is indicative of a recovery.
How the OEMs fared
Tata Motors' overall CV sales declined by 2 percent in June with total sales of 25,678 units (June 2016: 26,164). While M&HCV sales grew by 1 percent in June 2017 at 7,689 units (June 2016: 7,637), the I&LCV truck segment grew by 1 percent at 2,628 units (June 2016: 2605 units) largely driven by the good market response to the new Ultra range.
According to the company, "Sales continues to grow month-on-month on the back of ramp up of BS IV production, across segments. We have also strived to establish the BS IV vehicles with new advanced SCR technology and customers are beginning to see the benefit of this technology which delivers good performance and class-leading fuel efficiency."
"The M&HCV segment witnessed a pick-up in demand and availability because of the production ramp up in June. Markets shifting to rated load operations have increased demand for 37-tonne and 49-tonne vehicles," says Tata Motors.
Ashok Leyland's sales in June turned positive with total sales up by 11 percent to 12,330 units (June 2016: 11,108). At 9,202 units (June 2016:8,685) its M&HCVs registered 6 percent YoY growth after a consistent fall in April and May.
Mahindra & Mahindra's total CV sales were up 12 percent YoY with 15,131 units sold (June 2016: 13,538). After being down for three months straight, its M&HCV sales turned positive by a strong 35 percent and sales of 700 units (June 2016: 517). The below-3.5T GVW products maintain strong double-digit growth – a 13 percent increase with 13,538 units sold (June 2016: 11,955), while those in the above-3.5T GVW segment were down 16 percent with sales of 893 units (June 2016: 1,066).
VE Commercial Vehicles' sales remained negative, with domestic sales falling by 20.5 percent with total sales of 3,382 units (June 2016: 4,256).
RELATED ARTICLES