TOP STORY
Bajaj Auto launches Chetak Premium 2023 Edition, ramps up production, expands network
Ajit Dalvi

02 Mar 2023
At Rs 151,910 (ex-showroom, Bengaluru), the Chetak Premium 2023 Edition is Rs 30,000 costlier than current model; Chetak plant to produce 10,000 units a month; 100 Chetak stores across 85 cities by end-March 2023.  
Read more
News International
Sleek silhouette, signature lighting, clear-cut lines hint at the flagship electric SUV's bold new look.
News
The move is aimed at catering to those Tata 407 owners who are looking for a shift towards a greener ecosystem.
News
Pre-orders available in metros and tier-1 cities such as Mumbai, Delhi, Hyderabad, Ahmedabad, Kolkata, Pune and Chenna...
News International
New Prius PHEV reborn as a high-performance version equipped with the latest plug-in hybrid system, which combines a c...
News International
Two BEV heavy-duty, Class 8 trucks are delivering new Nissan cars from the Port of Los Angeles to dealerships in the L...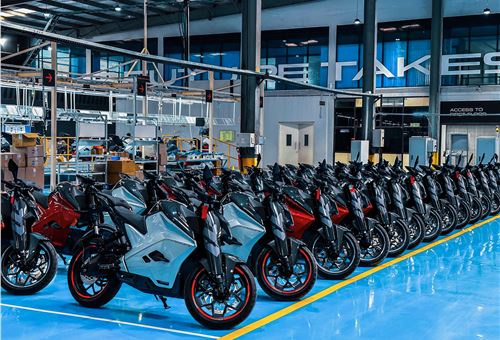 News
The funds will fuel the company's global expansion plans and support its ongoing vehicle platform development efforts....
News International
The new facility, which will join Volvo's existing tech hubs in Sweden and Bangalore, will play a crucial role in the ...
News
With its 3rd gen products ready, Yulu aims to quickly ramp up its fleet to 1 lakh and diversify business models by add...
News International
The fleet of under 100 vehicles to be employed globally for demonstration and trial purposes, paving the way for poten...