Ather Energy installs 1,000 fast-charging stations across India, targets 2,500 by end-2023
In line with its earlier plan to achieve 1,400 Ather Grid installations by end-March 2023, the electric scooter OEM has announced further expansion.
Bengaluru-based Ather Energy has announced that it has installed over 1,000 fast charging stations, called Ather Grids, across 80 cities in India. In line with its earlier plan to achieve 1,400 installations by end-March 2023, the electric scooter OEM is now embarking on an aggressive expansion plan to install 2,500 fast charging grids by the end of 2023.
Since inception, Ather Energy has invested in building a robust fast-charging network. It had also released its IP for the charging connector to all OEMs, paving the way for an interoperable two-wheeler fast charging platform.
The Ather Grid, designed and built in India, is today the biggest fast-charging network for two-wheeler EVs in the country, with 60% of current installations in Tier-2 and Tier-3 cities. Ather has also installed these grids strategically across cities to enable intercity rides. This means EV users can now easily plan rides from Pune to Mumbai, or Siliguri to Darjeeling, or Coimbatore to Ooty to name a few.
Commenting on achieving the 1,000-Ather Grid network milestone, Ravneet Phokela, Chief Business Officer, Ather Energy, said: "A robust charging infrastructure is one of the major drivers in accelerating faster adoption of electric vehicles. As a brand focused on building a vibrant EV ecosystem, we have made strong investments in building what is already India's largest public fast-charging network. We are accelerating our scale up, and also adding 'Neighbourhood Charging', a charging solution focused on semi-private spaces such as apartment blocks and office, tech-parks. We stay committed to investing strategically in the space and supporting the growth of the industry."
The fast-charging stations enable EV owners to charge their vehicles up to 80% at 1.5 km/min. The charging network is supported by the Ather Grid App which allows all EV owners to locate and check the availability of the nearest charging stations in real time. The fast-charging network can be used by all electric two-wheelers and electric four-wheelers, and this facility is being offered free of charge until March 2023.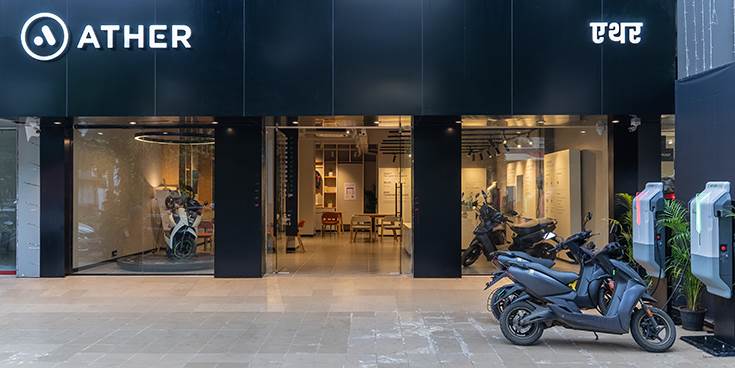 Sales spike in January 2023
Ather Energy posted its biggest spike in volumes in January 2023 with sale of 12,419 units, making it the third largest player after Ola Electric and TVS Motor Co. In CY2022, the company retailed a total of 51,192 e-scooters, giving it the fifth rank in the pecking order of electric two-wheeler OEMs in India.
To meet growing demand for its products, Ather Energy's second manufacturing facility in Hosur went on stream in November last year, expanding its manufacturing capacity to 420,000 units per annum. The new plant, which employs a workforce of 1,600 people, is twice the size of the first plant and has two vehicle and five battery lines. Increased automation levels mean assembly times are down by 20 percent.
Ather Energy currently has a sales network with a presence in 80 cities with over 100 Experience Centres. The company is implementing a speedy expansion roadmap covering Tier 1, 2 and 3 cities in India, with plans to increase its retail footprint to 150 centres in 100 cities by March 2023.
ALSO READ:
Electric two-wheeler sales in India soar 305% in CY2022 to race past 600,000 units
EV sales in India in 2022 record 210% growth, cross a million for the first time
Electric car sales speed to 25,000 units in April-November, headed for 40,000 in FY2023
RELATED ARTICLES