Okinawa clocks 250,000 sales, plans network expansion and electric cruiser bike
Electric scooter maker records sales milestone six years after production began; to expand retail network from 542 touchpoints to over 1,000 by 2025; co-developing e-cruiser bike with Tacita of Italy,
Okinawa, which sold 83,185 units in FY2022 and 103,000 units in first 11 months of FY2023, has clocked a new milestone in the Indian e-two-wheeler market. 
The existing retail network of 542 touch-points is to be scaled up to over 1,000 showrooms by 2025.
Okinawa sells eight e-scooters – six 'high-speed' (Okhi 90, iPraise+, Praisepro, Dual 100, Ridge 100, Ridge +) and two 'low-speed' (R30 and Lite).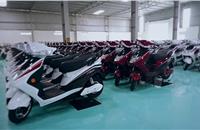 Okinawa Autotech, one of India's leading electric two-wheeler manufacturers, has announced that it has clocked cumulative sales of 250,000 units in India. The company rolled out the 250,000th unit – a Praise Pro electric scooter – from its plant in Alwar, Rajasthan on March 14.
The company, which began operations in 2015 at its 180,000 units-per-annum plant and launched its first product, the Ridge, in January 2017 has taken six years to achieve the 250,000 unit sales milestone. In December 2015, Okinawa rolled out its second product, the Praise. In 2019, Okinawa became the first Indian OEM to secure FAME II subsidy from the government of India.
Okinawa currently has eight e-scooters on sale – six 'high-speed' (Okhi 90, iPraise+, PraisePro, Dual 100, Ridge 100, Ridge +) and two 'low-speed' (R30 and Lite). As per the company, considering an average daily commute of 30km and petrol at Rs 90 a litre, its total sales of 250,000 units till date would have saved 300.3 million kilograms of CO2 and Rs 1,250 crore in petrol costs.
Okinawa Autotech's sales in the domestic market are in line with the speedy growth of the electric two-wheeler industry in India. In CY2022, total sales in India were 615,365 units, up 305% year on year – Okinawa, with 101,366 units was the No. 2 EV OEM, just 6,764 units behind the market leader. However, since then, its sales have come under pressure as it is among the few e-two-wheeler OEMs whose FAME-II subsidy has been temporarily revoked.
According to the company, it has registered sales of 103,000 units in the first 11 months of the ongoing fiscal year, which is a 24% increase over FY2022's 83,185 units.
The Galaxy showroom in Gautam Buddh Nagar, Noida.
Over 1,000 showrooms by 2025
Given the growing demand for electric two-wheelers and cognisant of the need to reach newer regions, Okinawa, which currently has 542 3S touch-points across India, plans to double the size of its retail network over the next two years to over 1,000 showrooms. The company, whose best-selling products are the iPraise+ and Praise Pro high-speed models, aims to reach Tier 2-3 cities as well as rural India.
In January 2023, Okinawa opened an R&D Centre in Italy in association with joint venture partner Tacita. The two companies are focussing on new product development, upgrade of Okinawa's existing product portfolio and also development of an all-new electric powertrain. What's on the cards is the reveal of Okinawa's first electric motorcycle, slated to happen soon albeit a specific date for the same is yet to be announced. Other new electric two-wheelers are also slated for launch this year.
Tacita, which was founded in 2009, designs and manufacture high-performance electric motorcycles. The company's website currently shows that Tacita produces six electric motorcycles across two brands – T-Cruise (Urban and Turismo) and T-Race (Motard, Enduro, Rally, Cross). Tacita is also engaged in R&D work of electric powertrains which includes design and production of high-torque traction motors, motor control units, CAN Bus interfaces, model and analysis of mechanical housings.
ALSO READ: EV sales charge past 100,000 units for fifth month in a row and a million in FY2023's first 11 months
RELATED ARTICLES