Mahindra's 'problem' of plenty: 143,000 open bookings for 4 SUVs and counting
While flagship XUV700 has over 80,000 bookings, the Thar, XUV300 and Bolero see strong demand too.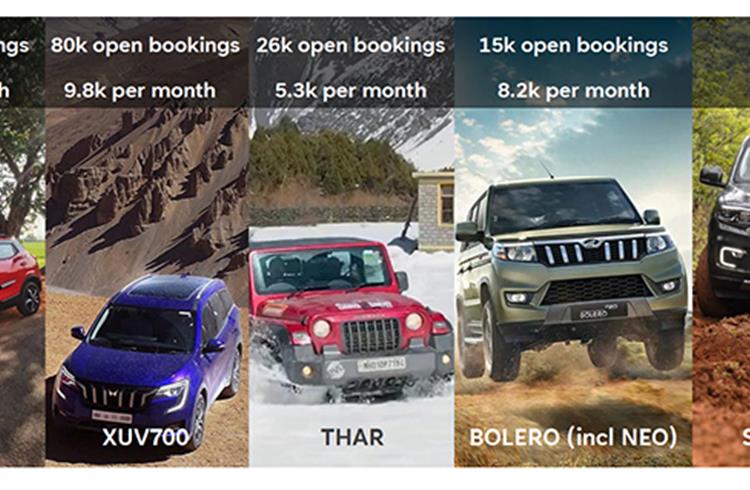 Mahindra & Mahindra has a 'problem' of plenty on its hands – over 143,000 cumulative bookings as of July 1, 2022 for five of its utility vehicles – the XUV700, XUV300, Thar and the Bolero. And bookings for the recently launched Scorpio N will open on July 30.
M&M, which is among the carmakers which have been impacted by the semiconductor supply chain issues, is putting its shoulder to the wheel to reduce the substantial waiting periods for these popular models. While the XUV700, XUV300, Thar and the Bolero cumulatively add up to 135,000 bookings, the balance will be for some other models from the M&M stable.
The flagship XUV700, launched in August 2021, is the one with the maximum bookings at present – 80,000 – and is currently averaging 9,800 bookings a month. The XUV700, available in both petrol and diesel fuel options, has laden with a host of advanced technology features, with Google Alexa as a key highlight. The Visteon-developed 10.25-inch screen multi-information display has proved to be a winner in terming of wooing new-gen tech-savvy customers who have 60 car-connected technologies to wow them in the XUV700.
Since launch, the XUV700, sold across 23 variants in two trim series – MX and AX – in five- and seven-seater configurations, has gone home to 35,824 customers till end-May 2022. That the XUV700 would be a winner was known in the very first two days of bookings opening – 50,000 bookings worth Rs 9,500 crore in ex-showroom value.
Next in line in terms of bookings is the new Mahindra Thar with 26,000 units. First revealed on August 15, 2020 and launched on October 2 that year, the new Thar has proven to be among the growth drivers for the company.
A sub-Rs 10 lakh starting price helped the new Thar draw a new section of buyers and the first fortnight after launch saw it get over 15,000 bookings. Since launch through till end-May 2022, the SUV has sold a total of 58,391 units comprising 14,186 units in FY2021, 37,844 units in FY2022 and 6,361 units in April-May 2022.
The Bolero, Mahindra's hardy workhorse and a powerhouse of its sales for over two decades, is No. 3 on the waiting list board with 15,000 bookings. The introduction of the Bolero Neo in July last year has also revved up demand for the Bolero brand, which in its PikUp avatar is benefitting from the boom in e-commerce and demand for last-mile deliveries.
With 14,000 bookings, the popular XUV300 has seen sustained demand since launch on February 14, 2019 and has, till end-May 2022, sold a total of 142,264 units. Within 11 months of launch, the XUV300 clocked volumes of over 40,000 units, seen strong demand come its way from the 1.5-litre, four-cylinder diesel engine option. The strong pull had pushed M&M to quickly introduce an AMT on the diesel trim in July 2019. Subsequently, the company first upgraded the petrol to BS-VI emission norms and in February 2021, introduced an AMT on the 109bhp, 200Nm petrol motor along with enhanced connectivity. The move has paid off in spades.
The latest Mahindra SUV which will up the ante is the Scorpio N. With prices starting at Rs 11.99 lakh for the entry-level petrol MT and going up to Rs 19.49 lakh for the top-spec diesel-MT variant (ex-showroom, India), bookings are to open officially on July 30.
What is giving a fillip to demand for Mahindra SUVs is their strong performance at Global NCAP crash tests. With Indian car buyers becoming increasingly aware of the need to buy safer cars, some high-on-safety Mahindra SUVs are popular buys.
While the XUV700 and the XUV300 have aced the stringent Global NCAP test with 5-star ratings and have also won GNCAP's 'Safer Car' award, the Thar has received a 4-star crash test rating.
Capitalising on the SUV boom
India, in line with global trends, is witnessing a surging wave of demand for SUVs, with one of out two passenger vehicles sold in FY2022 being a utility vehicle. The UV-portfolio-strong Mahindra, with 10 models, is doing all to capitalise on that.
On the back of a strong performance in FY2022 when it sold 225,895 units, up 44% (FY2021: 157,215) and grew its PV market share to 7.36% and UV share to 15%, M&M continues to record strong growth in the ongoing fiscal.
In June 2022, the company despatched 26,620 units, up a sizeable 59% YoY (June 2021: 16,913). For the first quarter, total sales at 76,310 units constitute smart 77% YoY growth (April-June 2021: 43,202). According to Veejay Nakra, President, Automotive Division, M&M, "Q1 FY2023 is our second consecutive highest SUV sales quarter. This has been made possible due to continued robust demand for all our brands including XUV700, Thar, Bolero and XUV300."
Given the substantial 143,000 bookings in hand, M&M will clearly be looking to ramp up production at its UV manufacturing plants.
ALSO READ:
SUV sales surge in India: 9.3 million units in 16 years

RELATED ARTICLES