​Ather Energy plans to double market share to 30%, readies two new electric scooters
The EV startup, currently the No. 3 player in the electric two-wheeler industry in India and having a lion's share of the performance e-scooter market, is confident of achieving speedy gains with two new products slated for rollout in FY2025.
Electric vehicle startup Ather Energy, which has grown rapidly to become the No. 3 player in the electric two-wheeler segment in India with a 14-15% market share, aims to expand its market opportunity and double its share to 30% with two new products. The two new e-scooters are slated for introduction in the next financial year – FY2025.
The company says it is developing a new platform, which will spawn a brand-new product before the festive season next year, and another model shortly after that. ​"We ​are going to introduce two strong products, very different from the Ather 450X, which is going to remain our performance line​," Ravneet Singh Phokela, Chief Business Officer, Ather Energy, told Autocar Professional.
"There are lots of other spaces that we haven't explored yet. There are the fun, family, and value segments. While the 450X continues to remain sharply focused on performance, at the same time, we are looking at getting out into new categories. That expands the market opportunity quite dramatically for us.
"We should have something in the market in the next three quarters (around Q1-Q2 FY2025), and another one a few quarters down the line​," detailed Phokela.
Ravneet Singh Phokela: "While the 450X continues to remain sharply focused on performance, at the same time, we are looking at getting out into new categories. That expands the market opportunity quite dramatically for us."
TARGETING A BIGGER ADDRESSABLE MARKET WITH NEW E-SCOOTERS
Ather Energy, which has struck a chord with young EV buyers and established its credentials strongly in the performance e-scooter category with its 450x that boasts an aggressive design language, modern features, and sharp riding dynamics, believes it will take time for it to make a similar mark in the other electric scooter formats that it intends to tap into. According to Phokela, "If we venture into any other space, it will take time to establish ourselves there."
Ather currently has a 13% share of the booming e-two-wheeler market, which registered 54% YoY growth and cumulative sales of 552,439 units in the January-August 2023 period. The company is now eyeing a bigger chunk of the EV pie, and aims to nearly double its market share as it executes its portfolio expansion plans.
"The performance scooter market where we currently play is not the biggest part of the e-scooter market. As we move into a much bigger part of the overall market, there is no reason not to believe that there should be a bump up of at least 10-15% on top of our existing market share. As we move into a bigger addressable market, obviously our ambitions are going to be much bigger as well," pointed out Phokela.
Ather Energy commands a dominating 75% share of the premium or performance-oriented electric-two-wheeler segment (products priced in Rs 150,000-and-above category). In this sub-segment, it has only three rival products to contend with – Ola Electric with its second-gen S1 Pro, and TVS Motor Company, with its iQube ST along with the recent introduction of the flagship, performance-oriented EV – TVS X – priced at Rs 250,000, to cater to a niche audience.
Ather Energy has a dominating 75% share of the performance-oriented segment (e-two-wheelers priced in Rs 150,000-and-above category).
A MULTIPURPOSE ATHER FOR THE FAMILY
Ather plans to adopt a more conventional approach to the design and styling of its two new upcoming e-scooters. This strategy will help it target a wider audience, including family buyers who typically look for a unisex scooter that could be practically used across age groups within the family. "From a price-point perspective, Ather will never offer the cheapest product in the market. We never claim to pursue that ambition either as there is a certain level of quality, finesse, and experience that brand Ather stands for, and that comes at a cost," said Phokela.
He added, ""Having said that, we will not bring something which caters to a niche either. With the new products, we are going to address the belly of the market, which lies in the range of Rs 120,000-150,000. When 80% of the market is in that price band, we will bring our products in the same ballpark."
The new products will, no doubt, lead to some level of cannibalisation of the existing Ather 450 scooters, something which is impossible to stop as the Indian EV market matures further. "The proposition of the 450 is quite strong and even for those potential customers for whom the price point could have been a deterrent, we now offer the more affordable 450S with a smaller battery and lesser features. So, it is a very clear positioning now," affirmed Phokela.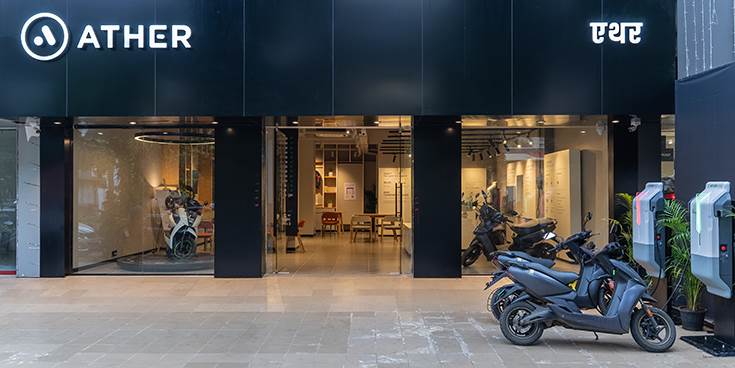 RETAIL NETWORK: 200 OUTLETS IN 120 CITIES BY MARCH 2024
With nearly 80% of the market held in a vice-like grip by the Top 4 players (Ola, TVS, Ather and Ampere Vehicles), Phokela believes that there has already been enough consolidation in the electric two-wheeler start-up space, which has seen a significant decline in the combined market share of smaller players from 38% a year ago, to around 22% in the present day.
The company says the market reception for its premium-positioned products, even in the Tier-2 and Tier-3 towns, has surpassed its expectations. This was reason enough for it to quickly change its expansion and distribution plans by switching to a franchise model to accelerate establishment of its touchpoints in key markets across the country.
At present, Ather Energy has around 150 experience centres across 100 cities, and it targets to reach 120 cities and 200 outlets by end-FY2024. "While we are aiming at newer markets where the per-capita traction is strong, the reality is that the market size is still what it is. Therefore, we have also evolved our retail model accordingly.
"For instance, for a market like Siliguri (Assam), where the per-capita consumption of scooters is very high, the population size is still quite small. While our earlier retail model was based on a certain assumption of throughput and profitability, for such a market, we now have a lean retail model where the break even or profitability kicks in much earlier, as the existing model would not have been viable in such a case," Phokela explained.
The company is also experimenting with what it calls 'Test Ride Zones', which, while are an outpost of an experience centre, are semi-permanent in nature, and are meant to last for around 4-6 months. "They serve a dual purpose of extending our distribution from a test-ride perspective, and secondly, also allow us to understand a new market, and if there is a good potential, we convert it into an experience centre. So, they allow us to test the waters at a much lower cost," Phokela enumerated.
While it will refrain from going into deep rural areas, Ather Energy is confident that its upcoming products will strengthen its potential in Tier-2, Tier-3, and Tier-4 markets. "Rural is a bridge too far at this point in time, but as we go into Tier-3 and Tier-4 markets, family needs start becoming important, and that is what the attributes of the two new products will cater to," Phokela signed off.
ALSO READ:
Ather Energy set to begin e-scooter exports to neighbouring countries
EV sales between January and September 15 surpass CY2022's record-high 1.024 million units
Suzuki, TVS, Yamaha, Ather and Bajaj increase scooter market share in April-August 2023
RELATED ARTICLES