EV sales between January and September 15 surpass CY2022's record-high 1.024 million units
The rapid rate of electric vehicle adoption in India can be gleaned from the fact that at 10,27,502 units, sales in the first nine-and-a-half months have crossed entire CY2022's 10,24,779 units.
As accurately forecast in Autocar Professional's previous India EV industry sales analysis on September 6, cumulative sales of electric vehicles (EVs) have raced past CY2022's record sales of 10,24,779 units today. As of September 15, 2023, the government's Vahan website, which registers retail sales numbers from across the country, depicted a total of 10,27,502 units, 2,723 units ahead of the 12-month CY2022 total.
Given that EV India Inc crossed the million-units milestone on September 9, 2023 – fittingly enough on World EV Day – for the second year in a row and in just over 9 months indicates just how rapid is the demand for zero-emission vehicles in the country. With the festive season underway, the next couple of months should see EV sales accelerate further.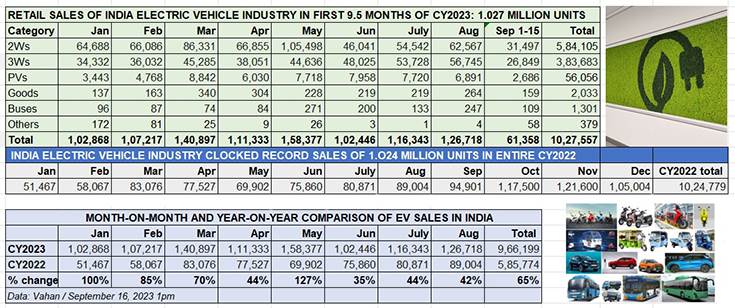 Comparing the first eight months of CY2023 and CY2022 reveals just how rapid the increase has been, with e-3 and 2-wheelers leading the charge.
India EV Inc has surpassed the 100,000-unit sales mark for 11 months in a row. Having first notched the milestone in October 2022 (117,200 units), the sales momentum continued in November (121,602 units) and December (105,003 units) and through the first eight months of CY2023, hitting a high in May 2023 (158,377 units).
There was a sharp decline in June when the FAME subsidy on e-two-wheelers was slashed by 25% and sales dove 56% month on month. But a maturing market saw sales rise again in July and August and the fact that 148,606 e-two-wheelers have been sold in the past three-and-half-months from June through to September 15 indicates that buyers are willing to pay more, given the value proposition that an EV offers.
September 2023 will mark 12 straight months of 100,000 sales a month. As of September 15, at 61,358 units, retail sales were 38,642 units short of surpassing the 100,000-unit mark for the month. Given the daily sales average of 4,090 units in the first fortnight of the month, the current gap to 100,000 units should be crossed in the next nine days or even earlier, given the ongoing festive season which sees a good number of new vehicle purchases.
TWO- AND THREE-WHEELERS SET THE PACE
The biggies in terms of EV market share are the two 'low-hanging fruits' of the industry and the more affordable segments compared to electric cars, goods carriers or buses. While electric two-wheelers (584,105 units) account for 56.84% of the total EV sales, three-wheelers (383,683 units) have a 37.33% share of the India EV pie. A total of 56,056 electric cars and SUVs were also sold, which gives them a 5.45% share, with commercial vehicles comprising goods carriers and buses (3,334 units / getting a 0.32% share (see EV retail sales data table above).
The domestic EV industry's sales growth in 2023 can be attributed to an increase in the availability of new products in the market, high petrol, diesel and CNG prices, state subsidies and sops offered under FAME II. It also helps that there is growing consumer awareness about the need to use eco-friendly transport. And, of course, the wallet-friendly nature of the low cost of EV ownership over the long run is a big catalyst.
IS INDIA EV INC ON TRACK TO CLOCK 1.5 MILLION SALES IN CY2023?
Given this rapid pace of growth, India's EV industry can be expected to notch consistent progress in remaining months of the year and FY2024. Some challenges remain in the form of inadequate charging infrastructure and high initial EV prices (which is directly related to the battery cost). Nevertheless, with OEMs' sharpened focus on localisation with a view to reduce costs and enhance affordability, and battery prices expected to reduce gradually, demand in this eco-friendly vehicle segment can only get better.
At the current high double-digit rate of growth, will cumulative 12-month sales charge past the 1.5 million units mark this calendar year? That would translate into robust 46% year-on-year growth over CY2022's 1.024 million EVs. From the manner in which EV buyers, both for personal usage and for last-mile delivery operations, are plugging into zero-emission mobility in the country, it certainly seems so.
RELATED ARTICLES