EV sales in India cross a million units for second year running on World EV Day 2023
Sales of electric vehicles across segments hit a million units on World EV Day 2023, taking just 8 months and 9 days, nearly four months faster than it took India EV Inc to record the million-unit mark for the first time in CY2022.
India EV Inc crossed million-unit milestone for the second year running, and on World EV Day 2023.
World EV Day unites companies, individuals, policy makers and thought leaders in their common mission to drive towards cleaner air, lower emissions and a more sustainable future in a time of rapid Climate Change.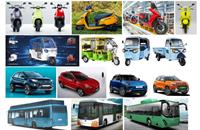 India EV Inc has hit the million-unit sales milestone again and that too on World EV Day: September 9, 2023! World EV Day, which unites companies, individuals, policy makers and thought leaders in their common mission to drive towards cleaner air, lower emissions and a more sustainable future in a time of rapid Climate Change, is a day which draws everyone's attention, from citizens to corporates and climate change warriors, to the electric mobility movement globally.
As per the UN Environment Programme, the transport sector is the fastest-growing greenhouse gas (GHG) emitting sector, expected to reach a share of more than 30% of total GHG emissions in the future. It is also a leading emitter of short-lived climate pollutants and it contributes greatly to air pollution. The global vehicle fleet is set to double by 2050, with more than 90% of future vehicle growth projected to take place in low and middle-income countries.
To achieve a cleaner transport sector, a combination of measures needs to be implemented world-wide: better-designed cities; safe and comfortable walking and cycling facilities; more public transport; and cleaner and more efficient on-road fleets, including electric vehicles (EVs). In the last 20 years, EVs have experienced significant technological developments that have not only lowered their costs but also reduced their environmental footprint and increased their utility. At the same time, public transport and shared mobility are key ingredients for efficient transportation. The introduction of EVs in fleets is often the first step to overcoming challenges and barriers to electric mobility and is critical to its wider adoption around the world. And India is doing its bit through greater adoption of EVs.
TWO- AND THREE-WHEELERS LEAD THE CHARGE
India is targeting EVs to account for 30% of its mobility requirements by 2030, driven by the FAME scheme, state subsidies and a larger portfolio of products across vehicle segments.
The Ministry of Heavy Industries-formulated five-year Faster Adoption and Manufacturing of Electric Vehicles in India Phase II (FAME India Phase II) Scheme, with a total budgetary support of Rs 10,000 crore, comes to a close on March 31, 2024. FAME II is mainly focused on supporting electrification of public and shared transportation, and support through demand incentive for 7,090 electric buses, 500,000 e-three-wheelers, 55,000 passenger vehicles and 10 lakh e-two-wheelers. Creation of EV charging infrastructure is also supported under the scheme.
Of the 2.92 million EVs sold, the first 900,000 took 8 years and the next 2 million units 2 years. The last million units were sold in exactly nine months and nine days, wih the milestone surpassed appropriately on World EV Day.
Decadal EV retail sales numbers illustrate the rapid growth of this sub-segment of the auto industry in India. Cumulative sales data, indicative of EV sales over a 10-year period (see Vahan data table above) reveals that over 2.9 million EVs have been sold in India since CY2014. While the first 900,000-unit sales took all of eight years, CY2022, with a 209% YoY increase, alone saw sales of 10,24,776 units – the first time that EV sales hit a million units in a calendar year. And, appropriately enough, the million-unit milestone in CY2023 was surpassed on World EV Day itself, taking fewer three months that it did for the milestone in CY2022.
3,295 EVs SOLD ON WORLD EV DAY
As of 9am on September 9, 2023, India EV Inc needed only 3,123 units to hit the million-unit milestone again. That happened at the end of day – World EV Day saw 3,295 units – 1,740 e-two-wheelers, 1,465 e-three-wheelers, 88 e-passenger vehicles and two e-goods carriers – being sold with cumulative January 1 to September 9 sales total being 10,00,181 units.
Given this momentum, India EV Inc bids fair to reach an estimated 1.4 million units for the entire 12-month period. Last year's record sales total of 1.02 million units should be crossed by September 15, indicating the accelerated demand for EVs in the country.
It is to be noted that India EV Inc has surpassed the 100,000-unit sales mark for 11 months in a row. Having first notched the milestone in October 2022 (117,200 units), the sales momentum continued in November (121,602) and December (105,003) and through all eight months of CY2023, hitting a high in May 2023 (158,369 units). The data table below reveals just how the sales have grown this year, maintaining strong double-digit growth.
Starting October 2022, India EV Inc has crossed the 100,000-unit sales mark 11 months in a row. Despite the reduced FAME subsidy for e2Ws from June, a maturing market has seen demand bounce back despite higher prices.
The biggies in terms of EV market share are the two 'low-hanging fruits' of the industry and the more affordable segments compared to electric cars, goods carriers or buses. While electric two-wheelers (570,378 units) account for 57.02% of the total EV sales, three-wheelers (371,430 units) have a 37.13% share of the India EV pie. A total of 54,843 electric cars and SUVs were also sold, which gives them a 5.48% share, with commercial vehicles comprising goods carriers and buses (3,208 units / getting a 0.32% share (see EV retail sales data table above).
The domestic EV industry's sales growth in 2023 can be attributed to an increase in the availability of products in the market, high petrol, diesel and CNG prices, state subsidies and sops offered under FAME II. It also helps that there is growing consumer awareness about the need to use eco-friendly transport. And, of course, the wallet-friendly nature of EV cost of ownership over the long run is a big catalyst.
Given the pace of growth, India's EV industry can be expected to notch consistent progress in the in the second half of the year. Some challenges remain in the form of inadequate charging infrastructure and high initial EV prices, which is directly related to the battery cost. Nevertheless, with OEMs' sharpened focus on localisation with a view to reduce costs and enhance affordability, and battery prices expected to reduce gradually, there is cautious optimism for this eco-friendly form of mobility.
ALSO READ:
India has over 2.8 million EVs on its roads, Central and South India dominate EV ownership
RELATED ARTICLES