Hyundai Mobis develops system to independently control all four wheels
In-wheel system enhances power efficiency by reducing the driving system components, and driving performance by controlling all wheels independently.
In-wheel system is equipped in the e-corner system, which combines electronic steering, braking and suspension technologies centered around the in-wheel motor.
In-wheel system is being tested on the Hyundai Ioniq for reliability for mass-production.
Unique features like crab walking and zero turns are also available with the in-wheel system.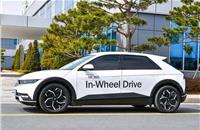 Hyundai Mobis has announced that it has succeeded in developing the in-wheel system, which lets the motor control each wheel directly. The key technologies for in-wheel system, including drive motor and the controller, have been developed by Hyundai Mobis in-house.
As per the company, the in-wheel system is yet to be mass-produced anywhere in the world. At present, Hyundai Mobis is verifying its reliability for mass-production based on the Ioniq 5 with Hyundai Motor Company.
Hyundai Mobis began developing the in-wheel system in 2010 in response to the emerging electric car market. In-wheel motor requires a complex design process to place a powertrain on wheels. It is seen as a technology that needs to overcome a series of challenges, including securing of drive performance and durability.
Key highlights of the in-wheel system are enhanced drive and power efficiency, longer cruising range, improved driving performance, and unique steer modes. Applying the in-wheel system in the vehicle means to maximise the drive efficiency without the need to install a separate power transmission component, such as a driveshaft, which that transmits torque to wheels. This will also improve power efficiency.
Additionally, in-wheel systems improve the driving range of electric vehicles with secured battery capacity. It frees up space inside and allows the vehicle to utilise that for the existing driving system. The system also provides efficient torque distribution for each motor in a wheel, enabling optimum turns and body control.
Hyundai Mobis claims its in-wheeler system improves the turn movement and power efficiency by approximately 20% or more through efficient torque distribution in all four directions. Unique features like crab walking and zero turns are also available with the in-wheel system.
The in-wheel motor is the key technology of the e-corner system. Hyundai Mobis unveiled the Ioniq 5-based e-Corner system at CES 2023 earlier this year. The e-corner system is an integrated solution that combines electronic steering, braking, and suspension technologies centered around the in-wheel motor. Hyundai Mobis is currently developing the e-Corner System by installing it in real cars with a goal of completing the development within the next five years.

Oh Heung-sub, executive vice president, Head of Electrification, Hyundai Mobis, said, "We plan to complete the development of this technology that is both durable and reliable so that we can begin mass-production of the in-wheel system by the end of this year. We will continue to idealise the technology to ready ourselves for the future of mobility."
ALSO READ
Hyundai Mobis develops world-first proximity detection display tech
Hyundai Mobis develops integrated vital signs controller for safe driving
Hyundai Mobis develops adjustable display tech for vehicle cockpits
Hyundai Mobis develops automated system for parking in tight spaces
RELATED ARTICLES