MG Group banks on changing dynamics in India's bus market
Bangalore-based independent bus body builder forays into growing premium bus market and also designs low-floor tarmac bus for airport duties.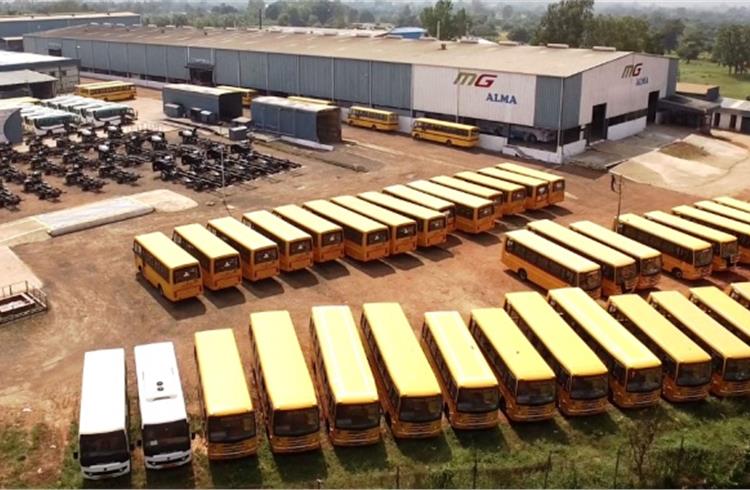 Are you aware of the fact that India has one bus for 1,000 people against six in China and 16 in the USA? This clearly underscores the rising need for mass transportation solutions in India.
At present, bus manufacturers and private bus body builders in India are hard-pressed to bridge this gap by providing value-for-money, feature-rich and passenger-friendly buses.
India has a number of independent bus body builders, of which the Bangalore-based MG Group is one of the largest. While the domestic bus market has seen some growth over the past couple of years, the untapped potential is huge. The MG Group is bullish on growth in the near-term, given the under-penetration of buses in India and is optimistic about speedy growth in its OE and STUs order book.
The bus business in India has always been quite cyclical in nature and customer demand unpredictable. In a freewheeling talk with Autocar Professional, Anil Kamat, managing director, MG Group, spoke about several initiatives and the company's future growth plan. "In any kind of market distress, the bus business is the first one to be hit and the last one to recover in terms of demand. In the past, we have faced the brunt of this phenomenon but our customers and varied product portfolio, we have survived," says Kamat.
Two decades of making buses
The MG Group has been in the bus body building business for over 20 years now and recently achieved the milestone of having completed its 100,000 bus body. To mark this occasion, the company launched two new premium buses for the Indian market at Busworld India 2016 in Bangalore.
Built on a MAN chassis, the Mammoth has eight emergency exits, no sharp corners, seatbelts for every passenger and an 'EM Secure' rear exit, which is patented as a world first.

The first bus, named Mammoth, is a factory-fitted sleeper coach on a MAN chassis and priced between Rs 60-65 lakh. Trying its hand for the first time in the tarmac coach segment, the company also launched an indigenously developed full monocoque ultra-low, flat-floor, tarmac coach called Columbus, which is targeted at the aviation industry. "Conventionally, we have been building bodies on chassis coming from OEMs but with the Columbus we have developed the complete bus in-house," reveals Kamat.
The 12-metre-long Columbus has a floor height of 290mm, ground clearance of 180mm, and a long wheelbase of 7450mm, which facilitates passenger capacity of 70 with eight seats. A unique feature are the five entry-exits points. The Columbus is equipped with door sensors; if the doors are ajar, the coach will not move and similarly when the coach is moving, the doors will not open.
Besides being a monocoque, the Columbus tarmac bus is equipped with electronically controlled air suspension (ECAS), ABS and CAN bus systems making it compliant with Airport Handling Manual regulations.

"We have already seen interest from overseas customers from South East Asian countries like Thailand and Malaysia. We will introduce this coach, which is an example of Make In India, in the international market first," adds a confident Kamat.
When queried about the company's plans to foray into bus manufacturing per se, Kamat says, "I don't want to rule out any possibility. We have come to this stage on our own, without any international tie-ups or partnerships. This, I believe, is an achievement for us. In the near-term, our focus remains bus body building and on developing something new."
Growing capabilities
The MG Group's bus portfolio includes brands like Twilight, Lotus, Polestar, Leo, Leolite, Odyssey, Feeder, Scholar, Spectra, Skylark and King.

Over the past 20 years, the MG Group has made giant strides and has become one of the largest independent bus body builders in the country. The company has an annual capacity of 16,500 buses at its two plants located at Zaheerabad in Telangana and Belgaum in Karnataka. It makes buses for both private operators and state transport undertakings. Besides this, the company has a large business share from key commercial vehicle OEMs including Tata Motors, Ashok Leyland, Mahindra & Mahindra and VE Commercial Vehicles.
Although the MG Group has no immediate plans for new investments in manufacturing capacity, substantial investment has already been made. "We expanded capacity significantly around six years ago, following customer demand and in anticipation of higher growth in the bus industry," says Kamat. Nevertheless, with ample vacant land at its disposal, the company can undertake an expansion project when the demand necessitates it.
Commenting on the overall bus market in India, Kamat believes that it is large enough for every player to cater to large volumes. Despite OEMs starting to offer fully built buses, pent-up demand and huge segmentation in the domestic market means there is a yawning demand-supply gap, which independent bodybuilders are catering to. The bus market is not just price-sensitive but in the absence of standardisation, customer demand for varying specifications can be fulfilled by independent bodybuilders. A lack of volumes also deters OEMs from catering to several segments.
New initiatives
While manufacturing bus bodies remains the key focus area for the MG Group, the company has expanded into associated business. Called West & Deccan, the group company has a strong team of designers, stylists, engineers, analysts and integrators for buses. While it primarily caters to the MG Group's needs, it is open to working for others.
The Group's strategy to be cost-competitive in its overall operations is helped by a number of activties run by its own in-house companies. For example, seats are a key component in buses and the MG Group designs, develops and manufactures them through a separate entity as Alcom Products.. For bus electronics such as lights for interior lighting, LED destination boards and passenger address system, the company develops them in-house with another group company called MG Grey Engine LLP. "We are also setting up a centre of excellence for R&D in composites, given that the importance of composites is on the rise in buses and other industries like the railways, aviation, infrastructure and marine," says Kamat.
Seen overall, this is yet another example of a strong and resilient domestic bus body manufacturer which has weathered many a storm and emerged stronger. As demand for comfortable, cost-efficient buses grows in the country to transport the increasing number of passengers across the fast-improving road network, companies like the MG Group will continue to see demand.
INTERVIEW Anil Kamat, Managing Director, MG Group
Why did you enter the tarmac coach segment and not the mass-market bus one?
Given our passion for making buses, the expertise we have built over the years and also being a medium-sized company, we have our limitations. We decided to target tarmac buses, this being a niche segment and the fact that these buses run on a smaller road area. Servicing will remain a challenge but we can manage the service bus offering in limited applications rather than across the length and breadth of the country.
What is your view on the bus body code which has been partially implemented?
We believe this is a good decision and it is high time that it gets fully implemented. Safety is very necessary for mass transportation solutions. Conventionally, the bus body building industry has been unorganised for decades. Taking into account garages, India would have more than 10,000 bus body builders but very few organised players. With the presence of such a huge unorganised sector, safety and knowledge of regulations goes wayward and the bus body code addresses many issues.
What is the current bus body capacity utilisations of the MG Group?
Whenever we say capacities, it means installed capacities. The bus industry is cyclic in nature; there could be certain months of a year when we will be building almost to our full capacity and 85-90 percent. However, during some months, it goes down to 20 percent. So, on an annual basis, if you look against the full installed capacity it could be not more than 50 percent but that is not how we work and it always the peak volume which counts. We make nearly 8,500 buses on an annual basis.
What are the trends you see in the bus industry in India?
I believe the industry is going through a revolution and a lot of challenges like changing from front engine to rear engine, and manual transmission to automatic transmission. Under the FAME initiative, there is a lot of action happening in terms of hybrid and electric buses. Similarly, moving from non-air-conditioned buses to fully air-conditioned buses, entertainment systems, electronics, composites coming into the bus sector, there is a lot happening in the bus industry, maybe even more than the car industry in terms of transformation. The MG Group strives to be a total bus solutions provider and we are trying to catch up with this transformation that the bus industry is witnessing.
Do you export buses?
The majority of our buses are for the domestic market. A premium coach like the Columbus, which we have developed recently, can be exported. Besides this, we make largely for the export market but are not direct exporters. We supply to customers like Ashok Leyland, which received an order from Africa and the Middle East for buses made by us.
You may like: Is the commercial vehicle industry ready for BS IV?
This story was first published in Autocar Professional's 12th Anniversary issue. Subscribe to our magazine to get exclusive news, features and analysis.
RELATED ARTICLES