Can the new Amaze give Honda a better midsized sales punch?
With the new Civic and CR-V to be launched any time soon, the Japanese carmaker looks to accelerate its sales and increase market share with the new compact sedan.
There is a new buzz in the compact sedan market. On May 16, Honda Cars India launched its second-generation Amaze in New Delhi with prices starting at Rs 559,900 (ex-showroom, all India). The company is betting on the new Amaze, which it states carries the company's DNA of differentiating its products from the performance point of view, offering a spacious interior and a fun-to-drive experience.
While the outgoing model was based on its hatchback sibling, Brio, the new Amaze is a complete ground-up design, built on an all-new platform that is 65mm longer in wheelbase and also with 5mm more track width. The new platform uses 22 percent more high-tensile steel, which has helped reduce vehicle weight by 17kg.
Dual airbags, ABS and EBD standard across range. Amaze also ready for frontal offset, side, pedestrian impact tests.
The new Amaze gets many a styling cue from the current 10th-generation Civic sedan including a raised hood, with a steeply raked chrome grille. While the headlamps are sleek, they miss a DRL function, which is a growing trend in the segment. However, the top VX trim does get a signature LED parking lamp. Towards the side, the Amaze gets clean lines on its body panels, with new 15-inch alloy wheels replacing the older 14-inch rims. The rear end culminates in a short and stubby boot, with C-shaped tail-lamps akin to the Civic.
1.2-litre, 4-cylinder, petrol engine develops 90bhp.
The carmaker is optimistic that India, which recently pipped Germany to become the fourth largest vehicle market globally, is tuned to even surpass Japan to become the third largest market in the years to come. Honda Cars India states that the new Amaze is a much bigger car than one would expect in the sub-four-metre category, both inside and outside. Interestingly, it is aimed towards attracting first-time car buyers as the car is loaded with features and offers care-free maintenance. Honda expects around 21 percent of Amaze sales to come from first-time car buyers who are either upgrading from a two-wheeler or buying their first vehicle.
1.5-litre, 4-cylinder, diesel motor produces 99bhp.
Inside, the new Amaze gets a fully revamped interior, plusher seats, and adjustable head restraints for the front seats, which were missing earlier. The all-new dashboard bears silver accents and piano-black garnishes which add a touch of premium-ness to the cabin. While the steering wheel and the gear knob are new too, the car also gets an automatic climate control system. The new Amaze comes with a 7-inch touchscreen infotainment system, christened 'Digipad' on its top trim.
New drivetrains, high on safety
The car comes powered by two engine options – a 1.2-litre, four-cylinder, petrol motor, which develops 90bhp and a 1.5-litre 'Earth Dreams' series diesel which makes 99bhp. The drivetrain options include a re-worked five-speed manual transmission and a 7-step CVT option on both petrol and diesel variants. In its CVT trim, the diesel engine, however, has been de-tuned to churn out 20 percent lesser power at 80bhp to offer smoother performance. Honda has addressed the NVH-related issues in the diesel motor by putting in a completely new block, and improving the material of the engine's head. The car gets over 90 percent local content in terms of its parts, with some parts like the CVT unit imported from Japan.
The Amaze gets dual airbags, and ABS with EBD as standard fitment on-board, with the car also being tested for frontal offset, side impact and pedestrian protection at Honda's R&D labs in Japan.
New Amaze's wheelbase has grown by 65mm, resulting in better cabin space and an additional 20 litres in the boot over the outgoing model.
According to Gaku Nakanishi, president and CEO, HCIL, "India is one of the most significant markets for Honda and we are resolute about bringing our latest technology to the country. Honda Cars India is the top contributor in the Asia-Oceania region for Honda Motor Co, with 23 percent of the overall sales. The CR-V and the Civic, which will be launched in this fiscal, will further enhance our foothold in the market and ensure a good product assault in FY2019," he added.
Future outlook
Commenting on the road ahead, Nakanishi said, "We plan to launch the new CR-V and new Civic in the second half of FY2019. We expect the Amaze to sell more than the first generation (256,679 units)."
Top-end trims get made-in-India 7-inch touchscreen.
Nakanishi agrees that while the market for the Civic is not huge in India, there are many people in the country who wish to buy the premium sedan. He says, "We have a lot of existing Civic customers who are looking to buy a newer version of the vehicle; that's the positioning of the product. We have sold around 40,000 units of the Civic in India."
India sales and capacity utilisation
In FY2018, Honda Cars India produced 161,884 cars (+2.28%) and sold 170,026 units (+8.08%) in the domestic market. Exports comprised 5,611 units (-3.21%). While the PV segment sees significant demand in the entry-level segment where sales are dominated by Maruti Suzuki, Honda does not aim to compete in each and every segment just because of competition.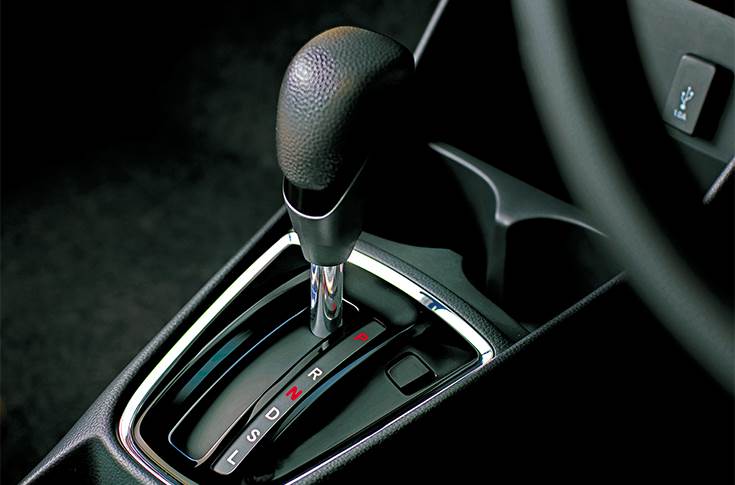 CVT coupled with a diesel is a first for Honda globally.
"The Indian automobile market is large and there are larger players which have been there for quite a while now; it is not something that has happened today. Based on our plans, there are many segments which have not been tapped at all and each company has its own strategy to tap into that. When the market demands a particular product that can be satisfied by Honda, we will be ready with that. It does not necessarily mean that if there are volumes we have to go there, each company has its own strategy. For us, it is about offering a product which is distinctive for the customer," said Rajesh Goel, senior VP and director (Marketing & Sales).
Paddle shifters on offer only on higher petrol-CVT trim.
Speaking about the manufacturing capacity, Nakanishi revealed while Honda has enough manufacturing capacity to meet future demand, it recently added 40,000 units capacity to its Tapukara facility in Rajasthan, bringing its total installed capacity in India (including the Greater Noida plant) to 280,000 units per annum.
New Amaze built at Honda's second manufacturing facility in Tapukara, in Rajasthan, along with the Jazz and WR-V.
The WR-V has given Honda new verve in the Indian market. Will the new Amaze add new sales power? Watch this space.
(This article was first published in the June 1, 2018 issue of Autocar Professional)
RELATED ARTICLES