ACMA Value Chain Summit pits Gujarat as a parts powerhouse
Tata Motors, the first carmaker to head to Gujarat, is reportedly operating at full capacity after the success of its Tiago hatchback.
In a bid to create a robust component manufacturing eco-system and supply chain and also draw new investments, apex component industry body brings together all stakeholders in the first-ever Summit of its kind in Gujarat.
Gujarat, not so long ago, was billed to be the big challenger to South India, the country's longstanding automotive industry hub. However, after an initial flurry, things did not really take off as the state would have wanted it to. Now, it looks like Gujarat, which already has decent vehicle manufacturer footprint, is putting its shoulder to the wheel to ensure it stands out on India's automotive firmament. And it is going all out to ensure it develops a strong, component supplier eco-system – a vital cog in the automotive scheme of things.
On May 18-19, the Automotive Component Manufacturers Association of India (ACMA) hosted the ACMA Value Chain Summit in Gandhi Nagar, Gujarat that brought vehicle manufacturers, component suppliers and key government officials, along with other service providers on a common platform to discuss opportunities and future growth challenges.
Gujarat-based OEMs are witnessing a spike in their operations due to the uptick in domestic and export markets. Tata Motors, the first carmaker to head to Gujarat, is reportedly operating at full capacity after the success of its Tiago hatchback. And, to cater to EESL, Tata Motors even rolled out the Tiago-based Tigor electric compact sedan from its Gujarat plant.
Suzuki Motor Corporation's plant in Gujarat, which currently produces 250,000 units per annum, is also running at full capacity. Plans are now to expand capacity with two more assembly lines of 250,000 units each, augmenting total production capacity to 750,000 units by 2020. Reportedly, the fourth assembly line of similar capacity is still under review.
Meanwhile, Ford India, which exports cars to over 50 markets globally, has emerged as India's leading car exporter. According to the company, its engine plant in Sanand is the lead global manufacturer for a new family of engines and the made-in-Sanand Freestyle was the first global product, which was launched in India before any other market globally.
More recently, China's SAIC via its British brand MG Motors became the latest carmaker to enter the state.
India's top two two-wheeler manufacturers also have their plants in Gujarat. While Hero MotoCorp is consistently ramping up capacity at its Gujarat unit, Honda Motorcycle & Scooter India (HMSI)'s scooter-only plant in Vithalapur is a world-first scooter plant of its scale (1.2 million units per annum) to have reached its peak capacity in about six months of its operations. Honda is now learnt to be looking at the potential of laying down a third assembly line at its site.
Maruti Suzuki's Kenichi Ayukawa: "We are setting up an International Automotive Centre of Excellence along with the state government."
Given these activities, Gujarat has become one of the top destinations for automotive investments in India. Several component suppliers have expressed their interest in setting up production/assembly units there. However, many told Autocar Professional that the business case of setting up plants in Gujarat would largely depend upon the size of orders from the OEMs based in that state.
The ACMA Value Chain Summit was inaugurated by Vijay Rupani, chief minister of Gujarat, in the presence of MK Das, principal secretary, Industries and Mines, Government of Gujarat; Kenichi Ayukawa, CEO, Maruti Suzuki; Anurag Mehrotra, president and MD, Ford India; Minoru Kato, president and CEO, HMSI; Thomas Flack, chief procurement officer, Tata Motors; NK Minda, president, ACMA and Vinnie Mehta, secretary general, ACMA. While the inaugural session was attended by over 250 business delegates, about 125-140 component manufacturers showcased their latest products and technologies at the event.
HMSI's Minoru Kato: "Gujarat provides excellent infrastructure and power, and is emerging as a key investment destination."
In his opening remarks, Minda called the industry performance in FY2018 as the best in the last few years. "Total vehicle sales are up 15 percent YoY. The auto industry has reported sales growth from 25.3 million units to 29 million units. It is estimated that the component industry has shown growth of about 17 percent last year. We are now at a turnover of US$ 43.5 billion (Rs 298,866 crore) and our exports have grown by over 20 percent from US$ 11 billion (Rs 75,564 crore)," he said.
Commenting on the growth opportunities in the state, he said, "Gujarat has seen investments from OEMs such as Maruti Suzuki, Tata Motors, Ford India, HMSI, Hero MotoCorp and MG Motors India. However, investments from component suppliers still need to catch up. It is in this context we have the ACMA Value Chain Summit, the first joint event co-organised by OEMs and component suppliers. Our intent is to create a forum that can enable an auto component investment pool in the state, create a robust automotive ecosystem including Tier 2, more importantly connecting Tier 1 to Tier 2 suppliers. We estimate that over 120 companies are interested in setting up operations in Gujarat (depending upon business and orders)."
ACMA's NK Minda: "We are keen to set up a Centre of Excellence in Gujarat, similar to that in Sonepat, Haryana."
Minda underlined the importance of support service providers such as organisations that can provide skilled labour, land and building, infrastructure, logistics services and others that help drive smooth functioning of the industry.
"I request the chief minister to create a joint forum of OEMs present in Gujarat together with ACMA and the concerned government departments, which could periodically review the state of the industry and resolve any challenges that the industry could be facing from time to time," he said.
Ford India's Anurag Mehrotra: "Along with our Tier 1 suppliers, we have already invested more than Rs 1,400 crore in the state."
In the context of the availability of skilled labour, Minda added, "To support the OEMs and Tier 1, 2 and 3 suppliers, ACMA has launched several programs for skills and competency enhancements, which is the biggest challenge of Tier 1 and 2 suppliers. We are creating an ACMA Center of Excellence in Sonepat (Haryana) along with IIT Delhi and AOTS of Japan (The Association of Overseas Technical Cooperation and Sustainable Partnerships) and wish to replicate the same in Gujarat in the near future."
Giving his perspective on the growth momentum, HMSI's Minoru Kato, who lauded Gujarat's infrastructure, said, "The two-wheeler industry in India is growing rapidly and it is our responsibility to sustain this growth momentum. Gujarat has set a good example by creating a business-conducive environment. The state provides excellent infrastructure and power availability and is emerging as a key investment destination."
Tata Motors' Thomas Flack (speaking on the mic): "Now is the right time (for component suppliers) to act and invest in the growing market.
HMSI, along with its supplier base, has brought investments of over Rs 2,500 crore in and around Vithalapur. According to Kato, HMSI is a leader in Gujarat. "We have a market share of about 43 percent here. We are following a 2020 strategy, which involves concrete plan of being the leaders in quality and quantity in the India market," added the top boss at HMSI.
Anurag Mehrotra, MD, Ford India called upon the suppliers to invest in technology, R&D and scale. "We have a world-class facility in Sanand. We have over 18 suppliers onsite in Sanand with us to support our vehicle manufacturing operations. Along with our Tier 1 suppliers, we have already invested more than Rs 1,400 crore in the state and we have delivered direct/indirect employment to 1,000s of people. Thanks to the auto component base in Gujarat, Ford already procures over 45 percent of auto parts from within the state," he said.
Pricol showcased its reconfigurable cluster it has made for JCB, and the connected cluster used on the TVS NTorq 125cc scooter
Meanwhile, Thomas Flack of Tata Motors stressed the need to invest or stay invested in the India opportunity at the moment. "Tata Motors changed the automotive landscape of Gujarat. The company is working on its turnaround strategy and the results can be seen. We have the largest supplier base in India. We study the micro, macro and even geopolitical factors to understand where the market is heading. And we understand that now is the right time (for the suppliers) to act and invest in the growing market. This is not just the number three (passenger car) market in the world, it is bigger than that. These are exciting times in the industry," added Flack.
Kenichi Ayukawa of Maruti Suzuki India, who called Gujarat as the land of vast opportunities, called for gearing up for the bigger challenges. He underlined the need for skilled labour and creating a conducive environment for people to migrate for work with families in Gujarat as the state is set to grow in terms of providing employment opportunities with large-scale investments. "The state has good infrastructure, ease of doing business environment and proximity to the ports. Notwithstanding all upcoming plants, we have to now address the next level of infrastructural challenges that we are going to face. We need a large pool of skilled manpower to support the industry growth momentum. We need to develop settlements with facilities to make them livable. Maruti Suzuki is setting up schools and hospitals for public needs in this state. We are also setting up an International Automotive Centre of Excellence along with the state government. The facility will be ready by 2019. We seek the support from the state government for the same," he said.
Pricol showcases latest products at ACMA summit
Pricol, the Coimbatore-based Tier I supplier displayed its varied range of products including connected, digital clusters, sensors and fuel pumps at the ACMA Summit. Bullish on demand to its products across segments, the company is currently working to set up three new plants in Manesar, Sricity, and Hosur; all three will commence production by the second quarter of FY2019. The company has a strong order book up to 2020.
While the Manesar plant will make powertrain products like oil pump, water pump, auto fuel cock and fuel level sensors, the Hosur plant will be a dedicated plant for TVS Motor's two-wheelers. The Sricity plant will cater to Pricol's customers based in South India.
On display in Gandhinagar was Pricol's new and first-of-its-kind connected cluster fitted on the TVS NTorq 125cc scooter. The cluster can be connected to a cellphone through Bluetooth to take phone calls, sends SMSs and to view other vehicle-related information. This product has generated considerable attention in the industry and Pricol is already working with 3-4 major two-wheeler OEMs on similar connected cluster concepts.
The company has been focusing on the two-wheeler, commercial vehicle, agriculture and construction equipment segments for different clusters. Electric vehicles are also a growth area. Pricol has been making clusters including LCD and TFT type for EVs for some time now. These clusters do not have a fuel gauge, which is replaced by a battery/charge level indicator and other control indicators. Work is also underway with different customers' Body Control Modules which control a vehicle's entire electronic load through smart switches.
Pricol is also working on a tilt sensor for BS VI-compliant vehicles. This helps in shutting off the fuel in the event of the vehicle falling or skidding through a signal to the ECU which stops the fuel flow.
Engine electronics to fuel growth for India Nippon Electricals
India Nippon Electricals Ltd (INEL) is among very few homegrown companies which develop engine electrical and electronic parts in India. The rising share of electronic content in vehicles, specifically around the engine area as a result of rapidly evolving consumer expectations and the incoming regulations (BS VI, safety, RDE and others), will directly drive growth for the company in foreseeable future.
India Nippon Electricals' Ravinder Sharma says the company is evaluating the feasibility of setting up a plant in Gujarat.
Speaking to Autocar Professional, Ravinder Sharma, CEO, INEL said, "We supply engine electrical and electronic parts to two-wheelers, three-wheelers and general-purpose engines. We specialise in the engine electrical and electronics domain. We supply engine ignition system that includes magnetos, ignition coil, rectifier, regulator assembly, CDI, TCI and others. We also make some controllers and sensors. We have now also developed an EFI (electronic fuel injection) system."
About four years ago, INEL entered into a technical pact with a European company Athena, a known name in the ECU development domain. INEL has developed the EFI system under support from this alliance. "We have a technical arrangement with them. However, internally, we have our own R&D facilities as well. We are also working with a few customers in India on the development of EFI systems," said Sharma.
It is understood that all two-wheeler OEMs will have to source EFI systems for motorcycles and scooters to ensure adherence to BS VI emission norms from April 2020. The market size of two-wheelers by then is estimated to be more than 22 million units, pointing at a large-scale requirement for EFI systems (and assemblies) in India. This is a huge opportunity for suppliers of components required for the EFI system. However, despite such large-scale opportunity, INEL plans to approach the market softly.
"There are many big players in the EFI space. So, major customers are expected to source from them. We plan to enter this market in a humble way. The company will target somewhere between 5-10 percent of the overall demand for EFI systems initially," underlines Sharma.
Nevertheless, INEL's CEO aims to bank upon his company's core strengths – agility and strong technical support. "Our USP will be the flexibility that we plan to offer to our customers. Not only supplying the entire (EFI) system but we plan to give them (customers) the liberty to select the sources (suppliers of smaller parts that go in EFI assembly) and we will integrate (entire EFI assembly) for them. I am hoping that this will encourage the customers in terms of cost reduction," Sharma explained.
Typically Tier 1 suppliers, who are fast becoming aggregators, look at supplying an entire system or assembly (of small parts) to the OEMs. Nevertheless, INEL, in this case, aims to let the customer decide who they would like to source the smaller EFI parts such as throttle bodies, temperature sensors, fuel pumps, injectors and lambda sensors and others. This is understood to save costs for the OEMs, who are already expected to keep stringent checks on the rising costs under the BS VI program.
"I think the OEMs will look at ways to control rising costs under the incoming BS VI regime. This approach aims to help them in the same. However, there are times when the customer(s) tells us who they have chosen for sourcing specific parts. So in that case we can source those specific parts from respective suppliers and integrate the entire system for them," adds Sharma.
To ensure smooth integration, the company is now investing an undisclosed sum in setting up what it calls a world-class R&D centre in Hosur. According to Sharma, the planned unit will have emission analysers, chassis dynamometers, and other capital-intensive critical testing and validation equipment.
Revealing INEL's plan, Sharma stated, "The idea here is to offer support to the customer (on advanced engineering, product evaluations) so that we can jointly do the testing and validation thereby saving costs and time. It is scheduled to come up later this fiscal. R&D will drive the growth in future. We are a homegrown technology driven company. Our core focus areas are automotive electronics and software."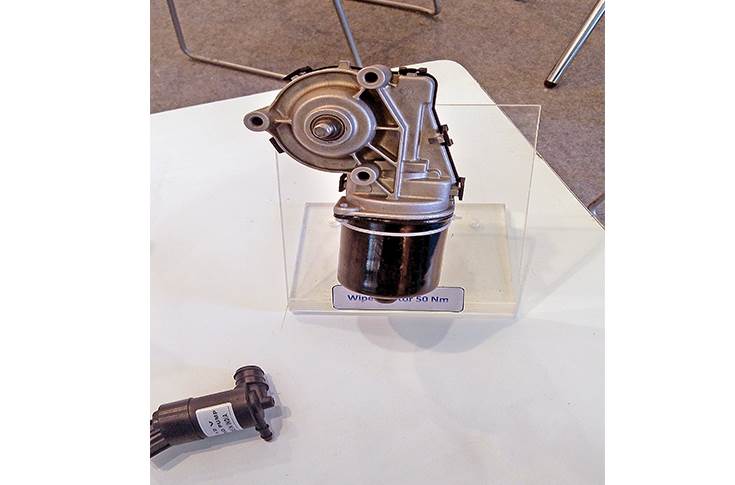 INEL employs a mix of engineers in software, hardware and electronics domains. The company has manufacturing footprint across four locations with main R&D center and mother manufacturing plant in Hosur. Other units are located in Pondichery, Revari (Haryana) and Kolhapur.
With increasing demand for electronic parts, capacity expansion is also on cards for INEL. Sharma says there is enough land bank across all locations to accommodate the same. INEL's current manpower across all locations is about 1,500 people.
"We have also developed integrated starter generator system (ISG). It is already under testing stages. ISG and EFI systems will be two main vehicles of growth for us in the near future. We make speed sensors, temperature sensors, pressure sensors and of other types. That is also an opportunity area for us. We make ECUs are biofuel engines for three-wheelers and Greaves Cotton is a major customer in this space. We are expecting FY2018-19 to be a good year with double-digit growth," estimated INEL's CEO.
INEL is also evaluating the possibility of setting up a plant in Gujarat. However, as per the senior official, this depends upon the orders from the customers based in the state. "The feasibility study is underway," signed off Sharma.
Faurecia displays cockpit of the future
Faurecia's interior systems business division displayed its cockpit of the future concept at the event. Called 'Intuition', Faurecia's flagship demonstrator, which was brought from Europe for display in India, showcased an entire dashboard with integrated instrument panels, center console and other components that surround the interior system.
"By showcasing Faurecia's Intuition demonstrator, we are trying to show how Faurecia is preparing to be a complete integrator and supplier of different technologies, of the entire cockpit of the future," Sameer Raina, engineering director – India and Thailand, Faurecia Interior Systems, told Autocar Professional.
He added that Faurecia, globally as well as in India, is trying to align its strategy towards moving from being a commodity-based supplier (supplying parts such as door panels, center consoles, instrument panels and others) to becoming a technology company.
In India, the company aims to position itself as the only supplier with the required capabilities to help the carmakers transform automotive interiors in their respective products in line with the rapid transformation. Faurecia is aggressively working on its R&D on interior systems that include connectivity, human machine interface, integration of electronics and other complex domains.
"In five years from now, the interiors of the vehicles won't be what they look like today. We will have bigger display units. We have seven-inch display units currently. We will have nine-inch touchscreens in two years," he added.
Faurecia, which has worked with Tesla and China's Byton on advanced interior systems globally, has developed some affordable, innovative solutions for India market. "The innovative air-vents and armrests are built to suit the requirements here," said Raina while demonstrating an armrest with an invisible tissue holder.
Offering a space saving solution, it is yet to be commercialised, he disclosed.
Faurecia now has more than 600 R&D engineers at its Pune facility, which caters to the company's interior and seating business divisions. The R&D unit on clean mobility, on the other hand, is based in Bangalore.
Prabha Engineering eyes OEMs in Gujarat
The 60-year-old, Mumbai-based Prabha Engineering, which makes wiper systems, windshield washer systems, industrial motors, mechanical products and switches for passenger car, CV and construction equipment manufacturers is eyeing business from OEMs in Gujarat.
At present, the company currently has one customer from the state – Atul Auto – with limited volumes. Now with Gujarat drawing more OEMs, Prabha Engineering is keen to expand its footprint there. The company's presence at the Value Chain Summit saw some OEMs evince interest in its products. The company is bullish about winning new business and has a strong order book for the next 2-3 years.
Prabha Engineering's domestic business primarily consists of supply of wiper systems and windshield washer systems to major customers including Mahindra & Mahindra, Tata Motors, Ashok Leyland, Daimler India Commercial Vehicles, Force Motors and construction equipment suppliers like JCB India and Kobelco.
Mahindra & Mahindra is its single largest customer to which it supplies windshield washer systems for its UVs and CVs. "We are aiming to become the largest supplier for the wiper systems to M&M with our new technological products," says Shrikant Chaphekar, managing director, Prabha Engineering.
In 2015, Prabha Engineering signed a technical tie-up with DYAuto of South Korea, which caters to the global car market. With this new partnership, the company, which is traditionally strong in the CV and construction equipment industry, is now targeting the passenger vehicle segment in a big way. After two years of development process, Prabha Engineering has developed a new product for passenger cars in India and also secured new business from a local OEM, for which supplies are likely to commence from September 2018.
"In India, our wiper system motor is the smallest with unique features and the only one of its kind available in the market for the CV segment. We are now getting PV technology to CVs, thus offering superior value to our customers," says Chapekar.
Prabha Engineering aims to capitalise on the technology from DYAuto to become a global supplier of windshield washer systems for CVs. To further cater to growing demand, the company which has a plant in Mumbai opened a new plant in Pune in early 2018 with production capacity of 700,000 motors per annum.
Prabha Engineering says it has an edge in India as there are very few domestic players in the product segment with local technological capabilities in wiper systems. The company competes with global Tier I suppliers like Bosch and Denso.
Alfa Rubbers looks to bond with Tier 2 suppliers
Chennai-based Tier 2 supplier Alfa Rubbers was among the many exhibitors trying to reach out to its customers for new business at the Value Chain Summit. The company makes precision moulded rubber components like O-ring, fuel seal, grommet, bush, gasket, rubber seat, washer, diaphragm layer, rubber cap, boot, collar, painting mask, rubber-to-metal-bonded components. The company, which supplies to the motorcycle, passenger car, agriculture, defence, aerospace and general engineering sectors, sees the automotive sector contribute nearly 70 percent of its total business.
Speaking on the company's participation at the Summit, Srikanth Krishnamurthy, director and CEO, Alfa Rubbers, said, "Over the past few years, we found that customers want their vendors to be close to them. Tier 1 suppliers
takes the lead on behalf of Tier 2 supplier. As a result, they are willing to buy products from us from any part of the country. The participation in this show is an attempt to reaching out to our Tier 2 suppliers. We are capable of supplies to our customers anywhere in the country," says Krishnamurthy.
With over three decades of experience in making rubber parts, the company has developed an acute understanding of the applications and formulation of rubber specific to the auto industry. Krishnamurthy expects the rubber industry to continue to grow as there is need for rubber in almost every industry, particularly the automotive sector.
JK Fenner (India) thinks big
The company, known for its belts and oil seals, is now betting big on products for front engine drive assistance by becoming a system supplier. The aim is to go beyond traditional belts and oil seals to entire engine system solutions like the belt drive system, fluid transfer system, cooling systems, sealing systems and anti-vibration mounts. This will expand the company's reach in areas such as NVH, emission reduction, efficiency improvement and durability.
"We have the capability to design, develop, test, evaluate and offer a complete solution. These have been built over the past few years," said company officials.
J K Fenner has seven plants in five locations across India but is not present in Gujarat, where it has its own distribution network. The company said the ACMA Value Chain Summit was a good platform to showcase its products to potential customers.
(This feature was published in the June 1, 2018, issue of Autocar Professional)
RELATED ARTICLES