A new Indian EV maker begins its journey
After around five years of preparations, Coimbatore-based Srivaru Motors has launched its first point of interface with the market amidst the ongoing challenging times.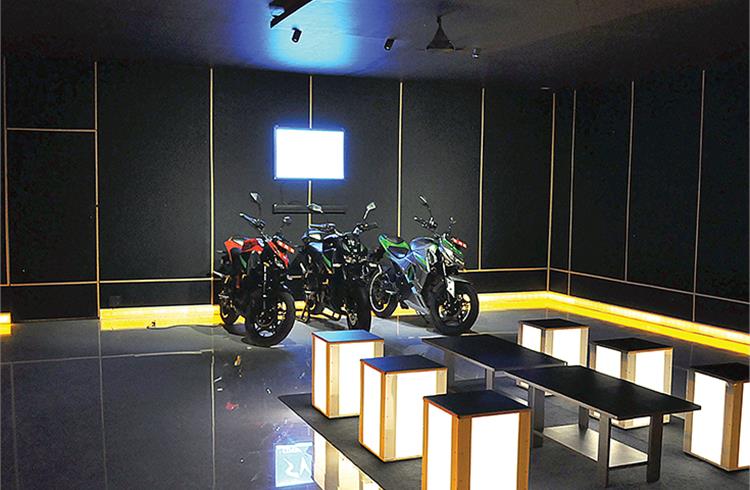 For India to be a major global hub for electric vehicles (EV), which many stakeholders believe she can be, there has to be appropriate holistic efforts. Srivaru Motors (SVM), a Coimbatore-based EV maker, harbours some holistic plans which, if successful, will not only help establish itself as a major EV industry player but also contribute to creating a robust indigenous EV ecosystem, especially in the state of Tamil Nadu.

Srivaru Motors has commenced its market journey in a low profile manner in the midst of the ongoing coronavirus pandemic. The emerging EV OEM inaugurated its first experience centre-cum-dealership, on the outskirts of Coimbatore, on July 2. After readying its debut model Prana, this is the first step in the market for SVM towards realising its ambition. "We want to be a mainstream player, with good quality bikes for serious bikers," Mohanraj Ramasamy, founder and CEO, Srivaru Motors, tells Autocar Professional. Over 50 users visited the experience centre, and over 30 test rides were taken on the inaugural day. Since then, one or two visitors were there every day at the experience centre initially.
Prana position
If the original launch plan could have been executed, SVM would have built a customer base by now, but the pandemic played spoilsport. Mohan says the Prana received the homologation certificate in end January and was scheduled for market launch in April. The Prana will make a market debut before Diwali now. However, Mohan says, the Prana has already found customers. "Thousands" of test rides have already been conducted and "thousands" have expressed interest in buying the motorcycle, while "hundreds" have booked a Prana with an initial payment of Rs 1,999. Consumer response has apparently come from across India, "mostly from affluent Tier 1 cities", according to Mohan.
The Prana is positioned as a 'clean' commuter bike with a good to strong dose of performance. The motorcycle will come with three variants — Elite, Grand, Class. The Prana Grand will be launched first, and will be followed by the Elite variant. The Prana Grand comes with a 4.32 kW lithium-ion battery pack which can be charged in four hours, and provides a "true range" of 126km. The claimed top speed is 123kph. What could be a major factor drawing the consumer interest is the 0-60kph acceleration time of under four seconds. In the top-end Elite variant, that's under development, the target is to achieve the same acceleration in under three seconds. The riding range in this variant could be 225 kilometres.
Given that electric mobility is poised to be
the future of the automotive industry, there is interest among entrepreneurs to be part of the future journey. This also helps new players entering the EV fray, like SVM. It has received expressions of interest from over 300 individuals to be dealers. "Around 170 of them are potential candidates with resources and ability to be a dealer," says Mohan.

The extra green factor
In the next five years, SVM plans to have a full product line for the top and medium customer segments. Larger plans include building peripheral services such as charging network, and a 'service-anywhere-in-India' model. "Our focus is to create the value for our customers and the society at large while growing SVM. We have plans in place to achieve these goals," says Mohan.
He has a vision for SVM "to lead the modernisation of the personal commute segment". The larger plan of contributing to a greener India includes a Rs 26,000 incentive for every customer who plants 10 trees before taking delivery of a Prana. The Prana Grand is priced at Rs 225,000. A customer who plants at least 10 trees and provides evidence in the form of photographs, can get it for Rs 199,000.
Building the ecosystem
Mohan, a computer engineer, who also had a stint of over three-and-half-years at Tesla Motors, is simultaneously working on a larger game-plan with his team, and with help from the Tamil Nadu government in establishing the business and scaling up. SVM is one of the companies with which the Tamil Nadu government has signed MoUs to build a mega EV industry in the state. The state government launched an EV Policy last year which envisages investment of Rs 50,000 crore to create a comprehensive EV ecosystem in the state. The government believes it will generate employment for up to 150,000 persons. SVM, along with its supplier partners, plans to invest Rs 150 crore in building its ecosystem, over a 10-year period.
SVM's location could also prove to be advantageous in its localisation efforts. For example, Coimbatore is a strong hub for electric motors. "They can build a motor even in a hut," says Mohan.
SVM is not the first EV maker in Coimbatore. It's to be noted that Ampere Vehicles, a pioneer in electric two- and three-wheelers, mainly for semi-urban and rural markets, is based in Coimbatore. In fact, SVM's manufacturing plant on the outskirts of Coimbatore is not too far from the Ampere Vehicles plant.
SVM has already invested around Rs 15 crore in setting up the business. Its plant sits in a 2.5-acre plot and can produce up to 6,000 vehicles currently. "We can expand up to three lines on the same place," says Mohan. He wants to do something similar to Tiruppur, the major textile and knitwear hub, in terms of the necessary ecosystem for localised and highly efficient supply chain. Tiruppur contributes to 90 percent of India's cotton knit wear exports. Mohan says, "The ecosystem will not only be for our own," even though SVM may have investments in some of them. SVM's plans also include having a network of satellite plants in other parts of the country.
Mohan is based in Fremont, California and travels to Coimbatore ever 15 days. A team of 30 engineers are continuously working in Coimbatore to develop the products. Three patents — chassis design, ease of mode functionality, and active helmet (air circulation) technology — are currently under process. The stints in the Elon Musk-led Tesla Motors, and Lam Research, a USA based semiconductor company, may have helped 43-year-old Mohan to hone his technical skills and also develop leadership skills. "Some command and control. I build a team who can do the job, and then delegate the work," he says. The stint at Lam Research, as its leader of global collaboration and communication helped Mohan learn to manage teams across the world.
The engineer-entrepreneur's vision and plans may be interesting but without backers he may not be able to realise all successfully. A few senior industry professionals have come on the SVM Board to provide support in various technical and business matters and some backing SVM financially too. Among them are P Raja Manickam, founder and CEO, Tessolve Semiconductor and Ganesh V Iyer, MD, Nio USA and global CIO, Nio are supporting the SVM story. Ganesh V Iyer is also the former CIO of Tesla Motors.
Even as Mohan conceptualised the SVM story in the USA and continues to partly work from there, his vision is to make SVM a truly 'Make in India, Made by Indians' story. He wants to leverage the huge engineering talent pool of the country, especially in Southern India, for SVM to achieve success. "Lot of Indian engineers do a lot of work in India, but not necessarily for India," says Mohan. Companies like SVM are trying to change that. Success of its plans will not only help SVM realise its goal, but it will also fuel India's vision of building a major indigenous EV industry.
(This feature was first published in August 15 issue)
RELATED ARTICLES