Two-wheeler sales see uptick in June but will demand sustain?
Pent-up demand delivers marginal growth in June but there needs to be plenty more demand to say that the recovery is real. Will rural India come up with a rescue act?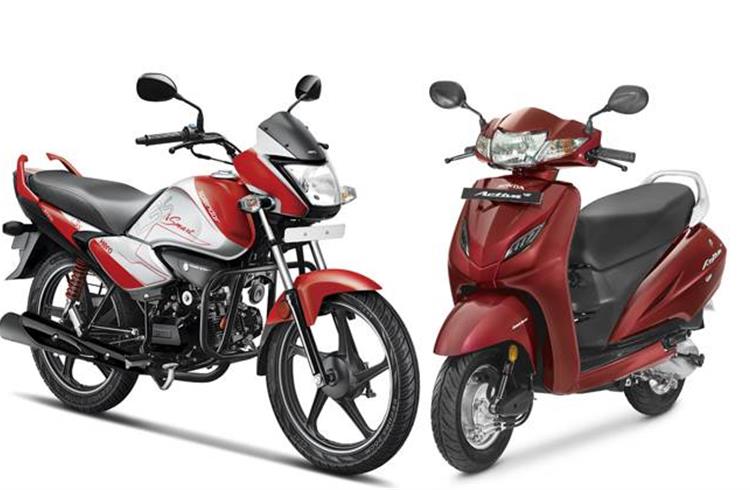 June 2021 has turned out into a month of good numbers, both for the passenger vehicle segment as well as the commercial vehicle industry. While the two-wheeler industry did not match their rate of growth, it was a similar case of pent-up demand translating into deliveries to dealers and conversion into retail sales across the country.
A quick look at the top five two-wheeler OEMs and their June numbers (see table at the bottom) reveals that at 987,828 units, total sales were just a 3% increase over June 2020 (961,748) but a 199% jump over the lockdown-impacted May 2021's 330,823 units.
With most states lifting lockdowns and easing curbs on business operations, showrooms have opened and sale of two-wheelers have taken the cue. After taking a big hit in April and May, June 2021 numbers have come as a respite for two-wheeler OEMs. Much of the sales can be put to pent-up demand being converted into sales which begs the question: is the sales momentum real? Will two-wheeler manufacturers see sustained sales and will demand take off in the months to come? Here's looking at how the top players fared last month.
Hero MotoCorp: 438,514 units / +2%
Hero MotoCorp sold 438,514 units, which is marginal 2% year-on-year growth. Month-on-month analysis reveals the company posted 175% growth over May 2021, when it sold 159, 561 units at a time many states were in lockdown. In the April-June 2021 quarter, Hero sold a total of 1,024,507 motorcycles and scooters.
The company remains cautiously optimistic about customer demand in the coming months. The expected surge in personal mobility, forecast of a normal monsoon in several parts of the country and improving rural sentiment are expected to lead to a swift revival in sales.
Honda Motorcycle & Scooter India: 212,446 units / +5%
Honda's two-wheeler arm in India saw an uptick in demand in June. The company sold 212,446 units in the domestic market, a 5% YoY growth.
Yadvinder Singh Guleria, Director – Sales & Marketing, HHMSI, said, "Almost 95% of HMSI dealers have resumed business while we are gradually scaling up operations across all four plants. Overall, the two-wheeler sales performance in June 2021 has boosted the market sentiment as more customers are visiting dealerships and enquiring online."
Bajaj Auto: 155,640 units / +6 %
Pune-based Bajaj Auto has delivered a strong performance in June 2021. With lockdowns opening across various states in India, the company sold around 155,640 units in the domestic market in the month of June 2021. This is a 6% growth in YoY sales. The company also had better growth in the export market too where they exported around 154,938 units, a 43% growth from June 2020.
Cumulative Q1 FY2022 (April-June 2021) numbers point to a recovery in overall sales and indicate speedier growth in the months ahead. At 342,552 units, domestic sales were an 84% increase over year-ago numbers (Q1 FY 2021: 185,981), understandable given that FY2021's first quarter was hugely impacted by the pandemic and the widespread lockdowns across the country.
Two-wheeler exports at 556,753 units are a 160% improvement over Q1 FY2021 and remain a strong buffer to the company in the event of the domestic market faltering.
TVS Motor Co: 145,413 units / 0%
Chennai-based TVS Motor Company registered sales of 145,413 units in June 2021 (June 2020: 144,817 units), which makes for flat growth.
The company is said to have reduced dealer stocks to support its partners and will produce to maintain adequate inventories for customer demand. In Q1 FY2022, TVS sold 619,000 units.
Royal Enfield: 35,815 units / -2%
The motorcycle manufacturer sold 35,815 units in June, against 36,510 units for the same month last year, down 2% YoY. However, there is growth month on month, given that in May 2021, a total of 20,073 units were sold.
Growth outlook
Whether June numbers indicate green shoots of revival will be known only after a couple of months of sustained growth. While robust consumer demand is not likely to return till the festival months later in the year, it is expected that the rural India market will come up with a rescue act. Timely arrival of the monsoon across the country and a healthy rabi crop along with government incentives for rural India are likely to drive demand for entry level motorcycles.
Urban India is likely to see growing demand for personal mobility as offices open, albeit gingerly, across various parts of the country.
ALSO READ Pent-up demand powers PV sales in June
RELATED ARTICLES