Pick up in economic activity bolsters CV sales in June
Commercial vehicles see increase in both enquiries and overall retail sales in June.
After the absolute bloodbath in May, commercial vehicle sales in June have shown signs of improvement. With economic activity slowly picking up following the easing of lockdowns and the second wave of Covid-19 showing signs of flattening, CV sales are also signalling an upward trend. The number of enquiries as well as overall retail numbers are seeing improvement.
Overall, June sales are up 85 percent year-on-year at 39,809 units compared to 21,533 units in June 2020. CV sales in May 2021 were at a paltry 656 units as a result of lockdown in many regions across the country. On a quarterly basis, Q1 of FY2022 started on a positive note with sales of 97,555 CVs compared to 29,682 units for the same quarter last year.
The country's largest CV maker, Tata Motors sold 19,594 units in June 2021 (+146% YoY) compared to 7,968 in June 2020. For the quarter, Tata Motors clocked 300 percent-plus gains at 43,400 units in Q1 FY2022, albeit on a low year-ago base.
Mahindra & Mahindra reported sales of 12,604 units in June (+21% YoY), and 34,034 units in Q1 FY2022 (+118% YoY). According to the company, the gradual opening up of the market in a phased manner has helped boost demand in both urban and rural markets. The company expects an upward trend in demand to continue across all segments and markets.
Chennai-headquartered Ashok Leyland reported sales of 5,851 units in June, and 16,550 units in Q1 FY2022. However, month-on-month sales dropped for the CV major's bus division.
VE Commercial Vehicles was also in the positive with sales of 1,760 units in June, and 3,971 units for Q1 FY 2022.

Growth outlook
While companies are cautiously monitoring the situation and aligning business plans as per the evolving scenario, the stabilisation of the supply chains support the sentiment for CV makers. However, the semiconductor supply issue remains a challenge and the Delta strain of Covid-19 is being seen as a concern going forward.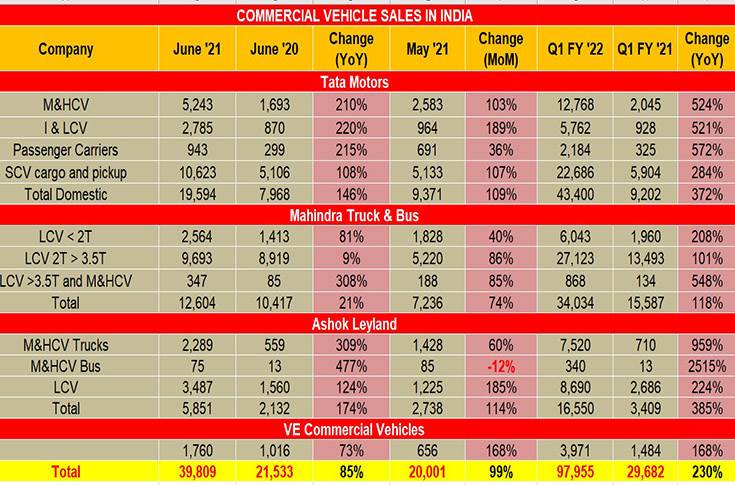 RELATED ARTICLES