Top 10 Scooters in FY2020 | Activa sells 26 lakh units but down 14% YoY, Suzuki Access and TVS NTorq  outperformers
Even though the top 4 models remain the same as in FY2019, the Access and NTorq are proving to be the movers and shakers.
Not too long ago, the scooters segment was a shining star in the two-wheeler industry, keeping pace with the 20% year-on-year growth with the SUV segment, the shining star of the passenger vehicle market. But 18 months ago, the tide turned, the economy moved into slow lane and scooters began bearing the brunt of dwindling demand even as SUVs continued to prove to be the strong buffer for the much-buffeted PV segment.
FY2020, a year which Indian OEMs would like to forget in a hurry, was an out-and-out sales speedbreaker with overall industry numbers down 18% YoY. Two-wheeler sales too were by 17.76% at 174,17,616 units comprising scooters (55,66,036 / -16.94%), motorcycles (112,14,640 / -17.53%) and mopeds (636,940 / -27.64%).
Interestingly, despite the overall 18% decline in numbers for the two-wheeler segment in FY2020, the sales equation between scooters and motorcycles remained the same as in FY2019: 32% scooters and 64% motorcycles, something OEMs would do well to note.
The Top 10 Scooters list sees the first four slots held by the same models as in FY2019, albeit with differing numbers. The shakeout has happened in the bottom six. To know more, read on.
No. 1 - Honda Activa: 25,91,059 units, down 13.87%
Selling nearly 2.6 million units in a single year is no mean feat and Honda Motorcycle & Scooter India has done just that. At 25,91,059 units, that constitutes sales of 7,098 Activas every single day! But the fact of the matter is that despite being a millionaire 26 times over last fiscal, Activa sales are down 13.87% YoY (FY2019: 30,08,334) when they have inched past the 3-million mark. In FY2020, Activa sales accounted for 82% of HMSI total scooter sales of 31,47,919 units, which gives it a scooter market share of 56.56% (+1.64%)
HMSI would have surely liked to do better but blame the decline in FY2020 on adverse market conditions, the shift to pricier BS VI models and of course the lockdown. Nonetheless, the Activa remains unsurpassable at the top of the Top 10 best-sellers list and will remain so in the foreseeable future. The yawning gap to No. 2 is simply too much to be filled in a hurry. That's because the No. 2 best-selling scooter is India is 19,95,514 units or nearly 2 million unit away!
No. 2 - TVS Jupiter: 595,545 units, down 25%
The Jupiter, the flagship scooter for the Chennai-based manufacturer, manages to hold onto its No. 2 position by a small margin, as the hard-charging Suzuki Access, India's No. 1 selling 125cc scooter, was just 24,647 units. In FY2019, the gap between the two rivals was 249,294 units! So, if TVS doesn't re-charge the Jupiter's sales strategy, there could be a new No. 2 in FY2021.
On November 27, 2019, a day after it rolled out its first BS VI-compliant two-wheeler, the Apache RTR, TVS expanded its BS VI product range to its Jupiter, which is now equipped with ET-Fi (Ecothrust Fuel injection) technology. The BS-VI TVS Jupiter Classic ET-Fi is priced at Rs 67,911 (ex-showroom Delhi).
Launched in 2013, the Jupiter remains the best-selling TVS scooter and crossed the million-unit sales mark 30 months after launch. It has a customer base of over 3 million customers. The TVS Jupiter is available in four variants – Base, ZX (Disc and Drum), Classic and Grande.
No. 3 - Suzuki Access 125: 570,898 units, up 6%
From the looks of it, a 6% year-on-year growth for the Suzuki Access 125 is not much but compare this performance to the red ink splattered on all other scooter sales and the real growth story of the Suzuki scooter comes to the fore. This machine has helped Suzuki Motorcycle India ride high because, despite the multiplicity of growth-impacting issues, this is one two-wheeler firmly bucking the slowdown. The Access, India's best-selling 125cc model, has single-handedly given Suzuki a new charge in the market.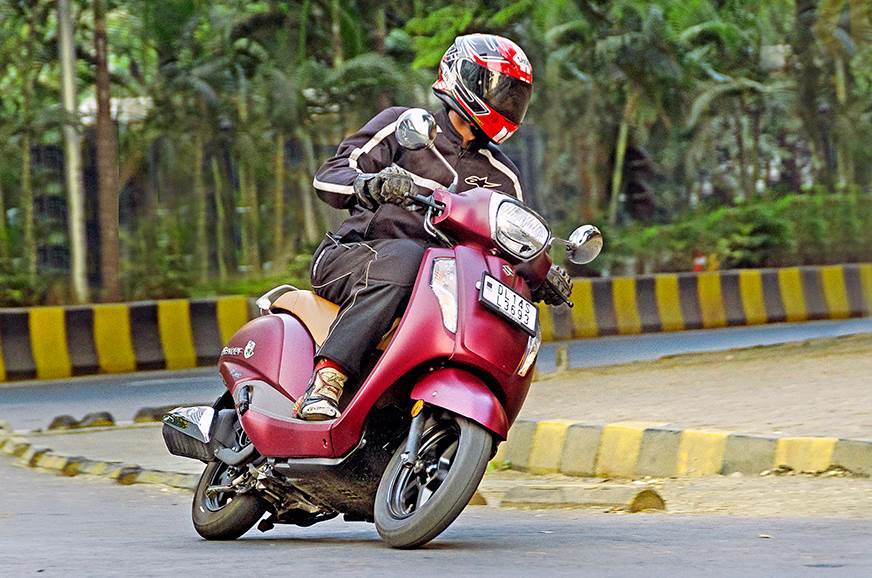 In FY2020, the Access 125 sold 570,898 units, which marks 5.89% YoY growth (FY2019: 539,123). This growth would have been more if not for the poor lockdown month that March was. Nonetheless, the Access 125, which accounted for 88.18% of Suzuki's total scooter sales of 647,383 units, has given the company a smart jump in scooter market share to 11.63% (2.45%).
Other than HMSI, all the six other OEMs have shown negative sales. In terms of market share, Suzuki has gone ahead of Hero MotoCorp (7.23%) and is now third in the pecking order, after leader HMSI (56.56%) and TVS Motor Co (18.30%)
No. 4 - Honda Dio: 439,799 units, down 1.44%
Taking fourth place on the Top 10 scooters chart is the Honda Dio with 439,799 units, down 1.44% YoY (FY2019: 446,264).
Compared to the Activa 'family scooter', Honda has always targeted the younger scooter rider with its 110cc Dio, and BS VI model launched in early February scores high with its new styling. The new Dio is powered by the same BS VI 109.51cc, single-cylinder engine that debuted on the Activa 6G. However, it is tuned slightly differently – it develops 7.76hp at 8,000rpm and 9Nm of torque at 4,750rpm, compared to the Activa's 7.79hp at 8,000rpm and 8.79Nm of torque at 5,250rpm. The new Dio is longer, wider and taller than the outgoing model, partly because it sits on a new chassis that debuted on the Activa 125 and 6G.
The 2020 BS VI Honda Dio is available in two variants – Standard (Rs 59,990) and the Deluxe (Rs 63,340). The Standard misses out on the LED headlight and uses a halogen-bulb powered unit instead, it gets an analogue gauge instead of the aforementioned digital console and it also uses black-coloured wheels, instead of the gold-coloured ones seen on the Deluxe. These prices mean the Dio sees a hike of around Rs 7,000 over the BS IV model. The scooter has no direct competitor as most other sporty-looking scooters are 125cc offerings. That said, TVS' BS6 Jupiter Classic is priced at Rs 67,911, making this quite a bit more affordable.
No. 5 - TVS NTorq: 265,012 units, up 24.39%
Zero to nearly 500,000 units in just 26 months? Yes, that's what the TVS NTorq has achieved. The NTorq, TVS Motor Co's snazzy-looking 125cc scooter launched on February 5, 2018, has recorded at the domestic two-wheeler box office. Till end-March 2020, this 125cc scooter has notched total sales of 497,860 units, 2,140 units shy of the half-a-million mark. And, in FY2020 moved up one rank to fifth place from sixth in FY2019.
NTorq sales
FY2018: 19,809 (February & March 2018)
FY2019: 213,039
FY2020: 265,012
Total: 497,860
In FY2020, the NTorq sold a total of 265,012 units, up 24.39% YoY and accounted for 26% of TVS Motor Co's total scooter sales of 10,18,424 unit in FY2020. The Jupiter, the No. 2 scooter in India, accounted for 58.47%
Targeted at millennials, the NTorq, which is TVS' first 125cc scooter and the production version of the Graphite concept showcased at Auto Expo 2016, is powered by a CVTi-REVV 124.79cc, single-cylinder, 4-stroke, 3-valve, air-cooled SOHC engine that develops 9.4hp at 7500rpm and 10.5 Nm at 5500rpm. The NTorq comes with several segment-first features including the TVS SmartXonnect, which offers Bluetooth connectivity with the rider's mobile phone (via a mobile app), thus providing navigation assist, location assist, call / sms alerts, rider stats and several other features. The TVS NTorq became the only scooter in its segment offering a fully digital console with over 50 features.
No. 6 - Yamaha Fascino: 166,491 units, down 17.67%
The Yamaha Fascino does not have a very good story to tell about its performance in FY2020. Its sales of 166,491 units are down 17.67% (FY2019: 202,227). It, however, moves up from FY2019's seventh position to sixth in FY2020 but that's because the others have fared worse.
In December 2019, Yamaha became India's latest OEM to enter the fast-grwoing 125cc space and discontinued all its 110cc models with the emissions upgrade to BS VI.
The Yamaha Fascino is powered by a new 125cc, fuel-injected, air-cooled engine that produces 8.2hp at 6,500rpm and 9.7Nm at 5,000rpm. These figures are pretty much in the same ballpark as the Activa 125 BS VI, but are considerably lower than the 125cc scooters from TVS, Suzuki and Aprilia. What helps the Yamaha is its low 99kg kerb weight, resulting in a higher power-to-weight ratio of 82.82hp per tonne.
No. 7 - Hero Pleasure: 155,329 units, down 5.58%
At No. 7 is the Hero Pleasure with 155,329 units, down 5.58% on year-ago sales of 164,515 units but up two positions from FY2019.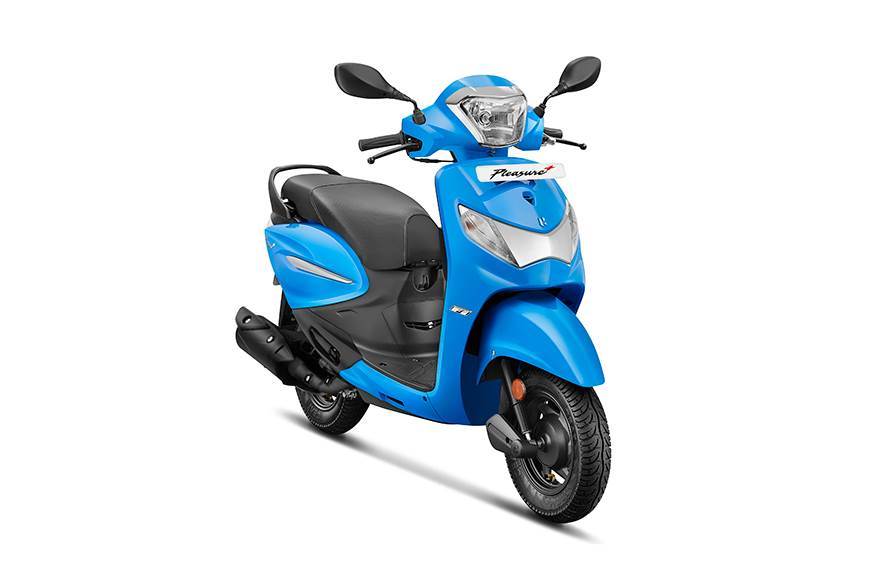 In May 2019, the Pleasure scooter received a rather significant update. Dubbed the Hero Pleasure Plus, the scooter waspriced at Rs 47,300 for a sheet metal wheel variant and Rs 49,300 for an alloy wheel variant (ex-showroom, Delhi). The redesigned scooter is now powered by the larger 110.9cc motor, also seen on the Duet and Maestro Edge siblings and developing 8.1hp and 8.7Nm of torque.
In terms of competition, the Pleasure Plus will take on scooters like the Yamaha Fascino (Rs 55,623) and the Honda Dio (Rs 52,938).
No. 8 - Hero Destini 125: 113,944 units
Hero MotoCorp launched the Destini 125 in mid-2018, its first attempt in the 125cc scooter space and also the most affordable in its class. However, the Destini 125 has pulled in much lesser numbers than Hero would have liked.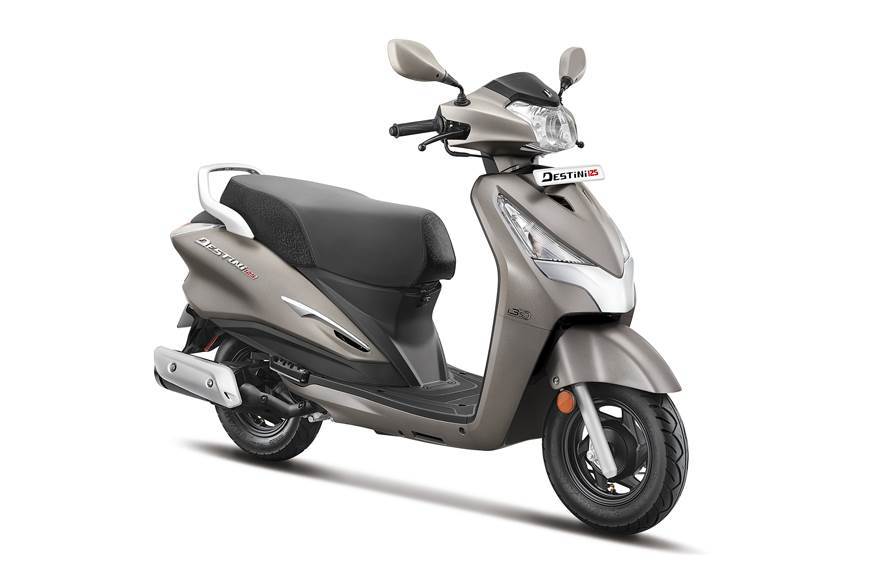 On February 17, Hero MotoCorp launched the BS VI-compliant Destini 125 at Rs 64,310 (LX variant) and Rs 66,800 (VX). This is an increase of around Rs 7,000 over the corresponding BS IV variants. The Hero Destini 125 LX undercuts the BS VI Suzuki Access 125 by around Rs 500 and is now the most affordable BS VI compliant 125cc scooter on sale in India.
For 2020, the Hero Destini uses a fuel-injection system instead of a carburettor. However, unlike other scooters, the BS VI Destini has seen an increase in power and torque when compared to the BS4-compliant version. It now develops 9hp at 7,000rpm and 10.4Nm at 5,500rpm, instead of 8.8hp at 6,750rpm and 10.2Nm at 5,000rpm. Hero also claims the BS VI version is 11 percent more fuel-efficient.
The Destini 125 continues to feature the start-stop tech digi-analogue instrument cluster. A disc brake option isn't offered, keeping costs in mind. The base LX variant also misses out on dual-texture seats, alloy wheels and chrome garnishes on the apron. Features like a mobile charger and a boot lamp are standard on the VX, while it's optional on the base LX variant.
No. 9 - Yamaha Ray: 107,485 units
The second Yamaha scooter in the Top 10 list, the Ray turned BS VI in early February with the rollout of the BS VI-compliant Ray ZR 125 and Ray ZR 125 Street Rally scooters. The Ray ZR 125 is available in two variants – drum (Rs 66,730) and disc (Rs 69,730), while the Ray ZR 125 Street Rally is only available with a disc brake at Rs 70,730.
Compared to the drum-brake variant of the BS4 110cc Ray ZR, the new 125cc model costs Rs 11,849 more. This increase is justifiable, considering just how big an update the new model is.
The outgoing Yamaha Ray ZR and its variants are powered by a 113cc, single-cylinder, carburetted engine that produces peak output figures of 7.2hp and 8.1Nm of torque. Meanwhile, the new Ray ZR 125s are powered by a 125cc, single-cylinder unit that is fuel-injected and BS VI-compliant.
The updated model's output figures are 8.2hp/9.7Nm, and this should result in a noticeable improvement in performance. Yamaha has also claimed that the new engine is 16 percent more fuel efficient (at 58kpl) in its tests as per the WMTC (World Motorcycle Test Cycle) which includes start-up, acceleration and deceleration.
The Ray ZR 125 has also been equipped with a quiet engine-start system and a stop/start system, both of which we've seen on the recently launched BS VI Honda Activa 125. The Street Rally also includes other features like a new digital instrument cluster, and a wider 110-section rear tyre. The new Ray ZR125s feature a beefier design and the Street Rally variant also comes with a host of accessories including a front and rear crash guard.
No. 10 - Hero Maestro: 94,533 units, down 65% YoY
Closing the Top 10 scooter chart for FY2020 is the Hero Maestro with 94,533 units, which is a massive 65% down on year-ago sales of 272,432.
On February 17 this year, in a bid to re-charge sales and also move into BS VI territory, Hero MotoCorp launched the BS VI-compliant Maestro Edge 125 in three variants – Rs 67,950 (alloy wheel with drum brake), Rs 70,150 (alloy wheel with disc brake) and Rs. 70,650 (alloy wheel with disc brake and a unique colour option). This is an increase of around Rs 8,000 over the carburetted models.
The Maestro Edge 125 shares its engine with Hero's only other 125cc scooter, the Destini 125. The new BS VI-compliant version makes 9hp at 7,000rpm and 10.4Nm at 5,500rpm from the 125cc, fuel-injected engine, identical to the figures of the BS6-compliant Destini 125.
In terms of styling, not much has changed from when the Maestro Edge was first unveiled at Auto Expo 2018 in Delhi. The scooter features sharp and sporty styling, and is targeted at younger audiences. However, it does get a unique new iridescent colour option as an option.
Like the BS IV Maestro Edge 125, the BS6 model features an external fuel-filler cap and a digi-analogue instrumentation cluster, as well as side-stand and service indicators. Other features include the addition of Hero's start-stop technology (Hero i3S) and an underseat USB
With a starting price of Rs 67,950, the new Maestro Edge 125 is more expensive than the BS VI-compliant base versions of the TVS NTorq 125 (Rs 65,975), Suzuki Access 125 (Rs 64,800), Yamaha Ray ZR 125 (66,730) and the Honda Activa 125 (Rs 67,490). Will the Maestro be in FY2021's Top 10 best-sellers list? Watch this space.
RELATED ARTICLES