Top 10 Scooters in 2015-16
Total scooters sold in India during FY2015-16 stood at 5031,675 units, a growth of 11.79% YoY. Of all 3 categories, the most popular segment belongs to the 110cc engines offer a good mix of power and performance.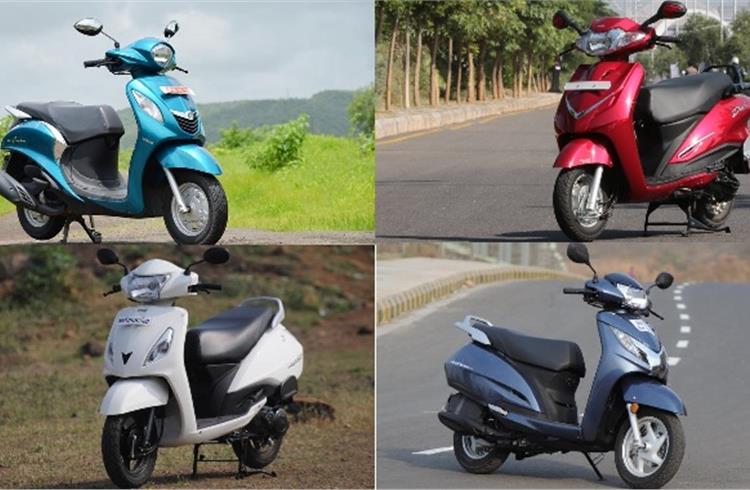 2015-16 was a landmark year for the Indian scooter marketplace as the segment crossed the 5 million units landmark for the first time ever. With the motorcycle and moped segments recording tepid sales, scooters were the saving grace for the Indian two-wheeler industry with an overall market share of 30 percent in 2015-16.
Total scooters sold in India during FY2015-16 stood at 5,031,675 units, a growth of 11.79 percent year-on-year (YoY). Of all three categories, the most popular segment belongs to the 110cc engines, which, as OEMs say, offer a good mix of power and performance.
Like every year, Honda Motorcycles & Scooters India's (HMSI) Activa continues its insurmountable lead at the top of the charts with sales of 2,466,350 units in 2015-16. The Activa's iron grip on the top spot of bestselling scooters is further highlighted by the 13 percent sales increase it posted in 2015-16. The Activa, first launched in 2001, also crossed the 10 million sales mark in September last year. HMSI has three variants of the scooter in India. According to YS Guleria, senior VP, sales and marketing, HMSI, "Nearly 75,000 female buyers opt for an Activa every month."
TVS Motor Co's Jupiter was a big winner in 2015-16 as it beat Hero MotoCorp's Maestro to the second spot with sales of 537,451 units. This was despite the Maestro sales growing by 3 percent to 498,754 units. However the Jupiter, which is recognised as one of the top quality scooters in the JD Power India Two-Wheeler Initial Quality Study 2015, posted a staggering 42 percent increase in its sales, helping it overtake the Maestro.
Honda's Dio, which is increasingly gaining popularity in the urban market due to its trendy styling, was bought by 214,112 buyers in 2015-16, taking it to the fourth spot.
Meanwhile, it was a close battle for the fifth and sixth spots with the Hero Pleasure and Suzuki Access reporting declining sales of 31 percent and 15 percent respectively. Hero's stolid Pleasure scooter, which is aimed at young female buyers, sold 183,839 units; while the Activa-rivaling Access managed to sell 176,128 units.
Recommended: Top 10 Motorcycles in 2015-16
Yamaha Motor India's stylish Fascino, which was introduced in May 2015, is the newcomer in the list with sales of 142,045 vehicles since its launch. It crossed the 100,000 sales mark within four months of its launch. The 113cc scooter, which is pitted against the likes of Honda Activa 3G and TVS Scooty Zest 110, is also the bestselling scooter for the company. Speaking about the Fascino, which also won the India Design Mark award last month, Roy Kurian, VP (Sales & Marketing), Yamaha Motor India said, "We want to see monthly sales of the Fascino in the range of 20,000-25,000 units, beyond which it will go into its own orbit, and it will then continue to grow thereafter."
Closely following the Fascino, was another newcomer – Hero MotoCorp's Duet, which posted sales of 136,184 units since its launch in late October last year. Posting consolidated monthly sales, the Duet has even managed to outshine Hero's Maestro, which was launched two weeks before the Duet.
Also read: Top 10 Two-Wheelers in 2015-16
The Top 10 list closed with Honda's Aviator and Yamaha's Ray, both posting negative sales of 20 percent and 8 percent respectively.
The scooter market is set for exciting times in 2016-17. Even apex industry body SIAM has said so in its FY2017 outlook, citing the continuing emphasis of manufacturers on new model launches and aggressive capacity expansion as also the continuing consumer shift from motorcycles. Further, OEMs are looking to expand their rural dealership network sizeably this fiscal and with the Met predicting a normal monsoon, rural market scooter sales are forecast to increase substantially. Additional demand is also set to come from the payouts of the Seventh Pay Commission.
Recommended:
- Top 10 fuel efficient motorcycles in India
RELATED ARTICLES