New models power UV market share growth for Hyundai, Kia, MG and Renault 
Surging demand for new models from two established OEMs and two newcomers sees them carve out UV market share; Hyundai-Kia combine now controls 24% of India's UV segment.
The Hyundai Venue, Kia Seltos, MG Hector and Renault Triber are giving a new charge to overall UV industry sales and also expanding their company's UV market share.
Entry of two new brands – Kia Motors and MG Motor – has added fizz to SUV sales, which are up 22% YoY in October 2019 and 0.14% in April-October. UVs sole segment in the black in fiscal year to date.
Take a close look at India Auto Inc's October 2019 market performance and the sole vehicle sub-segment that shines is utility vehicles (UVs). At 22.22% year-on-year growth (100,725 units), it not only accounts for 35.33% of total passenger vehicle sales (285,027 units) but importantly it is also the sole category to be in the black in the first seven months of the fiscal year to date (April-October 2019: 547,572 units / 0.14%). Here too, it constitutes 33 percent of overall PV sales in the seven-month period.
SUVs clearly are good news for the beleaguered Indian automobile industry, which has seen 11 straight months of overall sales decline, a trend which looks to continue till the fiscal year-end. A clutch of recently launched SUVs, from global manufacturers, are playing a key role in the resurgence of demand for this vehicle type. Not surprisingly, their robust sales have resulted in their manufacturers expanding their UV market share, eating into established OEMs' share; this at a time when the chips are down for the rest of the industry.
On November 11, SIAM president Rajan Wadhera, while announcing the industry numbers for October 2019, commented: "The market has expanded with the entry of two new OEMs in the PV segment. A sizeable percentage of the UV growth comes from the new models in the market and it is not driven by excessive discounting. So, we can clearly see that people are giving value to novelty."
Four SUV manufacturers – Hyundai Motor India, Kia Motors India, MG Motor India and Renault India – stand out with their robust performance in October and the preceding six months of this fiscal. All the other 13 OEMs have seen their sales decline year on year. While newcomers Kia and MG have opened their sales accounts in India, Hyundai and Renault have notched 40% and 107% respectively (see domestic sales and market share statistics below).
Compact Venue gives Hyundai big heft
Leading the SUV charge for the Chennai-based Hyundai Motor India, is its first-ever compact model, the Venue. Launched on May 21 the Venue, along with the well-established Creta, accounts for 105,628 units of the 106,366 units sold in April-October 2019 period (up 40% / April-October 2018: 76,069), with the remaining 738 units coming from the Tucson (down 29% YoY / April-October 2018: 1,045).
The Venue, which comes with three engine options – a 90hp, 1.4-litre diesel, an 83hp, 1.2-litre naturally aspirated petrol unit, and a 120hp, 1.0-litre turbocharged unit – is the volume driver for the company and in the six months since launch has been a regular in the Top 5 UVs chart. The Venue comes with three engine options – a 90hp, 1.4-litre diesel, an 83hp, 1.2-litre naturally aspirated petrol unit, and a 120hp, 1.0-litre turbocharged unit.
In October, the Venue-Creta combine sold 15,845 units, up 35% year on year (October 2018: 11,702; only Creta sales). The strong performance of Hyundai's SUVs, which account for 36 percent of the Korean carmaker's total PV sales of 294,444 units in April-October 2019, have helped the company expand its UV market share by over 5 percentage points, to 19.43% from 13.91% a year ago -- which makes it the biggest share gainer in this period.
Kia rides high on Seltos
Kia Motors, Hyundai's sister company, is having a great run in India. Barely three months after the launch of its first product on August 22 – the Seltos – the company has grabbed a near-5% UV market share.
In October, the Seltos notched its best monthly sales yet – 12,786 units – and crossed the 25,000-unit milestone in the domestic market. The carmaker reportedly sold 2,184 Seltos SUVs on Dhanteras (October 25), which is popular in India for purchase of a new vehicle, among other consumer buys.
Cumulative sales for the August-October 2019 period add up to 26,576 units, which constitutes a monthly average of 8,858 units, which is very good going for a new car brand in the country.
Kia Motors India says it has received over 60,000 bookings for the Seltos till now and, to ensure timely deliveries, has started the second shift to ramp up production at its manufacturing facility in Anantapur. The company says it will not close bookings as the plant is fully capable of meeting the rising demand for the Seltos.
What is helping the BS VI-ready Seltos make headway in the competitive Indian SUV market is its very aggressive pricing. The Korean carmaker's pricing strategy for all of 16 variants covers virtually every price point and starts from Rs 969,000 (for the entry level petrol Smartstream G1.5 HTE model) and goes up to Rs 15.99 lakh (for the diesel 1.5 CRDi HTX plus (6AT) and Petrol Smartstream 1.4 T – Gdi GTX (7DCT) and GTX plus top-end variant). With this, it takes on rivals like the Hyundai Creta, MG Hector, Nissan Kicks, Mahindra XUV500 and the Renault Captur in India.
MG Hector sales picking up pace
The other brand-new car brand to enter India is MG Motors, which launched the tech-laden Hector on June 27. In October, the Hector, which comes in four diesel variants, two petrol-manual variants, two petrol-automatics and three petrol-hybrids, sold 3,536 units. This constitutes a growth of 35.5 percent over September (2,608 units) with total sales in the August-October period being 9,670 units and giving it a UV market share of 1.77%, good going for a new brand in India.
On Dhanteras day, MG Motor India delivered 700 Hectors. In Delhi-NCR the company delivered around 200 cars from a single point, which it says marks one of the largest delivery events on the day which is considered auspicious in India to bring home a new vehicle.
MG Motor India has close to 40,000 bookings in hand, making the midsize SUV sold out till February 2020. It now aims to clear the entire backlog till February with the second-shift at its plant in Halol, Gujarat having begun this month. On October 22, four months after it launched the SUV in India, the company achieved the milestone of rolling out the 10,000th Hector.
"The MG Hector continues to further strengthen its position in its segment and win the hearts of our customers. As we gradually ramp up our production, we aim to ensure the highest levels of customer satisfaction through timely vehicle deliveries," said Rakesh Sidana, director, Sales, MG Motor India.
New Triber tracks true for Renault
Renault India looks to be making a comeback in the UV market, thanks to the recently launched Triber which, along with the Duster, Captur and Lodgy makes up its UV range. In October, the French carmaker sold a total of 6,084 UVs, up 504% albeit on a low year-ago base. For the April-October 2019 period, the company has 18,728 UV units to its name, which marks handsome 107% YoY growth.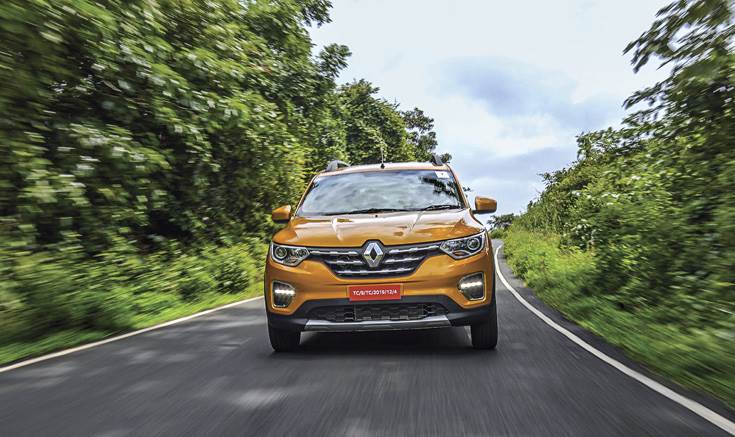 What's making a difference, and speedily at that, is the sub-4-metre, 7-seater Triber. Launched on August 28 at an aggressive Rs 495,000, through to Rs 649,000 for the top-end variant, the Triber's compact size, spacious interiors and flexible seating configurations, coupled with the price, seems to be drawing buyers. The seven-seat model is available in four variants and comes with one engine and one gearbox. The Triber is one of two compact (under 4m) seven-seater offerings in the Indian market; the other being the Datsun Go+. With all seats in place, the Triber's boot space is all of 84 litres. However, the rear-most seats can be removed altogether, increasing luggage room to an impressive 625 litres. Besides the SUV-like styling, the Triber's 182mm of ground clearance also helps the model look more muscular.
For Renault India, which sold 11,516 PVs in October 2019 (62% YoY), the Triber is turning out to be quite a game-changer. Within less than three months since launch, the SUV has sold over 10,000 units. "With 10,000 cars already delivered and a strong bookings pipeline, we have ramped up the production and are taking concerted efforts to further accelerate production to enable faster deliveries and best in class quality. Together with the metro cities, the Triber has seen wide acceptance in the rural markets as well, and we have a robust strategy to build our presence across these markets, which offers significant growth potential," said Venkatram Mamillapalle, Country CEO and managing director, Renault India Operations.
Established players see UV market share decline
The entry of new models and new OEMs, in the form of Kia and MG, has impacted the established UV players to some extent. Club the Korean family of Hyundai and Kia and what you get is a combined market share of 24% or one-fourth of India's UV market. While Maruti and Mahindra control two-fourths, 13 other players fight for bits and pieces of the last one-fourth share.
Market leader Maruti Suzuki India, which sold 137,318 units in April-October 2019, down 8.83% (April-October 2018: 150,633) has seen its UV market share go down to 25.08% from 27.55% a year ago. Likewise, the strong No. 2, Mahindra & Mahindra has seen its share reduce to 21.33% from 24.51% a year ago. With sales of 116,778 units in April-October 2019, M&M sees its UV numbers drop 12.8% (April-October 2018: 134,009). All the other UV players, which have single-digit UV market share, have seen their sales and share decline in the period under review.
With five months left for the close of FY2020 and BS VI looming around the corner, UV makers, who are also cognisant of the marked consumer shift to petrol-powered UVS, will be putting their shoulder to the wheel to make the most of what is seen as a revival of demand in this segment. And they will be readying a raft of new products to be launched when FY2021 – and a new emission grade era – opens.
Also read: Top 5 UVs – September 2019 | Vitara Brezza regains crown from Hyundai Venue, Kia Seltos takes No. 3 slot
RELATED ARTICLES