Festive cheer for UVs in October but future industry growth still uncertain
Riding on a combination of Dhanteras-Navrati-Diwali and a gaggle of new products, SUVs notch robust 22% YoY growth and enable the PV segment to enter positive territory. However, all other vehicle segments continue to be in the red.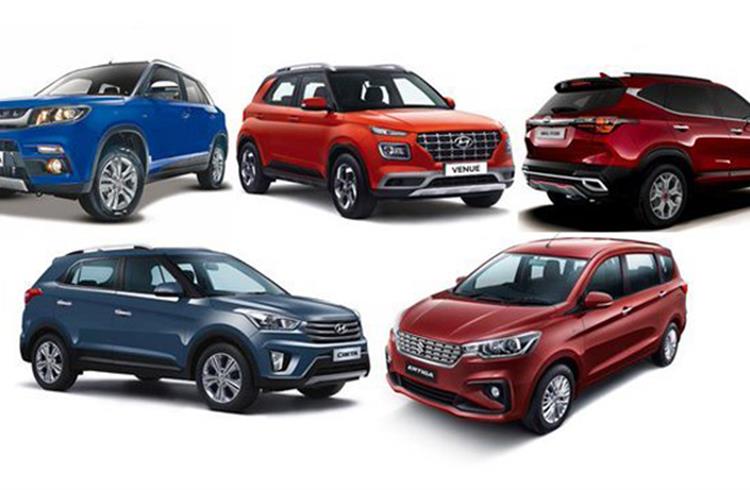 The numbers for October 2019, the month which uniquely had Dhanteras, Navratri and Diwali in it, are out. If industry stakeholders expected fireworks, then they would be disappointed because while the rate of sales decline has slowed, the worry about the months ahead remains even as the industry sees 11 straight months of overall sales decline.
While India Auto Inc registered a decline of 12.76 percent with cumulative sales touching 2,176,136 units (October 2018: 2,494,345), passenger vehicles (PVs) just nudged the baseline by posting flat sales of 0.28 percent at 285,027 units (October 2018: 284,223). This is thanks to a strong uptick in utility vehicle sales, which increased by 22.22 percent year on year to drive 100,725 units off dealers' shelves (October 2018: 82,413). Passenger cars and vans, however, continued to slide with the former registering 173,649 units (185,400 / -6.34%) and the latter 10,653 units (16,410 / -35.08%), respectively. Clearly, the growth in UV sales can be attributed to pent-up demand in the market as well as the novelty brought in by two new entrants – MG Motor and Kia Motors – into the Indian automotive space.
According to Rajan Wadhera, president, SIAM, "The market has expanded with the entry of two new OEMs in the PV segment. A sizeable percentage of the UV growth comes from the new models in the market and it is not driven by excessive discounting. So, we can clearly see that people are giving value to novelty."
"Retails due to the festive season have been good and if we compare it to the festive period last year, it is a lot better. Various measures have led to this – the lending rates are getting lowered and there's also a positive sentiment with new models coming in. This is a good sign and we wish that the same continues in November and December as well."
"With regard to PVs, most of the industry is now sitting at stock levels of less than one month. So we have resumed normalcy on that front and are hopeful of growth in the coming days. Corresponding to the wholesale numbers, retail data from the national vehicle registration repository Vahan shows that a total of 296,642 PVs were registered in October 2019, indicating 13.92 percent growth (October 2018: 260,384). LCVs, as per Vahan, recorded a growth of 15.68 percent with 279,565 units getting sold (241,665) and also contributing to 94 percent of the total commercial vehicles.
"From our surveys and discussions with dealers, we are seeing people opening up to purchase of vehicles. As an industry body, we are hopeful that the months of November and December also continue to be on similar lines and fetch good retail numbers," he added on an optimistic note.
CVs remain down and out
Commercial vehicles, which are the barometer of the economy, still continued to show a downward trend with an overall decline of 23.31 percent and sale of 66,773 units (October 2018: 87,067). A total of 15,334 M&HCVs were despatched (October 2018: 30,752 / -50.14%) and LCVs accounted for 51,439 units (October 2018: 56,315 / - 8.66%). Within M&HCVs, passenger carriers (buses) saw a slight respite with 2,537 units getting sold (October 2018: 2,350 / +7.96%) while goods carriers dramatically slid to 12,797 units (October 2018: 28,402 / -54.94%). It was a similar story on the LCV side with goods carriers selling 2,417 units (October 2018: 2,693 / -10.25%) and passenger carriers recording sale of 49,022 units (October 2018: 53,622 / -8.58%).
According to Wadhera, "There has been an efficiency improvement in the commercial vehicle space due to factors such as the revised axle-load norms as well as GST leading to quick transit times on the highways. On top of that, right now due to the general economic slowdown offering less demand for transfer of goods, there is a lack of demand for CVs as well. BS VI pre-buying will happen closer to the April 2020 deadline around February and March, and that is where we are hopeful that it will contribute to increased numbers in the CV segment."
While three-wheeler numbers declined 3.60 percent to 66,985 units (October 2018: 69,483), the two-wheeler segment also felt the heat of a delayed crop season in rural India. Overall, two-wheeler sales declined 14.43 percent to 1,757,264 units (October 2018: 2,053,497) with scooters selling 580,120 units (October 2018: 643,382 / -9.83%) and motorcycles going home to 1,116,970 buyers (October 2018: 1,327,758 / -15.88%).
"Two-wheelers majorly thrive in rural India and this time around, crops were destroyed due to several excessive rains and floods in many parts of the country, also delaying harvesting. So, we expect the money flowing into the rural markets by November and that is when we would see a growth in the two-wheeler sales," Wadhera added.
Month-on-month revival underway
Even as the industry could be seen to have been in shambles over almost a full year, there has been some improvement in numbers over the past few months.
A month-on-month analysis of the segments shows that October was significantly better than September, given the momentum around the festive season. Overall industry sales grew a notable 8.53 percent with 2,176,136 units in October 2019 (September 2019: 2,004,932).
Passenger vehicles see a significant uptick of 27.63 percent with sales of 285,027 units coming in the month over September's 223,317 units. CVs with 66,773 units (58,419 / +14.30%) as well as two-wheelers with sale of 1,757,264 units (1,656,774 / +6.06%) both show a significant month-on-month improvement in sales.
While a full revival is still some time away, SIAM is of the belief that things are getting back on track as the worst is already behind the industry. "The pattern of festive season discounting, which is generally followed by year-end discounts are normal practices, and we think that they are only bound to increase sales," Wadhera concluded.
How the first seven months of FY2020 stack up
For the cumulative numbers in the April-October 2019 period, there's an overall decline of 16.43 percent with 13,913,112 units getting sold (April-October 2018: 16,648,808). PVs at 1,618,278 units are also in the red (April-October 2018: 2,028,502 / -20.22%), while CVs on a cumulative basis too are on a decline with sales of 442,253 units (April-October 2018: 574,386 /- 23%). With 397,681 units sold in the first seven months of the ongoing fiscal year, three-wheelers have posted a negative growth of 6.15 percent (April-October 2018: 423,762), while the two-wheeler segment has also declined to 11,453,997 units (April-October 2018: 13,621,995 / -15.92%).
RELATED ARTICLES